Weekend Wrap-Up
Lorax Keeps Universal Riding High
By John Hamann
March 4, 2012
BoxOfficeProphets.com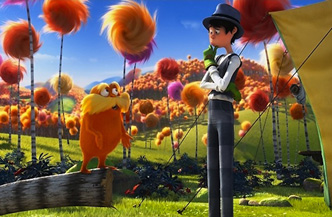 ---
Openers this weekend had a lot going for them – for evidence, we simply need to look back at last weekend, when the openers were Act of Valor and Tyler Perry's Good Deeds. One didn't have to be a rocket surgeon to figure out that both films were of the "one and done" variety, where movies pack houses one weekend and leave them empty the next. Perry is known for big drops following opening weekend, and Act of Valor was a gimmick – one that shouldn't play more than one frame. That creates a vacuum at the box office, and the beneficiaries are Dr. Seuss' The Lorax, from the all-of-a-sudden hot Universal, and Project X, a party film from Todd Phillips, the man behind The Hangover.

In 1998, The Waterboy was released over the first weekend in November. At the time, Adam Sandler had only one opening weekend hit, The Wedding Singer, at $22 million. The weekend before The Waterboy opened, the box office was having one of its worst frames in history, with the top 12 films bringing in only $45.6 million (or $15 million LESS than our number one film). That weekend, Halloween was on a Saturday. John Carpenter's Vampires was the only new release of the weekend, and it earned less than $10 million. The box office vacuum had been created, and really anything was going to benefit from the void – and with Sandler coming off The Wedding Singer, The Waterboy exploded, earning huge-at-the-time $39.4 million.

Getting back to 2012, last weekend was not one of the worst frames in history, but it did have a lot of similarities to 1998. It was Oscar weekend instead of Halloween, and as I described above, it had two new releases that needed to open big – and did – because they weren't going to be around for long, regardless of whether The Lorax debuted the following weekend. Act of Valor and Tyler Perry's Good Deeds were going to perish in weekend two, creating the box office vacuum, and we are left with two films opening to a combined total beyond $90 million.

Our number one film of the weekend is Dr. Seuss' The Lorax, a film targeting the opening of another Dr. Seuss film, Horton Hears a Who, which started with $45 million in the middle of March in 2008. Universal was calling for slightly less than what Horton opened to, while less conservative estimates had it at that or just beyond, at $44-$50 million. Nobody – not even BOP's Reagen Sulewski – thought it would open to Grinch numbers, but guess what? The Universal release of Dr. Seuss' The Lorax debuted this weekend to $70.7 million – way more than the $55.1 million the Grinch did in November of 2000. Out to 3,728 venues, The Lorax had a fabulous venue average of $18,970. For a family film released this early in March, The Lorax does not benefit this weekend from Spring Break, but certainly puts itself in a position to do so over the coming weekends. The Lorax will play competition free fro the next two weekends, unless one considers John Carter of Mars to be any sort of threat (it looks like Battlefield Earth to me).

The Lorax opened on Friday to a staggering $17.4 million, more than anyone was expecting. It was more than Horton Hears a Who at $13.3 million, and more than The Grinch, which took in $15.6 million on opening day. The Universal release then pulled $53.4 million on Saturday and Sunday, propelling the film to a strong internal weekend multiplier of 4.1. The weekend multiplier (weekend gross divided by Friday gross) should have been well above 3.0, as this is a family film released in March, where kids are in school on Friday, and thinking about going back on Sunday evening. Universal's other big animated release, Despicable Me, opened in July of 2010, and because it was a summer release, had very similar Friday and Saturday numbers ($21.3 million Friday, $20.8 million Saturday). It finished with a weekend multiplier of 2.6, not only because it was a summer release, it also had midnight screenings the night before it opened. The big difference between The Lorax and Despicable Me is critics' reviews. The Lorax was only 57% fresh at RottenTomatoes, while Despicable Me was 81% fresh.

Is Universal back? It feels like it's been years since the studio was on any sort of roll. In 2008 they released Forgetting Sarah Marshall, Baby Mama, The Incredible Hulk, Wanted , Hellboy 2 and Mamma Mia! consecutively, and had a similar string in 2003 with Bruce Almighty, 2 Fast 2 Furious, Hulk, Johnny English, Seabiscuit and American Wedding. Since 2008, though, it feels like Universal has been flailing, but with back to back hits in The Lorax, Safe House, and to a lesser degree Tower Heist, is Universal back? Up next is American Reunion, a throwback to the past, which should also do decent business for the studio.

Finishing second is Project X, a movie that sounds a lot like a Mathew Broderick chimp movie (yes, I'm old). This Project X is a found footage party movie, showing audiences what a John Hughes film would look like had it gone for the hard R rating. From recently-hot producer Todd Phillips, Project X did very well this weekend, taking in $20.8 million from 3,055 venues. It had a venue average of $6,800. Project X harkens back to older Phillips comedies like 2000's Road Trip or 2003's Old School, where the characters were younger and the parties were actual parties, not flashbacks like in The Hangover and Hangover Part II.

Project X was made on the cheap, casting unknowns and using the found footage concept, which, on both counts, has led to films like The Blair Witch Project ($60,000 budget) , Cloverfield ($25 million budget), and more recently The Devil Inside ($1 million budget). Project X used an open casting call to find their unknowns, and the film ended up costing about $12 million to make. A $20 million plus opening puts Sony in a very good position, likely seeing real money returned by the end of next weekend. Anything earned after that – the rest of the domestic take, foreign box office, and home video - is gravy for the studio.

Third spot goes to last weekend's winner, Act of Valor, Relativity Media's release that uses actual Navy SEALs (who can't act their way out of a paper bag). After opening to $24.5 million last weekend and having a very targeted audience, it's not surprising that Act of Valor took in $13.7 million this weekend, dropping 44%. I'm actually surprised this one didn't drop further than it did, given its 29% fresh rating, but it may be getting some word-of-mouth due to the action scenes and an A Cinemascore. Relativity will cash in with this one, as Valor cost only $12 million to make, and has a gross so far of $45.2 million.

Safe House manages to stay at number four this weekend, as the Denzel Washington thriller digs in. Now in its fourth weekend, Safe House earned $7.2 million and dropped a not bad 34%. Another winner from Universal, Safe House crossed the $100 million mark on Thursday, making it Denzel's fourth film to cross the $100 million mark. The thriller will likely end up as Washington's second biggest of his career, behind only American Gangster, which took in $130 million. Safe House has a running total of $108.2 million, and is approaching $50 million overseas, all against a budget of $85 million.

Tyler Perry's Good Deeds falls from second to fifth this weekend, but shouldn't come as a surprise. Good Deeds earned $7 million and dropped 55% from the weekend previous. Only two of Perry's films have dropped less than 50% following opening weekend – Why Did I Get Married? and Diary of a Mad Black Woman, both of which were early in Tyler Perry's movie career. Like all Perry films, Good Deeds didn't cost a lot to make at $14 million, and should do okay as it has a gross so far of $25.7 million.

Now that The Lorax is on the scene, Journey 2: The Mysterious Island falls from third last weekend to sixth this weekend. With other family competition out there, Journey 2 couldn't keep its run alive. This weekend, Journey 2 could only eke out $6.9 million, which gives it a drop of 48%. Still, the $80 million film has now matched its budget stateside with a cume of $85.6 million, with the gravy coming overseas where its pulled in over $160 million.

Seventh spot goes to The Vow, which manages a better hold than last weekend's 57% plunge. In its fourth weekend, The Vow pulled in $6.1 million and dropped 38%. Easily Screen Gems' biggest film now, the $30 million production has brought in $111.7 million domestically and over $30 million from overseas theatres.

This Means War finishes eighth, and doesn't hold a candle to The Vow. The action/comedy/romance/bromance earned $5.6 million in its third weekend, a decline of 33%. The $65 million Fox film now has no chance of earning as much as its production budget stateside, as it has taken in only $41.5 million so far.

Ninth goes to Ghost Rider: Spirit of Vengeance, as this Ghost Rider has tanked, thanks to the awfulness of the first one. Spirit of Vengeance could only find $4.7 million this weekend, as it dropped 48%. Good thing Sony spent only $57 million on this one, as it has a gross so far of only $44.9 million.

Finally in tenth is Best Picture winner The Artist. It earned $3.9 million, which was on par with last weekend, as it increases its take by 34%. The $15 million Weinstein release has now earned $37.1 million domestically, and is approaching $50 million from overseas cinemas.

Overall, the box office stays hot compared to last year. The top 12 films this weekend earned $153.5 million, thanks mostly to The Lorax and Project X, whereas last year the top 12 offered $121.1 million on the strength of Rango. Next weekend, we get some wildcards. Set to open is John Carter, Disney's lavish sci-fi adventure which some say cost as much as $250 million, Silent House, a seemingly sharply made horror film with Elizabeth Olsen, which likely cost about one tenth of what John Carter cost to make, and A Thousand Words, a new comedy from Eddie Murphy.