Friday Box Office Analysis
By Tim Briody
March 3, 2012
BoxOfficeProphets.com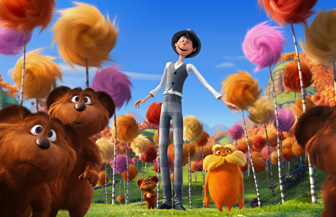 ---
The Lorax

Marketed out the wazoo, The Lorax is rewarded with a $17.4 million Friday. This is poised to be the biggest performance yet for a Dr. Seuss adaptation, with the highest opening belonging to 2000's How the Grinch Stole Christmas which earned $55.8 million. Believe it or not, we made it all the way to March of this year before having our first proper animated release. With just a Beauty and the Beast re-release and The Secret World of Arrietty (an English dubbing of a 2010 Studio Ghibli film) seeing wide release so far, The Lorax is also benefiting from an underserved audience.

The last Seuss book to movie (and first one to actually be all digital animation; let's not talk about the nightmare fuel known as [bp:130_]Mike Myers[/bp]' The Cat in the Hat) was 2008's Horton Hears a Who, which earned $45 million off a $13.3 million Friday. Applying that 3.38 multiplier for The Lorax would give it a weekend of $58.8 million, and the possibility for a few more dollars (thanks to 3D) is there as well. I think it'll crack the $60 million barrier with a little room to spare, so look for a weekend of $62.6 million.

[tm:5244_]Project X[/tm]

Teen party film Project X surprises with $8.2 million, and for some reason also had midnight showings which account for $1.1 million of that total. The found footage film starring a bunch of unknowns gimmick strikes again after the success of Chronicle a few weeks ago. Chronicle opened to just a few hundred thousand more and managed a 2.55 multiplier despite a deflated Super Bowl Sunday. Project X might actually nudge a bit ahead of it for that reason. That would give it an actually quite impressive $22.6 million.

Notable Holdovers

Last weekend's champ Act of Valor plunges 58% from last Friday to $3.7 million. The action film with real Navy SEALs was a big hook on opening weekend but it will struggle from here on. A second weekend of $10.4 million feels about right.

Meanwhile, Tyler Perry's [tm:5181_]Tyler Perry's Good Deeds[/tm] (starring Tyler Perry) has a typical Tyler Perry decline of 64.2% to $1.9 million, and should come in with a second weekend of $6 million.