Weekend Forecast for March 2-4, 2012
By Reagen Sulewski
March 2, 2012
BoxOfficeProphets.com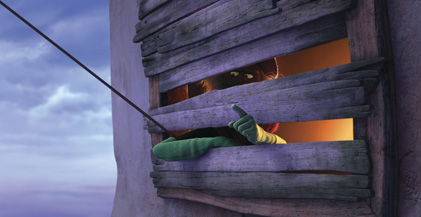 ---
Hollywood destroys yet another of your cherished childhood memories this weekend, for which you happily pay them for the privilege. Also, if animation isn't your speed, there's something for the immature people out there.

The Lorax is the fourth Dr. Seuss book to get the big screen treatment, and the first in the 3D era. All three other films so far (The Grinch, The Cat and the Hat, Horton Hears A Who) have been huge hits, so there's no surprise that studios are anxious to dig through his library for more possible books to adapt (look for Yertle the Turtle to be next – Hop on Pop and Green Eggs and Ham might prove a bit thin to adapt). I don't know if The Lorax, being about a grumpy, fat, fuzzy orange guy who takes the side of trees is the most natural character to build a film around, but hey, let's stick some action sequences in there and we're all good.

Set in a world that has chopped down most of its Trufulla trees, it focuses on a teenager (voiced by Zac Efron) who voyages to find one of the last remaining ones to bring to a girl (Taylor Swift) who wants nothing more than to see a real tree. Wherein, he encounters said Lorax (Danny DeVito) and his self-declared "speaks for the trees" agenda. Grumpy, misanthropic adventures ensue.

Aside from a couple of shocked pundits who have just now discovered that a book about someone who tries to protect trees might have an environmental message (although the subsequent shilling the character does for an SUV – gas powered! Not even a hybrid! – kind of undercuts that), reviews are generally positive for this, and it certainly looks pretty. With a connection to the Despicable Me franchise (oh, it's a franchise now, like you didn't see that coming) through the director, there's also a bit of hope they haven't completely messed it up. In line with previous Seuss films, and with a bit of a boost for 3D, I'd expect this to come in with about $48 million.

Eventually, every genre of film is going to get its found-footage film whether it makes sense or not (I put out a challenge – the found-footage animated film). After super-heros got their turn with Chronicle, the party film gets a chance with Project X (and no fair stealing that title from Matthew Broderick and Helen Hunt). But hey, it's a cheap way to make a film and you're rarely risking everything (okay, okay, The Virginity Hit. Will Ferrell would like you to forget you ever heard that title).

Essentially Superbad As It's Happening, Project X mostly focuses on three unpopular kids who decide to throw a birthday party for one of them, which then gets crashed and turns into a raging disaster. In theory, it's not a completely horrible idea, but it's pretty thin on plot, and in practice probably feels like being trapped with a bunch of people you hate, and we won't have the benefit of being drunk. At least it's only 88 minutes long.

A couple of strikes against the movie other than its quality – it stars no one you've heard of, and will have little crossover appeal outside the teen and early 20s demo. Thus, anyone expecting a Chronicle-sized hit is probably well off the mark. Opening at over 3,000 venues, this should come in at around $12 million.

Act of Valor became kind of a weird litmus test last week for people, as its existence and creation outside the usual bounds of filmmaking and its inseparable connection to the military brought up all sorts of questions. In the end, it's a $24 million-opening action film with so-so word-of-mouth, and a blueprint that's going to be difficult to copy. I say again, novelty is a big thing with movie-going audiences, so this supposed realism that Act of Valor brought last weekend is something that hadn't been seen in a while. I don't expect the desire for it will last.

While that film and the Tyler Perry films share absolutely nothing in genre, tone or filmmaking style, they do share two things – critical revulsion and audience appreciation. And yet, the Perry films have never had legs, so I wouldn't put a lot of stock in this idea that this untapped market will propel Act of Valor down the road. This is a good opening weekend – especially for a film with a $12 million budget – but let's not get carried away with the idea this represents a sea change in film. The followup weekend for Act of Valor should be about $10 million.

Speaking of Tyler Perry – oh, hey, there you are, with Good Deeds, which opened to one of his lowest totals yet at $15 million. Perhaps after approximately 83 bajillion movies that were all exactly the same, the Tyler Perry brand is experiencing some exhaustion. No worry, there'll be another Madea movie along shortly (they take about five days to film, right?). This should bring in about $7 million this weekend.

Jumping ahead of it then is Adventure 2: The Mysterious Island, which is looking likely to pass the $100 million and change its predecessor earned, and has already surpassed the $240 million it earned globally. Score one for excessive CGI and paper-thin characterization, I guess. Give it $9 million this frame.

Adding to the unusually successful slate of films from the first couple months of the year are Safe House, which passed $100 million on Wednesday, and The Vow, which did so on the weekend. I mean, all those totals will be swamped by The Hunger Games, possibly in one single weekend, but for this early in the year, it's an impressive collection of earners. Both of those, along with the Ghost Rider sequel, should come in close to $5 million this weekend.