Top Chef: Texas Recap
By Kim Hollis and David Mumpower
February 28, 2012
BoxOfficeProphets.com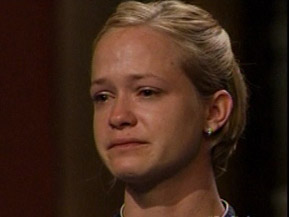 ---
Previously on Top Chef, Beverly was eliminated from the competition…again. We might still be bitter that her return can be directly attributed to Edward's having to pack his knives and go. In any case, Bad Beverly was back last week, behaving poorly during the challenges, though of course since the other two women in the competition are absolute jerks to her, we can sort of understand the reason why. Last week's challenges were a little silly and not really demonstrating a lot of what chefs in the real world have to do to develop a strong reputation, but in the end Lindsay, Paul and Sarah emerged as our final three. How do we rank them?

1) Paul: He wasn't the first one in the finals last week, but Paul did add yet another $10,000 to his coffers. Since he has been the domination for the entire season, we see no reason to move him down now. We're going to be damned surprised if he's not in the finale, where he should at last be free to cook unfettered by silly guidelines.

2) Lindsay: Since she was the first one to get into the finale last week, she pretty much has to be ahead of Sarah. Lindsay has been an up and down performer most of the season, with the majority of her dishes finishing right in the middle. The difference between first and second is extreme.

3) Sarah: Yes, Sarah was in the bottom two last week and at risk of being eliminated. Yes, we dislike Sarah, because she's been self-centered and unpleasant through the majority of the season. Even so, we have to give her credit for putting herself out there during the last few challenges. She's trying different things and the judges are noticing (in a positive way). This is the kind of behavior that is really important for an underdog trying to beat someone as naturally talented as Paul.

As the episode begins, we see Paul, Lindsay and Sarah bonding during their drive to Vancouver. Paul notes that the three of them have become quite close through the course of this season, and it's actually a really nice moment. Other than in All-Stars, we don't usually see chefs bonding quite so closely due to the competitive element that keeps them at an arm's distance from each other.

Nonetheless, Paul does note that at this point in the game, friendship has to be out the window. He's got his game face on. Do the girls?

The three of them head to Chinatown, which concerns Sarah since Asian food is not her strong suit. On the plus side for all three of them, at least Ed and Bev are gone now. Padma and Emeril Lagasse greet them, and explain that today's Quickfire Challenge will play to the fact that Vancouver has one of the largest Asian populations outside of Asia itself. Thus, they'll be mixing it up with some of the master chefs of Asian cuisine. In fact, these master chefs are Top Chef Masters, including Anita Lo, Takashi Yagihashi and Season Three winner Floyd Cardoz. Sarah is thrilled, because she knows Takashi and is friends with him in Chicago.

Her excitement is short-lived, though, because Paul draws Takashi, Lindsay is paired with Anita and Sarah is set to work with Floyd. How awful – she has to work with an actual Top Chef Masters winner! The disappointment on her face is obvious.

Meanwhile, Paul notes that while he does of course have a background in Asian cooking, he doesn't really like the expectation that he should automatically win this challenge. He's clearly very nervous.

The Quickfire will have the Masters and the cheftestants taking turns to create an Asian-themed dish. Every ten minutes, they'll tag in and take over, hopefully understanding what their partner was trying to accomplish (but without communicating verbally about it). The winner of the Quickfire will take home $20,000.

The Masters start us off, and Sarah notes that most likely they're going to be preparing the station for cooking. Takashi grabs geoduck and says he wants to make sashimi. He is confident that with Paul's background in Japanese restaurants, his partner will understand what he's going for here.

Anita is working on a trio of scallops that would highlight three different Asian cultures. Floyd notes that he has never been very good in Quickfires (he never won one on Masters), but he's stepping up his game so that he can help Sarah to a win. His specialty is Indian food, which we'll note is probably a lot harder for Sarah than what her competitors are going to have to come up with.

They flip, and Lindsay does notice that Anita has deconstructed the scallops into three separate elements. Paul sees mirugai (aka geoduck) and worries because a lot of people don't really like it. Sarah sees that Floyd has started a curry, and as we expected, her comfort level with this sort of dish is very low. She decides to do a cold crab salad with the fish.

We switch once again, and Takashi is dismayed to see that Paul is making dashi. He adapts nicely, though. Anita is pleased with what Lindsay has done during her time, while Floyd is thrilled to see that Sarah has done exactly what he wanted her to do.

The cheftestants come to finish it out. Lindsay is feeling intimidated, though she does note that Anita has prepared well. Paul finds that Takashi has set up the plates, and he figures he ought to add some Thai chili sauce, because Padma likes her plates with some heat. Sarah is nervous, but she's all business.

Lindsay is first to serve, and her dish is scallop two ways: bok choy & chili, and fried roe with sausage & water chestnut. Anita says that she had hoped for a scallop in three parts, but says that Lindsay got it pretty close. Padma eats every bit of it.

Sarah & Floyd have made a pan-seared cod with coconut curry and crab salad with clementine & amaranth. It is absolutely beautiful, with bright, appealing colors. When Emeril asks her what she dredged the fish in, she answers, "Rice flour." Floyd is so excited at this point – he says, "You know, I was looking for it and couldn't find it!" She did exactly what he wanted her to do.

Finally, we have Paul's mirugai sashimi with yuzu dashi, fried white fish, scallions and chili. It is also lovely, though Sarah's looked overall prettier. Takashi does say that Paul got the idea almost perfectly. Emeril asks about the heat, and Paul says he added the Thai chili at the end. Padma says that she and Emeril do like a lot of chili, but even for them, this was too much.

We're pretty sure Sarah has pulled this one off, all the more impressive since she's done something so completely different from her norm. Emeril tells Lindsay that her Chinese sauces were a bit overpowering, while Padma tells Sarah that she had a beautiful plate of food – she wants to steal the amaranth (which was Floyd's idea, but Sarah incorporated perfectly). Emeril says it could have used slightly more acid. They're impressed that Paul went for it with the geoduck, but in the end, that Thai chili was just too much. Sarah and Floyd do indeed win the Quickfire, which means Sarah is taking home $20,000 for her trouble.

Two amusing items here: Floyd says it's the first time he's ever won a Quickfire, while Sarah comments that she won nothing before coming to Canada, but now she has $30,000. She is feeling very good about going into the next challenge.

We move on to the Elimination Challenge, which will bring together both Texas and Canada. The three chefs will be throwing a "Fire and Ice" cocktail party, which includes one dish and one cocktail apiece. Each dish should contain both a hot and cold element. Lindsay immediately comments on how this challenge is so open to interpretation that it could be very difficult. The cheftestants will be serving 150 of Vancouver's "culinary elite," with the winner receiving a trip for two to Costa Rica.

Whole Foods is apparently in Canada, because our chefs head there for shopping. Lindsay continues to stress about the specifics of the challenge – she seems to be having a hard time wrapping her head around what she's supposed to accomplish. Paul buys king crab, and wants to do a play on the lobster bouillabaisse – something that's theoretically supposed to be cold, but when you eat it, it's hot. This is a clever idea that embraces the theme nicely.

Sarah is going to make a baked pasta that she will then "cool off" with a frozen ginger mousse. She says she has never made anything like this before, so we continue to be impressed by her willingness to go outside her wheelhouse. No one can say she isn't going for it here.

Lindsay's going back to cooking halibut, which she got super mad at Beverly for ruining during Restaurant Wars (never mind the fact that Beverly cooked it precisely as instructed, a fact that was pointed out by Grayson several times). We worry about this choice for Lindsay. If she messes up this same dish twice, it's going to send her home, no question. Lindsay is also worried about the fact that both Sarah and Paul have some literal aspects of snow, ice and fire in their dish. She thinks it's gimmicky, and doesn't plan to do that sort of thing herself.

When the chefs head to the kitchen, it's really wonderful to watch the three of them work together, coordinate and cooperate even though they are fighting for the chance to win their way to the finale. They joke and chat, and even talk through their processes.

Tom Colicchio comes around to visit each of the contestants, and while he seems impressed with Paul's plan for the cocktail party, he also wants to know what went wrong at the Quickfire. Paul credits the competition, and Tom respects this answer. When he asks Lindsay about the fact that she's repeating the halibut dish, he seems consternated by the fact that she's determined to complete the dish using the same technique. He watches Sarah at work making pasta and seems pretty impressed with her activity.

"It'd be nice if it would be one of those competitions where someone pops up and they're like oh, by the way, these are your sous chefs," says Paul. Right on cue…no one shows up to help. Sarah and Paul claim that they feel like they're in the weeds, but Lindsay's silence at this point seems more telling. Sarah does use an anti-griddle to freeze her ginger mousse, and it freezes it a little too much, but it sure is a great idea.

Paul is first to serve his dish and cocktail to the judges. The dish is king crab with lobster broth and lemon snow, while his cocktail is the "Pan Am," with Kaffir lime, Thai chilies and rum. He's certainly not running away from the fact that he had trouble with those chilies in the Quickfire. The broth is complimented for its lobster flavor, but Tom is bothered by the arugula. He feels it has no purpose. He does think that the cocktail goes very well with the meal, though Padma says she could have used more heat. Emeril reminds her that just a day earlier, she slammed Paul for using too much chili, and she laughs.

After worrying a little over her mousse, Sarah's dish goes out. The diners are having five greens filled pasta with garlic, chili and spiced sformato, while her cocktail is an "Agrumi," made with gin, kumquats and mango. Gail Simmons asks whether the sformato is supposed to be so frozen, but Emeril notes that the pasta is prepared perfectly. They all agree that the cocktail is tasty and fresh, but wonder whether it's a good match with the dish.

Lindsay's dish is tomato heavy, and she gets worried that she didn't take the fire and ice element as literally as she should have. Thus, she adds some tomato ice to the service, and it's very pretty indeed. She serves halibut with fiery celery root salad, and her cocktail is called the "Encendido," a play on the Bloody Mary with vodka, tomato and horseradish. Emeril says his dish is hot, but Tom says his has no heat. He also doesn't like the kale. There are kudos all around for her tomato ice. While the judges like her cocktail in combination with the dish, they also say that on its own, it's flat. Some of the diners are saying they don't taste much "fire" in her dish. There are a lot of comments that the fish is perfectly cooked.

Ultimately, the judges are looking like their decision is going to be tough once again. For the past couple of challenges, it has come down to the smallest of mistakes. Paul's concept is complimented as well as the spice, though Tom continues to harp on the arugula. He felt like it was an afterthought, just added for color.

Gail asks Sarah about her idea, and the judges all smile when Sarah explains what she was thinking when it came to putting the mousse on top of the pasta to serve as the sauce. Gail notes that the pasta was perfectly cooked, but that the mousse was indeed over-frozen. Tom praises the dish as brave, but agrees that it was a little too cold. Emeril compliments the cocktail as being "yummy."

They finally come to Lindsay's dish, and Gail tells the cheftestant that she feels the elements worked well together. Tom is giving her the stink-eye, though, and says the remoulade and the tomato overpowered the dish. Emeril (who is apparently playing the Good Cop role through these proceedings) says that the fish was perfectly cooked and that he liked the cocktail, though it had some separation at the end. Tom does say that her cocktail probably worked best with her meal.

Ultimately, each of the chefs had some minor errors, but from Tom's reaction during the discussions of those issues, he seems to be fighting to eliminate Lindsay. Gail is an advocate for Lindsay (clearly arguing for Sarah, because of the frozen mousse). Tom keeps worrying over that arugula, but we don't think a piece of arugula is significant enough of an issue to see him eliminated. We're going to predict that Lindsay is going home. If Tom wants someone to go, he usually gets his way. He also makes the point that Lindsay's dish wasn't particularly interesting in comparison with the other two.

They call the chefs back to Judges Table, and rehash all that has been noted above. Sarah's name is called – because she is going to the finale. That means that either Paul or Lindsay is going home, and we're going to be sending cards and letters to Bravo if it's the former. Fortunately, as we predicted based on Tom's reaction, Lindsay is told to pack her knives and go. We had imagined that Sarah had won this Elimination Challenge, but in fact Paul is the winner of the trip to Costa Rica. That means he has now won eight out of 16 Elimination Challenges, finished in the "low" group only once, and also has two Quickfire wins on top of that. This is as dominating a performance as we've ever seen on the show.

It's on to the finale, and we hope that they stick to the tried and true formula of allowing the chefs to just cook the best food that they can. It would seem that Paul ought to be the heavy favorite here, but we have to say that Sarah has been bringing it both creatively and through execution. Will she be able to pull off the upset? It should be very exciting to see these two push themselves. While we've felt that this was a lackluster season, the past few episodes have definitely seen some accelerated performances from everyone involved. The preview shows Tom saying that one of the dishes is the best he's ever had in a finale. That should make for good TV.