Weekend Wrap-Up
Propaganda Profitable as Valor Rules Oscar Weekend
By John Hamann
February 26, 2012
BoxOfficeProphets.com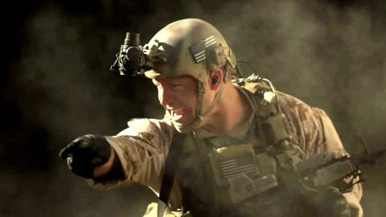 ---
Funny how it goes. Irony is on display at movie theatres this weekend, as on Sunday, Hollywood gives awards for the best in the year of cinema, but at actual theatres, moviegoing choices are poor at best. On the heels of President's Day weekend openers include Relativity Media's Act of Valor, a non-film starring non-actors where final cut was given to the US Navy, Gone, another poorly-reviewed thriller with Amanda Seyfried, Good Deeds, another poorly-reviewed Tyler Perry film (that has no one in drag), and finally Wanderlust, a "should've been good" movie with Paul Rudd and Jennifer Aniston, from the director of Role Models. That leaves us with a top ten with only ONE film with positive reviews, and it finished tenth.

In my opinion, our number one film of the weekend isn't a film, it's a commercial – or a recruiting video – as Hollywood finds more ways to debase themselves for money. The film in question is Act of Valor, Relativity Media's pickup that dominated the box office this weekend. It earned $24.7 million from 3,039 venues, and managed a venue average of $8,128. Act of Valor was 30% fresh at RottenTomatoes at the time of this writing, with "top critics" liking it less at 18% fresh. Most reviewers liked the action sequences, but consider the acting and dialogue to be brutal. This one starred actual Navy SEALs, and they used live ammo in some scenes (and that fact was marketed), so I would imagine there was a lot of testosterone in theaters this weekend.

Relativity picked up the military film for a song – only $13 million – but also committed to $30 million for prints and advertising – which is likely why this one is out to so many screens. It's a big commitment for a film with no actors, as logic would suggest that this one opens big this weekend, and tails off quite quickly. Hold the phone, though. The Cinemascore for Act of Valor was an A, so maybe there will be legs for this one (unless Cinemascore asked a bunch of military personnel what they thought – what would you expect them to say?). Act of Valor reminds me of Courageous, the Christian film released last September. It starred volunteers, was made for only $2 million, opened to $9 million, had an A+ Cinemascore, but was 32% fresh at RottenTomatoes. Financially, Relativity needed a hit, as they are still paying for January's Haywire, which the studio produced and distributed, and has yet to cross the $20 million mark.

Finishing second is Tyler Perry's Good Deeds, another melodrama from the big man who usually wears a dress as Madea. As this is a non-Madea Tyler Perry release, it's not number one this weekend. The usual rule applies: If Madea is in the movie, it opens above $20 million (Madea Goes to Jail $41 million opening, Madea's Family Reunion $30 million opening, etc.), if not a Madea movie, it opens below $20 million (The Family That Preys $17.4 million opening, Daddy's Little Girls $11 million opening, etc.). Good Deeds followed the pattern, opening to $16 million from 2,132 venues. It had a venue average of $7,505. As usual, Lionsgate is distributing Perry's film, as they have since time began. With his films costing little and grossing big, Tyler Perry has certainly made a name for himself. Unfortunately, he hasn't been able to produce a film that has crossover appeal. It will be interesting to see Perry in October's Alex Cross, starring as James Patterson's Washington DC detective, formerly played by Morgan Freeman (Along Came a Spider, Kiss the Girls). Should Good Deeds play like a usual Perry film, it will likely be out of the top ten come two weekends from now.

It was a close race for third between some of the heavies over the last couple of weekends. Surprisingly, third goes to a film that has never been number one like both Safe House and The Vow. Journey 2: The Mysterious Island, floats ahead of both former number ones. In its third weekend, Journey 2 earned $13.5 million, and is turning into a very large success for Warner Bros. While it fell 32% compared to last frame, let's remember that last weekend was a long weekend, which means the kids are more available to see a movie on Sunday, which can lead to bigger drops the following weekend.

When Journey 2 first came out, I wondered if enough people were on the ball enough to figure out this was a sequel to Journey to the Center of the Earth, the 2008 release starring Brendan Fraser. Now, after a few weekends of release, this one is playing more like an original film, than a sequel. Journey 2 opened to $27.3 million three weekends ago, and I thought it would disappear quick. Last weekend, I thought Ghost Rider 2 might kill it, but it fell only 27% compared to the opening, and only 5% when including the holiday. Journey 2 cost Warner Bros. $80 million to make, and has now grossed $76.7 million stateside, along with $128 million from foreign shores as of last weekend.

Fourth spot goes to Safe House, Denzel Washington's thriller that opened at number two, and then rose to number one last weekend, getting ahead of The Vow. This weekend, Safe House grossed $11.4 million, and dropped a hefty 52% compared to last weekend's extended frame. Next weekend, Safe House will be a $100 million domestic earner – Washington's first since 2007's American Gangster. So far, Safe House has grossed $98.1 million against a budget of about $85 million.

Fifth is The Vow, as it expectedly falls from second to fifth. The Vow, also in its third weekend, earned $10 million and fell a hurtful 57%. While the drop and the rank hurt, The Vow is the first of three three-weekend old releases (Journey 2 and Safe House being the others) to cross the domestic $100 million mark. The Vow can thank that $11.5 million Valentine's Day it had, as that is about the difference between The Vow and Safe House. Despite numerous successes, The Vow becomes Screen Gems' first $100 million film, as it has now earned $103 million against a budget of only $30 million.

Sixth is Ghost Rider: Spirit of Vengeance, as it falls apart following last weekend where it earned $22.1 million over three days. This weekend, with the fanboys already exposed, Ghost Rider 2 earned only $8.8 million, and dropped a dramatic 60%. This really is no surprise for a film that is 14% fresh, and a sequel to one of the really bad films of our generation. According to Sony, Ghost Rider 2 had a budget of $57 million, and has a gross so far of $37.8 million. This frightfully bad movie may make it to $50 million.

This Means War spends its second weekend of release in seventh, as it is thankful that the other two new releases imploded this weekend. This Means War, which opened last weekend to $17.4 million, dropped a nasty 51% in its second weekend, earning only $8.5 million. Considering the star power here (Reese Witherspoon, Chris Pine, Tom Hardy), 20th Century Fox must be somewhat disappointed that this one is likely not going to match its production budget ($65 million) with its domestic gross. Overseas will likely again save a film like this, but it will be a long slog. Give This Means War $33.6 million on the domestic side so far, but it will likely be out of the top ten come March 9th.

The Paul Rudd/Jennifer Aniston release, Wanderlust, gets buried this weekend, as it finishes eighth. With reviews mixed at best and a marketing campaign that couldn't pick this one up, Wanderlust is lost, earning only $6.6 million. Universal released it to only 2,002 venues, so the writing was on the wall to begin with. The studio paid $32.5 million to produce this one, and it will be lucky to earn $20 million. Even worse, this is Paul Rudd's third consecutive film that failed to open above $7.5 million, as the under-valued Our Idiot Brother failed to get beyond $7 million, and How Do You Know tanked with $7.5 million against that mighty $120 million budget.

Ninth is Gone, which is an apt title for the Amanda Seyfried flick. With little to no marketing and a premise that made it look like Red Riding Hood (without the costumes), this one was destined to fail. Gone earned a disastrous $5 million for Summit Entertainment, and is another film whose fate was sealed with the venue count, as it was released to only 2,186 screens. Made for $28 million, Gone will be lucky to earn $15 million.

Finally in tenth is The Secret World of Arrietty, the Studio Ghibli film that is receiving stellar reviews - the only film in the top ten to do so. Arrietty earned $4.5 million and fell a not-bad 30%, especially considering that its total for last weekend would have been inflated thanks to the holiday. So far, The Secret World of Arrietty has earned $14.7 million domestically, plus more than $125 million overseas.

Overall, numbers are slightly better than they were last year, but the trend moving forward in 2012 is likely not good. A year ago over Oscar weekend, Hall Pass led the way, earning only $13.5 million at number one. That weekend, the top 12 films earned $96.1 million. This year, the top 12 earned $115.8 million, but is filled with titles that are going to plummet next weekend. That's going to leave a lot of room for Dr. Seuss's The Lorax, and Project X, two films that could cash in (for different reasons) next weekend.