Movie Review: The Secret World of Arrietty
By Matthew Huntley
February 22, 2012
BoxOfficeProphets.com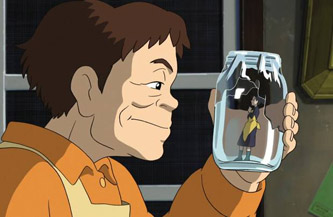 ---
There have been several adaptations of Mary Norton's classic children's novel, The Borrowers, the most popular being the 1997 film of the same name starring John Goodman. I have not seen any of these previous incarnations, but it'd be hard to believe any of them are as striking or visually beautiful as Hiromasa Yonebayashi's The Secret World of Arrietty, which has the advantage of being the first animated version. Given the nature of the story, which is about a tiny race of people living under floorboards who survive by "borrowing" things from humans, animation seems like the perfect format to tell it. It also seems perfect that Studio Ghibli, headed by the Japanese animation master, Hayao Miyazaki, would produce it.

Above all else, this is a superb family film, embracing such classic themes and lessons as friendship, kindness and acceptance, which work not only as useful tips for kids but as good refreshers for adults who may have forgotten them. The story finds a sickly teenage boy from the city named Shawn (voice of David Henrie) going to stay at his Aunt Jessica's (Gracle Poletti) in the country for rest and relaxation. His aunt instructs the eccentric and suspicious housekeeper, Haru (Carol Burnett), "to not let anything excite him."

But who wouldn't get excited to see a 14-year-old girl, only four inches tall, attempting to steal a piece of tissue paper in the middle of the night? The girl's name is Arrietty (Bridgit Mendler), a "borrower" who lives under the house with her nervous but loving mother, Homily (Amy Poehler), and austere, stoic father, Pod (Will Arnett). Arrietty and her parents are some of the last of their kind. Earlier generations of borrowers emigrated from their houses because they thought it would be too risky if they were ever seen by human beings, whom they refer to as "human beans." Homily and Pod warn Arrietty that humans are dangerous and give off an uneasy feeling that just doesn't seem right.

That's why Arrietty is surprised to learn Shawn doesn't give off such a feeling, or at least not to her. After she talks openly with him, she starts to believe he's genuinely nice and only wants to be her friend. We believe it, too, because we can see the kid is sad and lonely. He and Arrietty share a tender moment on the grass, where they exchange stories about their histories and families and he reveals he has a heart condition. The scene is really quite lovely and Yonebayashi lets it play out with patience. He assumes, and assumes right, the audience wants to listen to Shawn and Arrietty learn more about each other and form a bond. Just because it's an animated family film doesn't mean we're only interested in action and adventure.

And yet, the story comes with its fair share of action and adventure, which is fun and engaging because we get to see how the borrowers make their way around the house and the types of obstacles they encounter. When we first meet Arrietty, she's a plucky teenager who practically seeks out danger just to prove she can survive on her own. She can't wait to go on her first borrowing expedition with her father, which entails climbing through the walls, stepping carefully across nails, avoiding rats and belaying off counters with a hook and thread to help retrieve a sugar cube, among other things. The trip opens her eyes to a whole new world of possibilities and she learns of a dollhouse that Shawn's mother and grandfather made because they believed borrowers existed and wanted to give them a nice place to stay.

After Shawn and Arrietty develop a trust, Haru is convinced something fishy is going on, and she's determined to trap Arrietty and her family. Haru is not a villain in the traditional sense; she's just obsessed with proving borrowers are real and believes they should pay for the things they take. Perhaps they should, because unless they give them back, it's technically stealing.

Regardless, all of this makes for solid family entertainment. Arrietty is a fully-realized, independent character with a colorful personality. Her courage and yearning for freedom, not to mention her willingness to learn about and tolerate humans, are at the heart of the story. We're able to identify and sympathize with her as she joins the ranks of other high-profile animated female characters like Ariel from The Little Mermaid and Chihiro from Spirited Away.

Given the film was originally a Japanese production (first released in 2010), I would have preferred listening to it in its native soundtrack (to me, English dubs lose the spark and intent of the filmmaker's original vision), but I found this one working, thanks mostly to the female casting. Mendler gives the title character a lot of presence and energy, and Poehler and Burnett do the same for Homily and Haru. The same cannot be said of the male voices, which seem flat by comparison, but I suppose that mirrors their characters' personalities.

If there's one thing the movie should have done differently, it's draw out the parental figures more. As they are, Homily and Pod embody the female and male stereotypes we're used to seeing, where the mother is a nagging worrywart, prone to fear and overreacting, and the father is strong, emotionless and bound by survival instincts. It would have been more interesting if the parents were given more original weight.

But the movie is mostly a delight and I hope that parents won't resist taking their kids to see it just because it doesn't fit the traditional Disney-American style of animated storytelling. It's a film I hope adults also choose to see, not least because of its sheer artistic beauty and attention to detail. Studio Ghibli is known for its bright and popping visual style and The Secret of World of Arrietty is the latest to immerse us in a world that's wondrous and distinct. As a story, The World of Arrietty is not overly complex and perhaps not up to the level of some of the studio's previous masterpieces, but it's just as thoughtful and heartfelt. It leaves audiences of all ages plenty to be happy about.