Weekend Forecast for February 17-19, 2012
By Reagen Sulewski
February 17, 2012
BoxOfficeProphets.com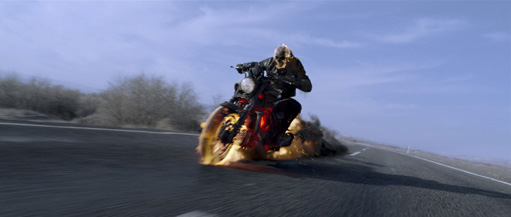 ---
After last weekend's incredible showing, there's sure to be a letdown in comparison for this weekend's fare, although it won't be for a lack of trying for mass appeal. It's just, you know, where last weekend's films were well targeted and mediocre, this weekend's films are well targeted and horrid (Okay, except for one. No hate mail, Studio Ghibli fans!).

In 2007, amidst the second wave of comic book movies, Nicolas Cage finally got his childhood wish to play Ghost Rider, second perhaps only to his wish to *be* Ghost Rider. We all saw the film open to $52 million on President's Day weekend, prompting responses of "huh?" and "buwah?", because not only is this a C-level comic character (if we're being generous), but the film also looked inherently terrible. That's not taking into account Cage's legacy of suck. Perhaps people decided they liked National Treasure, but would have appreciated it more if the main character had been a demon that was on fire. Hey, it almost ended Wes Bentley's career, so that's something, right?

So, we have the inevitable sequel, imaginatively titled Spirit of Vengeance. In it, Johnny Blaze something something saves a small boy, hey look, spitting fire! The film lets us know right away where it stands by having a character ask Blaze what it's like to pee as a demon – because that's been the burning ques... look, fire puns are kind of inevitable here, just let me be – anyway, where was I? Oh, right. Burning pee, the film goes right into things by showing exactly that. There's a pretty solid dividing line on this joke – if you're under 13, you're going "awesome!". If you're over 13, you're going "this is what passes for humor?" plus you're also making sniggering VD jokes. I'm not saying we're totally mature.

With a supporting cast that says "no really, these are people's names", we're banking on Cage first and foremost, plus any remaining goodwill you might have towards the series and what's likely to be special effects overkill. If we can compare this to other sequels to terrible movies, the first thing that comes to mind is Tomb Raider: The Cradle of Life, which did manage to be better than the first film (or as I call it, "the one with the stupid triangles") but opened to less than half, ending that right fricking there. We've got the chance to do the same here if we just hold fast. I know we can do this, people. Let's give this a $23 million opening and discourage them from Ghost Rider 3: Just 90 Minutes of Fiery Pee.

Originally slated as opening on Valentine's Day, This Means War instead saw its official release date moved to today. Chris Pine and Tom Hardy star as CIA agents who discover they're dating the same woman (Reese Witherspoon), and then decide to do battle with each other using their apparently limitless spy resources, which includes tranq darts and spy drones. Call it Mr. and Mr. Smith.

Although this is a pretty solid concept on the surface, it's kind of horrifying in practice and really not all that far from wondering who would win in a fight, Sean Connery or Roger Moore. As directed by McG (I still hate that name), it's a fairly sitcom looking film and receiving some fairly vitriolic reviews from shocked critics. Its Valentine's Day sneak previews did pretty well, with an estimated $1.7 million, but it still has to contend with the romance of The Vow this weekend. Throw in some minor but major issues (how many people think this movie is called Spy vs. Spy? And what is up with Chris Pine's forehead on the poster? Is he an alien from the future?) and I think we're looking at an underwhelming $16 million debut.

Studio Ghibli gets its widest ever North American release with The Secret World of Arrietty this weekend, debuting in over 1,500 locations. Ever since Princess Mononoke in 1997, the Japanese animation studio's films have gotten assured releases here, although often in just a handful of screens. That's grown consistently over the years and 2009's Ponyo actually made an appearance in the top 10. Arrietty is a loose adaptation of The Borrowers, which you might remember actually made it to the big screen several years ago as a live-action film with John Goodman. Or you might want to forget that. I wouldn't blame you. Anyway, the main characters are tiny people who live in houses "borrowing" small objects (this is why you can never find your car keys). Their cozy world is threatened when one of them befriends a young boy with a serious medical condition, and if they're discovered by more humans, everything they have could be lost.

Voice acting duties (or at least the American dubbing) fall here to Amy Poehler, Will Arnett, Carol Burnett and a few actors you don't really know, although that's sort of a side issue – Ponyo had Matt Damon, and didn't really make a big deal about it. Studio Ghibli films have had consistently positive reviews – they're like Pixar that way, except for the whole "selling out and making Cars 2" thing – although with not as particularly flashy stories, they can be a tough sell. Animation buffs continue to hail the studio's story telling ability, though, and Arrietty seems to be getting a significant push. In this case, that probably means a weekend take of about $6 million.

Which brings us to our returning films. The Vow didn't surprise by winning the weekend as much as it did by the exact number it put up, with $41 million. Remaking The Notebook with Channing Tatum in the male lead turned out to be a pretty safe bet after all, not to mention releasing it over Valentine's Day weekend. There's likely to be some let down from that, since some amount of that business was date-specific. If Ghost Rider's reviews catch up with it, there's a decent chance that it could win the weekend again, with about $22 million.

The other big surprise of last weekend was how little The Vow won the weekend by, with Safe House nipping at its heels with $40 million. The second biggest opening weekend of Denzel Washington's career, it's taken his usual consistent showing and made him into a box office performer to be reckoned with. We like our heroes anti-, apparently. Throw this in the mix as a possible contender for the top spot as well with $22 million, though it's getting kind of crowded up there.

Of course, it was crowded last weekend too, and that didn't stop Journey 2: The Mysterious Island from earning $27 million. And if it can overcome that terrible title, let's not rule out anything here, okay? Dwayne Johnson just showed Brendan Fraser what for with this opening, pulling on his Disney family adventure detour to help this film to a better than expected finish. With the holiday weekend, I'd expect a decent holdover, and around $16 million.

Star Wars Episode I: The Phantom Menace will become the fourth highest grossing movie of all time this weekend, blasting Episode IV with the second week of its 3D re-release. That's the good news, but I don't think this second weekend is going to display any kind of legs, as with the poor reputation of Phantom Menace, no one was in wait-and-see mode. After a $22 million re-bow, I'd give it $12 million this weekend.

Compared to these films, Chronicle and The Woman in Black seem almost a little quaint, with their probably $75 million domestic takes. This has been an incredible February, though, so let's not assume these films are done for just yet. Give them $7 and 5 million respectively for their third frames.