Movie Review: The Woman in Black
By Matthew Huntley
February 9, 2012
BoxOfficeProphets.com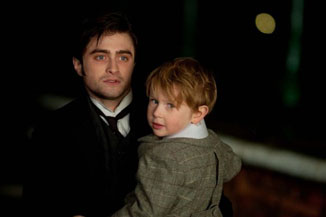 ---
Given the unparalleled success of the Harry Potter movies, it might seem inevitable that Daniel Radcliffe (Harry) would be forever typecast and would never graduate beyond his boy wizard role. That notion could change after viewers see him in The Woman in Black, an effective and uncommonly patient horror movie that also manages to tug at the heartstrings, thanks not only to an endearing performance from Radcliffe but to skillful direction from James Watkins. What could have easily been a throwaway genre picture develops into something surprisingly memorable.

Radcliffe plays Arthur Kipps, an up-and-coming lawyer in early 20th century London. He's also a widower who continues to mourn his wife, who died in childbirth. His only source of solace comes from his four-year-old son, Joseph (Misha Handley), but even around the boy he must hold back his sadness. When Joseph hands Arthur a colored family portrait, Arthur asks why daddy has a sad face, to which Joseph replies, "That's how you always look."

Facing financial troubles, Arthur is ordered by his firm to travel long distance to the dark and dreary town of Crythin Gifford to handle the estate of Alice Drablow, a widow who recently died and left behind Eel Marsh, a brooding mansion that more or less occupies its own island. At high tide, the house is cut off from the mainland and surrounded by a sea of muddy marshes, the site where Alice's son, Nathaniel, drowned several years ago.

As Arthur settles in and looks over Drablow's papers, he begins to hear strange noises and sees glimpses of a woman dressed head to toe in black. The sounds of footsteps, horrible cries and rickety old furniture echo around the house and Arthur gets the odd sensation someone is constantly lurking behind him. Either he's not right in the head or there's something sinister in the house.

The movie is chock full of those "loud crescendo" moments where a character turns or looks in another direction and something suddenly appears before them, which is accented by a loud apex on the soundtrack. I've accepted these more or less come with the horror territory but I think they'd play a lot better with no music at all, only the diegetic sounds of the location. When something appears out of nowhere and frightens us in real life, it's usually not because of the noise it makes, but because it's so unexpected. I'd be curious to see a different version of the movie where all the "shocking" moments aren't accompanied by a loud musical burst and see which strategy works better.

Still, I expected the crescendos and just sort of shrugged them off. What I didn't expect was the level of detail and atmosphere in The Woman in Black. This is one of the best looking horror movies to come out in a long time and is a superior example of how cinematography, production design and art direction can work together to create a distinct mood, which, in this case, is a combination of dread, fear and melancholy. One terrific shot occurs when Arthur is being transported across the marshes via carriage and we see the ashen mansion and its ominous grounds for the first time. The Eel Marsh estate is damp, dreary and unkempt, which complements the sadness and misery that fills the small town of Crythin Gifford, where almost everyone has been affected by the death of a child, including the hospitable Mr. Daily (Ciarán Hinds). The townsfolk clearly know something they're not telling Kipps, but he suspects it has something to do with the spirit world, which gets substantiated when he learns Mrs. Daily (Janet McTeer) believes her dead son is trying to communicate through her.

If that's true, what is the son trying to say? Is he trying to warn Kipps or scare him away? That's ultimately for you to find out, but these and other questions keep the story moving and I was pleased it didn't rush toward its answers too quickly. Too many horror movies hastily dash to the next plot point because they assume the audience is in a hurry, which causes them to lose their effect. But The Woman in Black takes its time. We're able to soak in the look and atmosphere as Kipps reacts to the phenomena happening around him. Through close-ups and small but effective touches like the reflection of candles in the eyes of stuffed animals and the careful framing of malevolent beings rising in the background, the movie evolves into a genuinely creepy and chilling experience. There have been better horror movies, but this is still a good one.

As for Radcliffe, there came a point in the film where I stopped seeing him as "the kid who played Harry Potter" and just accepted him as his character. Because he's inherently sympathetic and convincing as an actor, I had no problem believing he was a lawyer or a father. Perhaps Radcliffe can be an exception to the rule that all child actors can't escape their claim to fame. Maybe all it takes is a sound story and gifted filmmakers. The Woman in Black has both.