Top Chef: Texas Recap
By Kim Hollis and David Mumpower
February 8, 2012
BoxOfficeProphets.com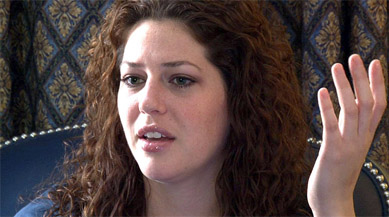 ---
Last week, Moto Chris finally had to pack his knives and go home. It was a matter of time, really. His stuff was way too far out there and even though everyone likes him, his ambition never matched his ability - at least on the show. Give him time to develop, and he might turn into something really special, though. He was the anti Carla Hall. He didn't focus on flavor and instead tried to dazzle with technique. Ultimately, it's just about making good food and we can't even say it was close but no cigar for him.

Here's how the remaining contestants stack up:

1) Paul Qui - In order for Paul to lose this competition, Buster Douglas would have to knock him out.

2) Grayson Schmitz - Has had some strong performances of late, with the exception of being in the low group with a spectacular dish during the Evil Queen challenge featuring Charlize Theron. She jumps up just a bit because she's showing some fight.

3) Edward Lee - He's obviously a talented chef, but he's had some misfires recently that have us concerned he just might not make it for the long haul. Based on ability alone, it should probably come down to him and Paul; however, he just keeps doing poorly enough to get in the bottom group without being eliminated.

4) Lindsay Autry - You could argue that her placement should be higher, because she's had the best run of being in the "winning" group. However, she was the worst performer in some of those instances, most especially Restaurant Wars, where it probably should have been her eliminated that day. Still, she's showing some creativity and spark late in the game.

5) Sarah Grueneberg - She's not the worst chef in the world, and in fact, all of the competitors remaining in the game could win on any given day. She just seems to be showing the least ability under pressure this late in the game. Small mistakes are her undoing, and it seems like she could be due for a big one at any time.

At the Top Chef house, Edward rolls out of bed and he's wearing a suit jacket and shorts. We think he fell asleep in (some of) his clothes from the previous night.

When the chefs arrive for their Quickfire, they are presented with stacks and stacks of pancakes, which are apparently the favorite of today's guest judge. Grayson guesses it's a child, and she's sort of right. In fact, it's Pee-Wee Herman, who comes riding in on the famous bike that was lost to him in the Tim Burton film Pee-Wee's Big Adventure. The reason Pee-Wee has a connection to the Texas version of Top Chef, of course, is because when he was questing to find that bike in the film, it was supposedly in the basement of the Alamo.

The cheftestants have 20 minutes to make pancakes. Padma tells them to let their imaginations run wild, and Pee-Wee tells them how much he loves them...though not enough to marry them (ha-ha!). Some of the chefs talk about how they liked to watch Pee-Wee's Playhouse as a child. Winner gets $5,000.

In Moto Chris's absence, we wouldn't have expected anyone to break out the liquid nitrogen, but perhaps in memory of his fallen comrade, Paul goes for it. Grayson's pancake is shaped like Minnie Mouse, and is a ricotta buttermilk pancake with peach compote, blackberry and basil. Pee-Wee says it is probably the best pancake he has ever had.

Sarah's pancakes, which have turned out to be a little pink, are confetti with blackberry sauce, cocoa nibs and vanilla whipped cream. Pee-Wee says that he got some of the confetti stuck between his teeth; nonetheless, it is the best pancake he has ever had.

Padma and Pee-Wee move on to Paul, who has made a rolled pancake with berries, black pepper and champagne dippin' dots (we call this brilliant!). It looks delicious even though it's Paul's first time making pancakes. Pee-Wee certainly thinks they're swell, since he says...are you detecting a pattern here?...that they are the best ones he's ever had.

Lindsay has another ricotta pancake, with whipped creme fraiche, marcona almond and anise cookies. It looks a little bit sloppy, but Pee-Wee still believes it's the best pancake he's ever had.

Our last contestant is Edward, who says that he is celebrating the crazy little bits that fall off the edges of the pancake because they're so tasty (he's right). His dish is pancake bits, blueberries, raspberries, strawberries, bacon and bruleed marshmallow. It looks amazing - his dishes are custom made for Instagram photos. Pee-Wee tells him the dish stinks. No, no. He says it's the best pancake he's ever had.

There are no bottom contestants in this round, possibly because Pee-Wee is too positive of a person to say anything negative. He says that he has to go with "the best pancake he's ever had," and in fact, his favorite is Edward's - so perhaps all of those pancakes truly were "the best he'd ever had."

Remember how I mentioned the Alamo before in relation to Pee-Wee? The Elimination Challenge involves the landmark, which is where the 29 Top Chef contestants began their journey. Each of the five remaining chefs will get a bicycle just like Pee-Wee's, which they will have to use to ride around town to buy their supplies at some local markets and then find a restaurant that will let them cook a family-style dinner. Once finished, they will have to deliver Mr. Herman's dishes to the Alamo, where the feast will take place. All of this must be accomplished in three hours, no easy task.

When the chefs quiz Pee-Wee about what he likes, he pretty much confounds them by just describing a variety of stuff, from chicken to egg salad to spicy food. He also claims to like healthy food, and though he doesn't think he has any allergies, he doesn't know for sure. This could be exciting.

Grayson and Paul both stop at a market to get some chicken, while Sarah also winds up with chicken. Lindsay gets some beef cheeks, while Edward looks for shrimp but can't locate any. He figures that whatever restaurant he winds up at will have some proteins, so he's going to take a chance.

Paul and Grayson are neck and neck on the bikes, and although Paul gets to the restaurant first, he goes to the wrong door. Grayson manages to get in the correct door first, so Paul is forced to move on. He's a little sour about it, but we say it's a competition and everything is fair here.

He doesn't have much trouble finding a kitchen, anyway, but Sarah is struggling. In our opinion, Paul's new location is much better than the one where Grayson landed, so his bitching was kind of all for naught. Lindsay checks into her kitchen, but decides to leave and find a few more ingredients.

Edward hits a bed and breakfast, and tries to barter with the owners, asking for grits, which he cooks with chicken. It's a pretty weird situation, because it feels like he's just showed up in the kitchen of someone's home. In a weird twist of events, Lindsay shows up at Rosario's the restaurant where Grayson is cooking, to ask for ingredients. In the meantime, Sarah has shown up at Lindsay's previously "claimed" restaurant, and Lindsay is forced to ride her bike elsewhere. She unhappily says, "I don't want to go home for cooking for Pee-Wee Herman." She's definitely on a time crunch, though.

She eventually finds a small kitchen where she can get her work done, but is worried about her beef cheeks, which are a little bit frozen. Over at Sarah's restaurant, they're fascinated by what she's doing, and it's looking pretty good. Edward gets a very weird request from his new friends at the bed and breakfast, as they ask him to cook a breakfast for one of their guests. When he can work on his own meal, he intentionally undercooks his chicken because of the length of time he has to ride from the B&B to the Alamo.

Paul is making roasted chicken salad, which means that Lindsay is the only person not cooking chicken today. She's feeling challenged in the restaurant atmosphere where she's working, especially because she only has two pots. Even so, she notes that in situations where she has very few options, she tends to excel.

It's worth noting that even though this was a strange (and kind of sucky) elimination competition, all of the chefs seemed to have a pretty good handle on what they are doing. No one panics, and preparations seem to go as well as possible.

Once they get in front of the judges, everyone is smiling. This group gets along well with each other, and Pee-Wee's uplifting presence is really helping the situation. Sarah presents a summer vegetable egg salad with chicken skin vinaigrette (the chicken skin looks super yummy, by the way).

Grayson's dish is an egg, spinach and gorgonzola stuffed chicken with butternut roasted squash. Lindsay has a stuffed zucchini with braised beef cheeks, rice and goat cheese. Ed's done a version of chicken and grits with raw corn, kale salad and red-eye gravy. Finally, Paul has a roasted chicken with red curry gastrique and summer salad with basil blossom oil. They all look pretty terrific, and Pee-Wee is just bursting with anticipation. (We learn later that Pee-Wee does not stay in character when he's not on camera. Thank goodness.)

The judges enjoy Sarah's dish, but comment that there is no salt. At this stage in the game, incorrectly using seasoning can be a game breaker. This has been a problem for Sarah a few times. Pee-Wee loves Lindsay's dish, partially because it looks likes it's in a boat. The gorgonzola is delicious to him, but Padma and Gail find it soggy. The fresh corn in Ed's dish is well appreciated, as is the sauce; however, the texture of the chicken is called "weird." His decision to undercook it may have come back to bite him.

When Pee-Wee sees the yolk stuffed in Grayson's chicken, he claims that "he has a little prize." The dish is well liked, but Tom comments that the dish doesn't come together that well, with the salad portion veering in a strange direction. And to close it out, they taste Paul's dish. They say it's good. Surprise! Pee-Wee does notice that everyone ate more of Paul's dish than anyone else's. We're starting to think Paul has a future in this business.

The judges ask the entire group to come to Judges Table, which is in keeping with the positive spirt that seems to be surrounding Pee-Wee. All chefs receive a lot of compliments, with Pee-Wee loving the option of having skin or no skin on Paul's dish, and he also liked the summer squash - something he'd never enjoyed before. Ed is told that his chicken has a weird texture, and realizes his mistake at undercooking it a bit. Grayson's dish, as mentioned, didn't really come together. Squash and tomatoes just don't go together, and this bothered all the judges. Pee-Wee also comments on how large the dish was, which is again a problem she has. Where Grayson comes from, you make big meals, and she's not used to the smaller portions that more refined diners enjoy. Sarah's dish, as noted during the dinner, was good but under-seasoned. Obviously, Tom likes Lindsay's dish because it reminds him of childhood. Gail thinks the dish had too much salad dressing, but this seems a mild complaint overall.

When Pee-Wee names the winner, we see that Lindsay is continuing to show some signs of strength. Paul is also informed that he is safe. Thus, Edward, Grayson and Sarah are our bottom three for the week. None of them seem to have made huge mistakes but Tom's agitation at the way Grayson's dish came together would indicate that she's probably the one who will be eliminated this evening. He's been catching her in some elementary mistakes over the last few weeks, and tonight's dish appears to be another example of this same type of issue.

Ed's error is pretty egregious, too. He does comment that he probably made the biggest technical error, but at the same time he seems to be in a good place about it.

Our instincts are correct, though, because Padma sends Grayson on her way...

but wait! All season long, unbeknownst to the chefs still remaining in the competition, there has been a "last chance" competition a la Survivor's Redemption Island taking place with the eliminated chefs. Each week, the newly eliminated chef competes with the person who is still standing from the group of chefs who are theoretically no longer in the game. So, Grayson will now be battling Beverly to see which of the two of them will re-enter the game. Annoyingly, even though Bravo shows the episodes of Last Chance Kitchen online, tonight's "show" does not reveal the person who will join the other chefs as a contestant once again. Instead, we'll learn their identity in the next episode of Top Chef. Hint to Bravo: that's probably not the best way to reward people who are taking the time to seek out your extra content.