Weekend Wrap-Up
Chronicle Super Over Super Bowl Weekend
By John Hamann
February 5, 2012
BoxOfficeProphets.com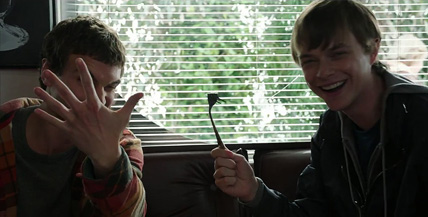 ---
Welcome to Super Bowl weekend at movie theatres – usually a weekend where bad horror films and worse chick flicks are hoisted (or dumped) upon the masses, in the hopes of turning a bad moviegoing weekend into a small profit. This year things are different, as not only do we have three well-reviewed new releases to ponder, but two of them had solid earnings at the box office. Out this weekend are Chronicle, another in the sci-fi found-footage genre, a la Cloverfield, The Woman In Black, starring an aging, bearded and possibly drunk Harry Potter, and Big Miracle, a free-the-whale movie starring Drew Barrymore and John Krasinski.

Our number one film of the weekend is really the Super Bowl, as the big event – this year starring Madonna – basically rubs out a movie day, taking down the Sunday number even more than usual. Movies released over Super Bowl weekend are usually bad, and not aimed at a wide target. Taken is the shining example of a movie released over Super Bowl weekend, as it earned $24.7 million over its opening frame. Taken had a 2.6 internal multiplier (weekend gross divided by Friday gross). It earned $9.4 million on its Friday, and was heading toward a really big weekend, as its Saturday number came in 24% higher at $11.7 million. But then came Super Bowl Sunday, where Taken was off 69%, earning $3.6 million. Had the Sunday number not been so bad (The Grey was only off 39% from Saturday-to-Sunday), Taken may have earned a 3.0 multiplier, and taken in $28.2 million over that weekend. Had it earned that much, it might have added $20 million to its domestic total.

Our real number one movie of the weekend is Chronicle, a well-thought out and well-received piece of film from those at Davis Entertainment and 20th Century Fox. A found-footage type film, Chronicle drew teenagers en masse and parlayed a viral marketing campaign into a stellar weekend gross of $22 million. Over any other weekend, Chronicle would make less of a splash, but considering this is a big football weekend, the film blew apart expectations for an opening between $10 and $15 million, and it didn't rely on the crutch of 3D to up its opening weekend earnings. Chronicle opened at only 2,907 venues, which gives it a solid average of $7,598. It had an internal multiplier of 2.52, which was expected to be at the low end due to the Super Bowl. Because it's a found-footage type of film and starred three teenagers few had heard of before, Fox spent only $12 million to make this one, which means they will likely see real profit by the end of next weekend.

Why did this one work? Good movies get people out, especially when there's a catchy story involved with lots of eye candy and money shots. Simply put, three teenagers find something that gives them super-human powers, but one goes bad, and flying buses ensue. So, what we basically have is a comic book movie - one that is sharply made, if you can handle that shaky-cam kind of style. Critics certainly didn't mind, as 98 out of a possible 116 found something to like here, giving Chronicle an 84% fresh rating, one of the better scores received this year. It earned a B Cinemascore. Chronicle also had some ingenious marketing plays working for it as well. Fox hired a company to fly what looked like three people over New York last week to create awareness for the film, amongst other things.

While Chronicle didn't reach the heights of found-footage products like The Blair Witch Project ($140 million domestic) or Cloverfield ($40 million opening), it appears to be a better product than both of those films. It did stay ahead of films like Apollo 18 ($8.7 million opening) and Quarantine ($14.2 million opening), and should have better legs than The Devil Inside ($33.7 million opening, 76% second weekend drop). The genre is usually left for horror, as only Chronicle and Cloverfield veer away from the more ghoulish side like the Paranormal Activity series. Hopefully for Fox, Chronicle will have better legs than Cloverfield, as after that one opened to $40 million, it could only pull $80 million out of its domestic run in North America.

Finishing second is The Woman In Black, a cheap pickup for upstart distributor CBS Films. Woman in Black stars Harry Potter's Daniel Radcliffe in his first post-Potter role, sporting facial hair so that everyone knows he's all grown up. The Woman in Black appears to be a good post-Potter choice for Radcliffe, as if this one had failed, Broadway would have been the only one calling. Not only did The Woman in Black work, it really worked for CBS Films, as Woman opened to $21 million despite being out to only 2,855 venues, and not having any characters killed by power tools. Woman in Black had a venue average of $7,356, and an internal multiplier of 2.53. For CBS Films, the opening is their biggest yet, spinning wheels around JLo's The Back Up Plan ($12.2 million opening) and Jason Statham's The Mechanic ($11.4 million opening). The even better news is that Woman was just a $3 million acquisition, which means the distributor is seeing profit now, despite P&A costs. Hell, they were likely seeing a profit after Saturday night. The actual cost of making the film was $17 million, and due to the strong North American opening, it could see as much as $100 million worldwide.

Third spot goes to last weekend's champ, The Grey, but the Northern adventure movie is certainly no Taken. The Grey earned $9.5 million and was off a troubling 52% compared to last weekend when it brought in $19.7 million. It wasn't just the Super Bowl that hurt the Liam Neeson thriller, as The Grey was even off 52% from Friday-to-Friday. Over a normal second weekend, that 52% Friday drop would have crept up, but with the game on Sunday, it stayed down. The Open Road pickup cost the studio $8 million plus prints and advertising commitment on a film that cost $25 million to make. The Grey will likely end up as a $60 million domestic earner, as it has taken in $34.8 million so far.

Fourth spot goes to Universal's Big Miracle, a movie I keep referring to as Big Fish or Free William. The taken-from-'80s-headlines movie failed to cause a stir at the box office this weekend, as the Drew Barrymore/John Krasinski flick managed to earn only $8.5 million at the box office this weekend. This one opened at only 2,128 venues, which means the studio likely didn't have high hopes for the picture. Made for $30 million, Big Miracle won't hurt Universal too badly, especially if it can find some legs like Free Willy did in the early '90s. That one turned a $7.8 million opening into a $78 million gross, gave birth to two sequels, and presented late night TV with jokes for years.

The third weekend of UnderworldL Awakening is in fifth, as it takes an expected tumble down the top ten ranks. This weekend the four-quel earned $5.6 million and dropped 55% compared to the $12.4 million gross it earned last weekend. The $70 million Screen Gems release has now earned $54.4 million stateside, but that is joined now by a $40 million plus take from overseas screens. This Underworld appears to be headed for the largest domestic gross from the series so far, as it tries to catch Underworld: Evolution, which brought in $62.3 million.

Sixth is One For the Money, the Katherine Heigl pic that stumbled into third last weekend with $11.5 million. This weekend, the comedy drops three spots, and the Lionsgate effort pulls in $5.2 million. That gives One for the Money a 54% drop compared to last weekend, and what I can only hope will be a quick exit from the top ten. One For the Money has a gross so far of $19.7 million.

That puts Red Tails in seventh, as the George Lucas release finds little traction at the North American box office. Red Tails earned only $5 million in its third weekend, and dropped 52% compared to last weekend. Red Tails cost Lucas $58 million to make, and it has a gross so far of $41.3 million.

Eighth is The Descendants, the five time Oscar nominated release. After re-expanding nicely last weekend, The Descendants dipped somewhat this weekend, but continues to roll. The George Clooney film earned $4.6 million this weekend – its 12th weekend in release – and drops 28%. The Alexander Payne film has now earned a fantastic $65.5 million.

Thus, that means Man on a Ledge is in ninth, as it becomes a big miss for Summit Entertainment. Man on a Ledge earned $4.5 million after debuting to only $8 million last weekend. That's a drop of 44% for the $42 million Sam Worthington flick, which will be lucky to earn $30 million.

Our tenth place finisher is Extremely Loud and Incredibly Close, the surprise Best Picture Oscar nominee that continues to hold up well in wide release. The Tom Hanks/Sandra Bullock film earned another $3.9 million over the weekend, down 44% from the previous frame. Thus far, the Warner Bros. release has earned $26.8 million.

Overall this weekend, the box office remains hot compared to a year ago. Over Super Bowl weekend in 2011, The Roommate led the box office with $15 million as the top 12 only earned $73 million. This year, things were much better, as the top 12 bought in a much healthier $97.6 million. Next weekend brings a sequel to the Journey to the Center of the Earth called Journey 2, this time with The Rock instead of Brendan Fraser, Safe House with Denzel Washington and Ryan Reynolds, The Vow with Rachel McAdams and Channing Tatum, and finally Star Wars: The Phanton Menace, this time in 3D. Too bad the Super Bowl wasn't next weekend.