Weekend Wrap-Up
Box Office Showing Signs of Grey
By John Hamann
January 29, 2012
BoxOfficeProphets.com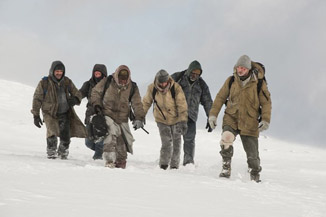 ---
Liam Neeson managed to beat Groupon and Living Social this weekend, as The Grey took on discounted tickets for Sam Worthington's Man on a Ledge and Katherine Heigl's latest cinematic disaster, One for the Money. This is also post-Oscar nomination weekend, so the box office was looking for upticks from films like The Descendants, The Iron Lady, The Artist, and Extremely Loud and Incredibly Close. Look out for Neeson, though – he's currently hot and a known quantity. Neeson has appeared in 11 films that have grossed more than $200 million worldwide throughout his career.

Our number one film of the weekend is The Grey, a film with a questionable title, great premise, good reviews, and an attention-getting star in Liam Neeson. The Grey earned a solid but not spectacular $20 million this weekend from 3,185 venues. It had a venue average of $6,279, and earned a B- Cinemascore. The Grey got started on Friday with a $6.5 million take, and turned that amount into a 3.07 multiplier (weekend gross divided by Friday gross), which indicates a solid weekend for the actioner. With a lot of other male-driven films in release, distributor Open Road should be very pleased with the result. The upstart distributor paid $8 million plus a commitment to spend $25 million on prints and advertising, a figure they should recoup given this opening weekend, should The Grey have a opening-to-total multiplier of about 3.5. Unknown, Neeson's last actioner, had an opening-to-total multiplier of 2.9. Bigger studios can often rely on overseas grosses to pad profit, but in this case, Open Road owns only the domestic rights.

Last weekend, Underworld Awakening opened on the same weekend as its predecessor. This weekend, The Grey chooses the same weekend as Neeson's smash Taken, which opened on January 29, 2009. Taken opened to an okay $24 million, but earned six times that amount domestically, turning in $145 million stateside, and another $81 million overseas. Since Taken was released, Neeson did voice work in the English version of Ponyo (a really good film, but a domestic flop; it did earn $200 million worldwide); had a smaller role in Clash of the Titans (almost $500 million worldwide); appeared in the domestic disaster The A-Team ($77 million stateside, $177 million worldwide); voiced Aslan in The Voyage of the Dawn Treader ($400 million worldwide); and went back to his singular action style in Unknown. Unknown was no Taken, but that one still managed a healthy $63 million stateside and $136 million worldwide. Neeson is a very quiet superstar, especially at the worldwide box office, likely due to his appearances in films like Schindler's List, as well as healthy franchise work in Chronicles of Narnia, Batman Begins, and Star Wars: The Phantom Menace (the series went in the tank as soon as his character died).

For The Grey, this is a solid start, considering Neeson's draw in other parts of the world. Produced by Ridley and Tony Scott, director Joe Carnahan has delivered a solid – albeit somewhat existential – film that critics and for the most part audiences seem to like. At RottenTomatoes, The Grey is a decent 77% fresh, with 98 critics out of a possible 128 finding something to like. "Top Critics" weren't as kind, as that score was only 63% fresh. For Open Road Entertainment, this will finish as a better result than their only other release, Killer Elite, which bombed with a $25 million gross stateside against a budget of $70 million.

Underworld: Awakening is second after finishing in top spot last weekend. Underworld fell quite hard this weekend, as after earning $25.3 million in the last frame, as the Kate Beckinsale pic took in only $12.5 million in its second weekend. That gives it a drop of 51%, better than Rise of the Lycans, which fell 64% in its second frame, as audiences learned that Beckinsale only had a cameo in that one. Underworld: Awakening also had a better drop than both the first and second movie in the series, as both of them lost 58% in their second weekends. Since Underworld: Awakening was shot in 3D, it had higher production costs at $70 million, so it will be interesting to see where it ends up overall. Give it $45.1 million domestically, and about $15 million overseas thus far.

Finishing third is One For the Money, starring the-much-hated-by-me Katherine Heigl. One For the Money got saved this weekend by the Interweb, as Lionsgate used Groupon to give audiences a cheaper way to see the film. Pretty much unknown before that (and shortly after), One For the Money turned what should have been a dismal opening into a weekend take of $11.8 million from 2,737 venues. Based on a book by Janet Evanovich, One For the Money is considered DOA by critics, with only one positive review at RottenTomatoes from some sleepy dude who called it a "guilty pleasure."

Speaking of ugly, Katherine Heigl's resume is just that. One For the Money only adds to a series of bad decisions the actress has made in her soon-to-be-over career. She appeared in the woeful New Year's Eve (7% fresh); starred alongside Ashton Kutcher (who can only get sloppy seconds from Charlie Sheen) in Killers (11% fresh) and received $12 million for her "effort"; stumbled her way through Life As We Know It (there's a title – its almost as bad as One For the Money) which was 28% fresh; and was in The Ugly Truth, which was 13% fresh. One For the Money cost Lionsgate and Lakeshore Entertainment $42 million, and I'm happy to say they will eat a lot of that.

Fourth is the George Lucas film, Red Tails, about the Tuskegee Airmen. Red Tails held better than Underworld: Awakening (no big surprise due to Underworld being Part 4), as it dropped from $18.8 million last weekend to $10.4 million this weekend. That's a drop of 45%, and is a number Mr. Lucas should be pleased with. Red Tails cost $58 million of Lucas-bucks, because the Star Wars creator couldn't get this one made unless he put up his own money. Red Tails has earned $33.8 million after ten days, and will likely finish somewhere between $50 and $60 million.

New release Man on a Ledge is a dismal fifth, as even a Living Social coupon (yep – twice in one weekend) couldn't pull this one up. The Sam Worthington flick earned $8.3 million this weekend from 2,998 venues. This is a ridiculous concept made worse by bad film-making. Man on a Ledge (it even sounds like One For the Money) was only 23% fresh at RottenTomatoes. If you've seen the trailer, you've seen the movie. The coupon doesn't make it any better. This one cost $42 million and will be lucky to earn $20 million at the box office.

Oscar oddball Extremely Loud and Incredibly Close is sixth, as the out-of-nowhere Best Picture nomination saves this one from the $2.99 bin at Walmart. After opening to $10 million last weekend, the Warner Bros. release dropped 29%, earning $7.1 million this weekend. The budget on this one remains a secret, but I don't see it earning much more than $35 million.

Speaking of Oscar, The Descendants is seventh this weekend after finishing 16th last weekend when it earned $2.4 million. The George Clooney flick earned a much better $6.6 million and finishes the weekend with an uptick of 176%. This is what Oscar is for. Here is a really good film (90% fresh at RottenTomatoes), that is getting a second chance at life because it was nominated for five Oscars. It has been at more than 800 venues for eight weekends, and is enjoying its second best weekend to date. The Alexander Payne film has now earned $58.8 million, and is truly happy to just be nominated.

Contraband is eighth this weekend as the not so memorable Mark Wahlberg flick marches down the top 12. After a drop last weekend of 50%, the action flick dives again, this time dropping by 46% as it earned $6.5 million in its third weekend. Universal doesn't care, because Contraband was guaranteed to make a profit after the $25 million flick opened to $24.3 million. Give Contraband $56.4 million so far, and it's just getting started overseas.

Beauty and the Beast slides to ninth this weekend (what, is it my birthday?) as audiences grow tired of Disney re-release mania. Beauty earned only $5.3 million, dropping 39% from last weekend's take of $8.8 million. Still, the $10 million conversion has reaped big rewards for Disney, as the re-release has earned $41.1 million.

Tenth goes to Haywire, Steven Soderbergh's action film that didn't have a big enough star at its center. MMA star (and former American Gladiator) Gina Carano was the anchor for this movie, and it shows since the movie dropped 53% to a $4 million finish this weekend. So far, the Relativity Media release has earned $15.3 million.

Although it didn't finish in the top ten, the 11th place Mission: Impossible - Ghost Protocol crossed the $200 million mark this weekend in domestic dollars. It also has a massive international total of $369 million. Tom Cruise is back, baby.

Overall, the box office is on target with where things were last year, but that's not saying much. A year ago, the top 12 films were led by Anthony Hopkins in The Rite (wow, that one's memorable) and those 12 films earned $92.4 million. This year's crop didn't do much better, as the top 12 took in $99.3 million, and only one opener, The Grey, had any strength to it for future weekends. Next weekend will be strange at best. Openers include Big Miracle, the Drew Barrymore whale movie, Chronicle, the well-advertised teen sci-fi flick starring and directed by nobody, and The Woman in Black, which stars Harry Potter, but is being released by CBS Films, which has released only dreck thus far.