Friday Box Office Analysis
By Kim Hollis
January 28, 2012
BoxOfficeProphets.com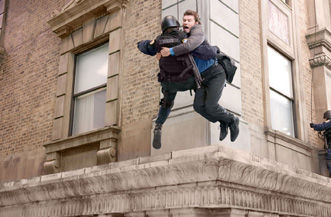 ---
Three new movies were released into the marketplace yesterday, with two of them smacking of desperation. Those two features, One for the Money and Man on a Ledge, both utilized coupon sites for last minute ticket sales, which is the box office equivalent of begging for change. The third is the highest profile of the group as well as the latest proof that the early portion of the year belongs to Liam Neeson.

The Grey opened to $6.5 million on Friday, easily good enough for first place. The social media crowd had been mocking the man vs. wolf premise for several months now, but fledgling distributor Open Road is having the last laugh. With a modest production budget of $25 million, this title is certain to be a profitable endeavor and the latest example that consumers love to watch Liam Neeson kick ass whether the enemy is a white slavery ring, a group of assassins or a wolf pack of much more than one.

Of course, Taken is the movie that fundamentally altered the perception of Neeson as an action hero. That January release earned $9.4 million on its first Friday on the way to $24.7 million for the weekend. Last year's Unknown, a mid-February release, started in the same range as The Grey. It debuted to $6.7 million and wound up with $21.9 million over opening weekend. While The Grey has significantly better reviews than Unknown (77% fresh at Rotten Tomatoes versus 55%), I do not expect it to hold up quite as well over the weekend. A weekend of $17.6 million is in store for the title, which is another solid performance for Neeson. He has become what Jason Statham has been trying to be for years now, a reliable action movie draw.

The second "most popular" new release this weekend is One for the Money, a Katherine Heigl comedy based upon the popular Janet Evanovich book series. Suffice to say that books two through 18 are looking unlikely to get the big screen treatment as One for the Money is so awful that it was not screened for critics. Out of the 26 who have watched it thus far, exactly one enjoyed the movie. This doesn't seem to be a surprise to Lionsgate, either. In the middle of the week, the studio fretted over the tracking enough that they decided to run a Groupon ticket deal.

This was a tactic implemented somewhat successfully last year with The Lincoln Lawyer, a title that earned $4.1 million on its first Friday, $13.2 million over its first weekend and $58 million overall. While these 50% off sites are waning in popularity only a year later, One for the Money has matched The Lincoln Lawyer's first day with $4.1 million. It is highly unlikely to approach the $58 million final tally due to the venomous word-of-mouth, but a $12.5 million weekend is better than expected for a movie tracking poorly.

Of course, there is a lot of debate about how much the box office aids the studio as exhibitors get the lion's share of the Groupon profits (theater owners have indicated to me that they get all of it). So, the tactic in and of itself is questionable in every other regard save for box office reports/publicity. Without the Groupon, One for the Money would have been an unqualified disaster. As it is, we are writing about how the losses were mitigated rather than the movie itself, which doesn't strike me as forward progress.

Then again, Man on a Ledge did even worse than One for the Money. In fact, it lost to last weekend's openers as well. One of the final Summit Entertainment releases before they are merged with new owner Lionsgate, Man on a Ledge managed a paltry $2.5 million. Even scarier is the thought that this film offered a competing LivingSocial deal yesterday. Almost no consumers were willing to watch Man on a Ledge even at a discounted price of $6 a ticket. That statement says everything about this title, which should earn about $6.7 million this weekend. Man on a Ledge was just pushed off the roof.

Last weekend's most popular releases, Underworld: Awakening and Red Tails, fell 63% and 53% respectively. Keeping in mind that Underworld 4 earned 50% more last Friday, these declines are roughly similar. Underworld edged out Red Tails in actual Friday box office, $3.4 million to $2.8 million. Underworld is ahead in terms of domestic box office by almost $10 million overall.