Weekend Forecast for January 27-29, 2012
By Reagen Sulewski
January 27, 2012
BoxOfficeProphets.com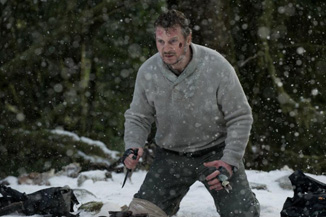 ---
It's one of the more intriguing weekends at the box office every year – the weekend after Oscar nominations come out. This often becomes the final financial judgment on a number of prestige films, although some manage to delay this to the actual Oscar ceremony. Three new films are rudely crashing the party, however.

The past few years have seen the early part of the year become the unofficial "Liam Neeson is a Badass" period, starting with Taken, then moving on to Unknown last year. This year, the concept gets taken about as far as one can imagine as Neeson gets to take on nature itself in The Grey. Well, wolves specifically, as he and a group of survivors of a plane crash in Alaska have to battle their way back to civilization, with a pack of angry wolves picking them off one by one. It's the Manliest Movie in the History of Men Doing Manly Things (or at least since Burt Reynolds stopped being popular), and hey, look at that, it's directed by Joe Carnahan, who is the past ten years' answer to Shane Black.

There's a bit of "are they kidding" to this premise, which could go a little Jaws: The Revenge if they're not careful about how they depict the animal antagonists (there's also the regrettable The Edge to call back to). There's also the problem that there's no damsel in distress like his last two films in this spot (or at least how it was depicted in the ads). Then again, we've got Liam Neeson taping broken bottles to his hands in place of claws, so that's pretty awesome right there. Reviews are surprisingly great for this, but I do think we're going to see some slippage from the mid 20 million openings of Taken and Unknown, to around $18 million.

How much has Katherine Heigl damaged her career in the last few years by being, well, Katherine Heigl? That's what we're likely to find out this weekend with the release of One For the Money. An adaptation of the popular Stephanie Plum series, Heigl plays a woman who joins her family's bail-bonds business, tracking down fugitives. Because that's exactly the sort of thing you can do with no training and without being physically imposing.

Her first fugitive is an old flame (played by Jason O'Mara of Life on Mars and Terra Nova), which of course means that hijinks inevitably ensue, but we're talking about the broadest, sitcom level of action possible. Jennifer Aniston sort of made this work with The Bounty Hunter, although from the opposite perspective. Unfortunately, this also sort of reminds us of Killers, which was the point at which people started realizing that Heigl is kind of unpleasant. Her overtures to the Grey's Anatomy producers this week are kind of telling in that respect, that her career opportunities are drying up, or at least are looking a lot less rosy than they were a couple of years ago when she told TV "see you when I see you, losers!" After three films that opened to $20 million plus, her last three have settled in the low teens (though it's difficult to pin New Year's Eve on anyone in particular). That seems like a likely spot for One For the Money, which should start with about $14 million.

Lastly, we have Man on a Ledge, Summit Entertainment's latest attempt to be relevant in its soon-to-be Twilight-less future. Sam Worthington stars as the titular character, an ex-con who is actually serving as the distraction to a diamond heist that has something to do with proving his innocence. While Elizabeth Banks is trying to talk Worthington "down," Jamie Bell and something named Genesis Rodriguez are nearby making the heist of the century, or something. This movie has more plot than five movies.

While not quite as restricted to one location as its spiritual predecessor Phone Booth, it's firmly within the high-concept genre, which at least gets it some attention. Reviewers have been less than kind to it, and although Worthington has racked up some extremely impressive opening weekends over the last two years, this is not going to be one of them. Give it $12 million for its debut.

With several Oscar nominated films expanding, this throws the lower half of the charts into a bit of flux. The biggest overall expansion is The Descendants, the Alexander Payne/George Clooney film about loss and betrayal in Hawaii. This is actually the film's tenth weekend, but it had never gotten higher than 878 screens until now. That hasn't stopped it from bringing in over $50 million so far, which is a great under-the-radar figure. It's a little unusual for a film to just be getting its wide release after this length of time and after earning this much money, so there are very few benchmarks for how it's going to behave. The film that actually comes most to mind is American Beauty, although that was much more in the way of a re-release than an expansion, coming as it did five months after its initial opening. Another possible comparison is Slumdog Millionaire, though The Descendants doesn't come in with nearly the buzz of that film. On close to 2,000 screens, I'd say we're looking for around $6 million here, based on past performances.

Other films that ought to see some boosts thanks to Oscar nominations are The Artist, aka, the odds-on favorite to win Best Picture. So far it's brought in $12 million, and had its biggest expansion last weekend to 662 screens. Extremely Loud and Incredibly Close, Hugo and War Horse are the only other Best Picture nominees still in significant numbers of theaters, while Albert Nobbs, The Iron Lady and Tinker Tailor Soldier Spy may see some bumps for their acting nominations. You can see how quickly the field fills up here, and there's clearly not room for all.

Especially considering that we still have some significant films returning. Underworld Awakening won't be anyone's idea of a leggy film, but with a $25 million start, even its big drop-off will be relatively a lot of money this weekend. None of these films has managed better than a 45% holdover, so $10 million seems about right here.

Red Tails, the Tuskeegee Airmen movie, looks to fall by close to the same margin, though the George Lucas-produced film is already ahead of the game by starting at almost $19 million. It should find about $9 million this weekend.

The aforementioned Extremely Loud surprised many by taking a Best Picture slot, and with audiences generally liking it, it may be able to turn that nomination into some legs. After a disappointing $10 million start, it should follow that up with an $8 million second weekend.