BOP Interview: Elizabeth Banks
By Ryan Mazie
January 26, 2012
BoxOfficeProphets.com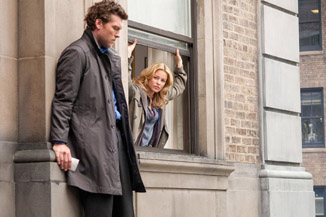 ---
Filming a movie on the ledge of a building 21 stories above the ground would be a deal breaker for most actors. But for the thrill-seeking actress Elizabeth Banks, the promise of shooting in the air sealed the deal. "It's an easy thing to fake, but audiences are very savvy," said Banks during a roundtable in Boston to promote her high-altitude thriller, Man on a Ledge, "Also, it's a gift to the actors, because we want to act, not wonder in front of a green screen what it would be like to stand up that high with the wind-blowing. [We shot] in November freezing our asses off; my hands were turning blue."

Last seen in Our Idiot Brother and 30 Rock, the actress mostly known for comedy is once again showing audiences what other genres she can handle, playing a New York Police Negotiator tasked with getting a jumper (Avatar and Clash of the Titans star Sam Worthington) off of the ledge of the famed Roosevelt Hotel. But don't let Man on a Ledge's blatantly self-explanatory title fool you, as unclear motives and multiple subplots (including a heist) play parallel leading up to a twisty conclusion.

In this interview, Banks talks about her biggest fear, preparing with negotiators, Alec Baldwin, and of course, her role in the upcoming The Hunger Games.

What about Man on a Ledge made you go, "This is something that I have to be involved in"?

Elizabeth Banks: There were a lot of reasons to do this movie. I do like movies that tell you what's going on right from the get-go, and this was one of them. I really liked the idea of not playing someone's wife or girlfriend (laughs); I really liked the idea of chasing bad guys with a gun and doing stunts.

You were in The Next Three Days, where you were on the opposite side of the law, playing someone who was injusticed like Sam Worthington's character here. So what about this theme attracts you?

EB: Everyone usually asks me if I am afraid of heights, but I am truly afraid of being wrongly imprisoned (laughs). I find that if you ever do jury duty, you should not trust the system. I have an irrational fear of the police plucking me out of my home and sending me into jail telling me that someone fingered me out of a lineup or something, I don't know (laughs); I become a scapegoat in an accident. I'm a real goody two shoes, I don't cross against the "Don't Walk" sign. So I am very interested in this theme and I think everyone loves justice.

How do you prepare for your role which is essentially dialogue-driven?

EB: I played this [New York Police] negotiator, so I met with negotiators, and a lot of what's in the movie came from my conversations, especially with this one woman detective from Staten Island. …She was very girly and had long hair and wore a cute suit and had a nice purse that she carried her piece in and was just like a woman not trying to play a guy on the police force; she was very feminine. It was important to me not to be tough, because I think it is just clichéd. One of the things she told me was "Jumpers jump," that's their motto, meaning that if you want to off yourself you go to the top of the building and jump. If you're still standing there by the time I pull my pants on, get in the taxi, get a coffee, and step to the window, hopefully your rational brain has taken over and you want to be helped. …

In the movie's scenario, this then tells me when I walk into the room, [Sam Worthington's character] isn't particularly suicidal, because if he were, he already would have jumped. So I already know something's up when he hasn't gone over and is acting irrational; I'm asking questions, getting the lay of the land. There is no rush and as an actress, I wouldn't have known that if I hadn't spoke to this negotiator. Lots of little moments like that are built into the movie because of research.

How was it working with Asger Leth, a first-time director, given how many veteran actors there are in the cast?

EB: I like to tease Asger. My opening scene in the movie which we shot first is when I wake up in bed. So I get into the bed, they roll camera and sound, and Asger is like a kid in a candy store, so excited that he's shooting the movie that he forgot to call action (laughs). So I was lying there, after a while I was like, "Are we going? What are we doing?" everyone bursts out laughing. It was him figuring out protocol which was very interesting.

But everyone was committed to making this movie that you see. There is a lot of fun in it, I love Jamie Bell and Genesis's characters; they are so fun. And knowing that they are in a parallel movie, it gave us license to keep it light on our side of the set so it would mesh together. We can't be in some serious, fucking crazy ass drama on one side and then they're like (in a mocking voice) "What are you doing baby? I don't know baby? Why won't you marry me?" And all that sassy shit that they are doing. And Ed Harris is super committed to this villain in a great way. Everything's a little bit heightened so it's fun.

You talk about how there are parallel plots and then there are even more subplots that you aren't involved in. So what was it like for you to see the final product all put together?

EB: Well, I basically knew what was going on the whole time … the only thing I didn't see was the actual heist. I feel like my character is a surrogate for the audience. I am figuring everything out along with you. While you are sitting in your seat going, "Wait, I don't understand, who's this guy?" I'm in the room [asking the same question]. So she's the glue that keeps it all together.

(If you did not see the movie yet, you many want to skip this question for it contains a spoiler)
What your hardest scene to shoot?

EB: (pauses to think) Hands down, and I can't believe that this didn't come to me immediately, was when I was on the roof and [the police] were shooting at [Sam] and I break it up. It's really disconcerting to have a gun pointed at you. And the guys that were doing it were stunt guys, but also on the SWAT team, so they are pro guys who know how to handle guns. They are firing blanks of course, but you're just up there going "accidents happen!" you know? It's loud, no one can hear anybody, the adrenaline is very high, it's very rushed, and you also got camera guys wearing black and running around. I feel like nobody can tell who anybody is. We didn't shoot that for long and thank God it wasn't at night, because it would have scared me even more… I'm wearing the ear plugs, because it's so loud and chaotic - and they're aiming guns with me yelling, "Stop don't shoot!" They are like telling me to jump in front of them and I'm like, "Umm, no, I don't think I'd jump in front of them. That's crazy; no cop would do that, right?" (laughs). I did not enjoy that part of it.

What's it like having an audience watching you from below while you are acting?

EB: (pointing to the poster) That is the perspective, so the people below are like dots. We could hear them every once in a while when they did something together, but ultimately we can't really interact with them. However, the buildings around us were office buildings and lots of people were at work and would wave to us. … The building right across the street has a roof deck so people would come out and have smoke breaks on there, trying to yell at us while we were filming (laughs).

You said in an interview earlier that you don't know what is in store for your 30 Rock character, Avery Jessup, but can you tell us what it is like working side-by-side with Alec Baldwin?

EB: I've learned about really great restaurants. I learned about having a car service 24/7. But no, he's the best. He's what you want him to be, meaning that he is a total movie star, he's like super husky and sexy and old school. He's very funny and so pro. He's working really hard, because he's very professional, but he makes everything seem super easy.

Your next movie coming out is The Hunger Games, which I have to ask about.

EB: You should read it, it's really good. You won't regret it.

But you had to shave your eyebrows for the role?

EB: I didn't shave them, I bleached them. It's almost worse than shaving them (laughs). If I shaved them, I could paint something on probably. But when you bleach them, you just have bright-white eyebrows. They are literally (holds up an egg white coffee cup to her eye) this color on your face. It's really freaking, because you look like you are an albino, but only right there.

How long did you have to keep that for?

EB: I kept them for three months. You can color them in, but it doesn't really work.

Did you help shape the look?

EB: It was a true collaboration. ... I have super white skin. It's very Marie Antoinette meets kabuki (laughs). …. The reference from the director was Joel Grey in Cabaret; that cracked white, overly made up face. So we kind of started there, that was the first picture that we looked at. Then we went to the hair, "Is it curly or is it up?" Then the whole Marie Antoinette hair thing came into it. We wanted decadence, madness, she's a very theatrical character. That was my mantra word, "She's theatrical!" And futuristic, but recognizable. We didn't make The Fifth Element.