Weekend Wrap-Up
Underworld Awakens as Box Office Stays Hot
By John Hamann
January 22, 2012
BoxOfficeProphets.com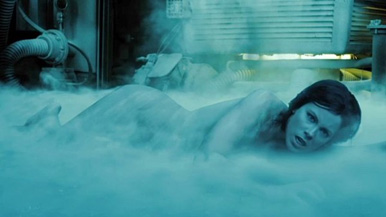 ---
Underworld Awakening, the fourth film in the Vampire vs Werewolf franchise, enjoyed its fourth consecutive $20 million plus opening, as fans of the series (or just of Kate Beckinsale) continued their support. Also opening this weekend were Red Tails, the retold story of the Tuskegee Airmen from financier George Lucas, and Haywire, starring newcomer Gina Carano and a bevy of international stars. Expanding this weekend were Extremely Loud and Incredibly Close, the 9/11 drama with Tom Hanks and Sandra Bullock, as it tried to overcome so-so reviews and little award recognition, and The Artist, coming off several Golden Globe wins last weekend.

Our number one film is Underworld Awakening, the third sequel to the original, which was released in 2003. The Kate Beckinsale flick earned a larger-than-expected $25.4 million from 3,078 venues. Released in 3D and on IMAX screens, Awakening carried a solid venue average of $8,252. Considering that the third film in the series, Rise of the Lycans, debuted to $20.8 million, the opening for the fourth film has to be considered a serious success for Screen Gems. It's actually somewhat of a surprise that Screen Gems greenlighted a fourth film in this series, as Rise of the Lycans not only opened lower than all the rest, it also exited the box office quickly, grossing only $45.8 million, giving it an opening-to-total multiplier of only 2.2 (most films look for at least a 3.0 opening-to-total multiplier). Had Lycans opened $4 million higher than it did, that 2.2 multiplier would have added almost $9 million to the third film's total, which we will likely see with Underworld 4: The Return of Kate.

Why the difference between Rise of the Lycans and Underworld Awakening? Kate Beckinsale. The face of the franchise barely appeared in Rise of the Lycans, as the filmmakers used previous footage of the actress and inserted it in the film. Give the opening-to-total multiplier of the third film, it seems like the fanbase didn't realize she was missing until it was too late and tickets were purchased. With Beckinsale back and looking great both in the trailer and at the Golden Globes, it's really no surprise that Awakening opened higher than all the films in the series, save Underworld Evolution, which opened to $26.9 million and finished with $62.3 million. That total (or more) will be what Screen Gems is targeting to earn with Awakening, although that won't help recoup the $70 million production budget. Like so many other franchises, Underworld Awakening will be looking to foreign grosses to make it profitable. The previous three films took in about $160 million from the domestic box office, but then drew another $140 million from overseas cinemas. This Underworld will be looking for a similar ratio. I expect a $60 million domestic finish, followed by another $50 million overseas, and then a healthy stretch on home video.

Finishing second is Red Tails, the new George Lucas release centered around the role of the Tuskegee Airmen in World War II. Financed solely on his own, Red Tails carried huge risk for Lucas, and a strong opening weekend was needed if he had any chance of seeing his money back. Red Tails got some of what was needed, as it came in with an okay $19.1 million from a muted 2,512 venue release pattern. That gives the throwback a solid venue average of $7,604, and a decent start to what could be a questionable run. Kudos to Lucas for getting this story out to a mass audience. According to The Hollywood Reporter, Lucas spent $58 million producing the film and another $35 million in production costs, which is likely too much when factoring the opening weekend. I see Red Tails finishing between $50 and $60 million, then being a really tough sell overseas. If there is good news for Red Tails, it's in its A Cinemascore; however, for about a thousand reasons I am not a big fan of the Cinemascore. A better indication of future legs might come from its internal multiplier (weekend gross divided by Friday gross). Here, Red Tails had a Friday of $6 million, and we divide that into the weekend total ($19.1 million) for a weekend multiplier of 3.18. For an opening weekend, studios want to see a number as close to 3.0 as possible (or over). A higher multiplier can indicate that people not only came out on Friday night, they also attended the movie over the weekend proper. Red Tails has come in with a solid weekend multiplier, which could be good news for long-term legs.

Unfortunately, Red Tails got hammered by the critics. Of the 70 reviews counted at RottenTomatoes, only 23 were positive, giving the film a rotten rating of 33%. Top critics were even less kind, with the rating coming at 27%. Why George Lucas tapped Anthony Hemingway to direct (he didn't have a feature film credit) and Cuba Gooding Jr. to star (he hadn't had a feature film in five years) leaves me baffled, and could be seen as critical mistakes on the path to the release of Red Tails. On the other hand, George Lucas should be given credit for getting his dream onto the screen. When the studios said no, he assumed the risk, and should be given an iota of credit for it (until a dialogue scene from Attack of the Clones pops into your head).

Finishing third is Contraband, Mark Wahlberg's number one movie from last weekend. After earning $24.3 million over the three-day portion of the MLK weekend and $28.5 million over four days, reality took over this weekend. In its second frame, Contraband took in only $12.2 million and dropped a woeful 50% from that three-day gross. With three other action flicks being released this weekend, the writing was on the wall for Contraband, but the beauty is that Contraband actually matched its production budget ($25 million) last weekend, so any money that comes in after today is likely profit for Universal, Relativity, Working Title and a slew of others involved in this one. Also, Kate Beckinsale manages to finish in two of the top three films this weekend, both of which appear to be heading toward profitability. Contraband has now taken in $46.1 million, and could finish with as much as $70 million, but its hold will definitely need to be better next weekend against The Grey and Man on a Ledge.

Fourth spot goes to Extremely Loud and Incredibly Close, a film that looks like the gold standard for Oscar bait but was only called the best film of the year by People Magazine (eww). After four weekends at only six venues, Warner Bros. chose to expand this weekend to 2,630 venues, and the Tom Hanks, Sandra Bullock release drew $10.5 million in ticket sales. It had a venue average of $4,010. Critics were split down the middle on this on at Rotten Tomatoes, as All Critics came in at 49% fresh, and Top Critics at 51%. Warner Bros. has chosen to keep the budget data on this one under wraps, but I would be surprised to see it at less than $60 million, given the cast. Its going to have a tough row to hoe if Oscar doesn't shine a light on it.

Fifth place goes to the new Steven Soderbergh flick, Haywire, as the best reviewed new release finished well away from top spot. Haywire earned $9 million from 2,439 venues, as it for some reason did not connect with audiences, despite what appears to be a kickass performance from newcomer Gina Carano. Relativity Media funded the $23 million actioner from Soderbergh, a film that received an 82% fresh rating from Rotten Tomatoes. The result here is decent, but I suspect that the real money is overseas, as this has a supporting cast that features Ewan MacGregor, Michael Fassbender, Michael Douglas and Antonio Banderas.

Sixth is Beauty and the Beast, as the Disney '"convert classics to 3D and re-release" plan hit a serious roadblock this weekend. Despite zero new family competition, Beauty and the Beast got rocked as it fell from second to sixth, and grossed only $8.6 million this weekend after finishing with $17.8 million in the last frame. That gives it a drop of 52%, light years away from The Lion King's second weekend drop of 27%. While true that the MLK weekend will deliver higher drops to the holdovers this weekend, this is still way beyond where my expectations were. Are audiences catching on? This will still be hugely profitable for Disney, as they spent only $10 million on the conversion, and the re-release has a gross so far of $33.4 million.

Seventh is Joyful Noise, the Dolly Parton/Queen Latifah combo. After a decent opening frame with $11.2 million, this is another picture that is dealt a death blow this weekend. Despite a faith-driven audience, Joyful Noise could only pick up another $6.1 million this weekend, as it fell 46%. The good news for Warner Bros. and Alcon Entertainment is that this is a $25 million production, and with a gross so far of $21.9 million, it won't be a complete disaster.

Mission: Impossible – Ghost Protocol is eighth, as the blockbuster continues to wind down. This weekend, Ghost Protocol earned $5.5 million and also dropped a loud 53% this weekend. The $145 million film continues to stalk the $200 million mark as it has earned $197.3 million thus far, and has earned over $350 million overseas.

Sherlock Holmes – Game of Shadows also applies the brakes this frame. The Robert Downey Jr. flick earned $4.8 million this weekend after earning $8.6 million last weekend. That's a drop of 44%, but its domestic total comes up to $178.6 million.

Finally, tenth place goes to The Girl With the Dragon Tattoo, David Fincher's adaptation of the popular novel. It's in its fifth weekend in theaters, and took in an additional $3.8 million, good for a drop of 44%. The dark thriller is nearing the $100 million mark with $94.8 million domestically.

Overall, things are way up over last year. The top 12 films this weekend took in a decent $111.7 million, whereas last year's totals were way down, at only $88.8 million. However, this top 12 total isn't all that great compared to $128 million in 2010 and $130 million in 2009. Next weekend brings a new Liam Neeson flick called The Grey, Man on a Ledge with Sam Worthington and One For the Money with Katherine Heigl.