Weekend Forecast for January 20-22, 2012
By Reagen Sulewski
January 20, 2012
BoxOfficeProphets.com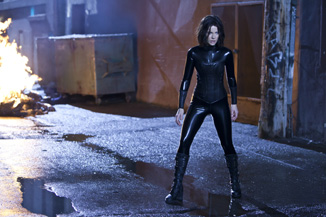 ---
It's an unusually crowded January weekend we have on our hands, with a triple dose of action and two possible Oscar contenders in the mix. As usual, though, it's the franchise film that's likely to do the most damage.

Underworld: Awakening is the fourth film in its series and marks the return of Kate Beckinsale to the vampires vs. werewolves (sorry, *Lycans*) battle (well, the one that doesn't involve sparklies and big shirtless himbos), which has kind of chugged along like the Resident Evil films. Keep 'em cheap, appeal to the international market, oh, and now put them in 3D, and you can probably make a small fortune.

This time, the vampire/werewolf war has spilled over into the human world, who have finally taken notice of all the gunfights and supernaturally pale and hairy people going at it. Yay us for observational powers. Naturally, we freak the hell out, which leads the vampires and werewolves to band together to take us out. I assume the final scene leads into the first scene of Daybreakers.

Direction duties have been handed over to a couple of Swedes who've never done anything significant in the US so far as I can tell, though it hardly matters. Did you care about Len Wiseman directing the other films? Of course you didn't. What's important here is the return of Beckinsale in tight leather, which should lift the lagging returns of this series, along with the 3D addition. Resident Evil is probably instructive here, with its 3D entry seeing about a 15% when it started throwing things at the screen. The overlap between the two series' fanbases has to be pretty close to 100%, so I don't think a $25 million weekend is unreasonable here

The Lucasfilms title card makes a rare non-Star Wars appearance in theaters this weekend in front of Red Tails, as he produces this film about the Tuskeegee Airmen, a group of black fighter pilots in World War II, back when the military was still segregated and the United States still deeply racist. Their success in bringing down German fighters and protecting American bombers went a long ways towards helping the Civil Rights movement in later decades and marked a big turning point in race relations. Also, hey, dogfighting scenes!

Starring a sort of who's who of That Guy young Black actors... and Cuba Gooding, Jr., the film is being pitched as a throwback to the kind of propaganda films that might have been shown during the 1940s. Honestly, that doesn't speak to highly of the film, though I assume we have some extra technical skill in shooting the aerial scenes now. It's directed by nobody you've heard of but written by John Ridley and Aaron McGruder (Undercover Brother and The Boondocks, respectively, and boy isn't that there a combination of people to write a serious war film). However, it's a project that's been about three decades in the making for Lucas, so make no mistake that this is his baby and as such will have all his hallmarks – paper-thin characters, terrible, wooden dialogue and judicious use of special effects. And perhaps someday, someone will explain to me why this wasn't released on MLK Jr. Weekend (too on the nose?). Looking at its potential, it depends on whether you look it as a film primarily appealing to action junkies or to black audiences – and with this weekend's slate, I'm guessing Lucas and company would prefer it be the latter so that it gets the Tyler Perry treatment. But without any real stars to headline the film, I'd look for about $13 million here this weekend.

Expanding from limited release is Extremely Loud and Incredibly Close, the adaptation of the Jonathan Safran Foer novel about a young boy searching New York City for memories of his father, who died in the September 11, 2001 attacks. The above-the-line names we care about here are Tom Hanks and Sandra Bullock, who play the father and mother of the boy respectively, with Hanks obviously just seen in flashbacks. Stephen Daldry, of The Reader, The Hours and Billy Elliot gets directing duty.

With its subject matter and pedigree, it's easy to see why this has been positioned as a potential Oscar favorite, but critical review has not been terribly kind, calling it an overwrought, maudlin affair. Only a smattering of minor critics' groups have given it any kid of award, though Max von Sydow's name does keep popping up, and hey, he's old, so he's got a decent shot at a Best Supporting Actor nomination. While it's easy to predict box office fortunes following its award fortunes, that's not always the case with literary adaptations – look at The Lovely Bones, which bombed with the critics but opened to $17 million. However, Extremely Loud hasn't performed well even in limited release and Tom Hanks proved last year that his mere presence in a movie doesn't guarantee a hit anymore. With these factors in mind, this film should debut with around $11 million.

Haywire is one of the more intriguing films in some time from a "whole package" standpoint. Director Steven Soderbergh re-teams with The Limey writer Lem Dobbs for an action film starring... MMA fighter and ex-American Gladiator Gina Carano. That's usually the kind of collection of names that you find on the downside of a career, eking out a living with direct to video titles, but let's look at the secondary cast – Ewan McGregor, Antonio Banderas, Michael Douglas, Channing Tatum... okay, that last one could go either way, but the point is made. This is an actual film with big studio backing that's getting over 2,000 venues, and because it's Soderbergh and he's terrific, some of the best reviews for an action film in some time (I mean, if you exclude Mission: Impossible 4), and way better than you'd expect for one in January.

Something of a reductionist spy thriller, Haywire promises to confound audiences in that special way that Soderbergh often does (see: most of his non-Ocean's movies). Having Carano as the lead is an interesting experiment but probably doesn't look fundamentally different to the general public than putting John Cena as the lead of a film, and we saw how well those turned out. While reserving some possibility for legs, I don't think this one does that well, and starts with about $7 million.

Lastly, we have The Artist, which reaches wide release this weekend in about 700 venues. After picking up the Golden Globe for Best Comedy/Musical, it's full steam ahead for this silent film and its Oscar campaign. So far, it's earned about $8 million in limited showings, but still faces a hard road, because, well, it's a silent film, and aside from Mel Brooks, no one has made one in decades that's made any money. Oscar nominations will help a lot, of course, but it's pacing The Hurt Locker's $17 million the year it won Best Picture. There's some semblance of momentum building for this film, in that people have now heard of it, but I don't think we'll see a dramatic jump right away. For now, let's say $3 million this weekend.

Returning, we have Contraband in the lead, a Mark Wahlberg action film that's sort of neither here nor there, and opened to $24 million, a little better than I expected, but not dramatically so. Reviews and word-of-mouth were fairly solid, befitting its "just there-ness", so it should fit right in the midst of the action glut this weekend with $14 million.

The 3D conversion of Beauty and the Beast brought in an extra $17 million, which is about what you'd expect compared to The Lion King's return to theaters last fall. Where that film added about $100 million to its final total, this looks to be close to $60 million, though that's nothing particularly shameful. It should slowly work its way out of theaters with about $11 million this frame.

Mission: Impossible – Ghost Protocol is slowly closing in on the franchise record of $215 million and should be close to the $200 million milestone by the end of this weekend, though it's fallen a bit off pace from the last couple of weekends. It may stand out amongst the rest of the action films we've got right now, or it may just fall victim to "that's still out?" syndrome. Look for around $7 million here.

Following this, we have Joyful Noise, which opened to $11 million, a respectable number for a film that was banking entirely on the church crowd, but should crater somewhat to $5 million.