Weekend Wrap-Up
Contraband Beats Devil, Beast and Beauty at MLK Box Office
By John Hamann
January 15, 2012
BoxOfficeProphets.com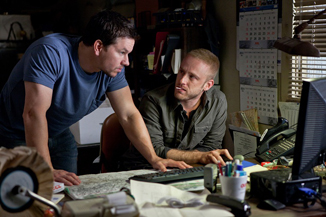 ---
While there were no real breakout successes at the box office, the MLK long weekend did produce a couple of movies that have done better than they had any right to. With the holiday Monday on tap, the box office super-sized, leading to better than expected grosses for Mark Wahlberg's Contraband and Dolly Parton and Queen Latifah's Joyful Noise, as well as Disney's 3D re-run of Beauty and the Beast (Disney called it "found money" - we lose it, they gain it). Expanding this weekend are The Iron Lady, Meryl Streep's latest Oscar target, and The Artist, the silent, black and white pic that for some reason has Oscar voters abuzz (obviously they didn't see Hugo). Considering the questionable new content, the box office did very well for a second straight weekend.

Our number one film of the weekend is Mark Wahlberg's Contraband, Universal's modestly budgeted action pic, which is a perfect fit for mid-January. Tracking expectations had it opening in the mid-to-high teen millions, but with an almost $9 million opening day, it was able to extrapolate that success into a strong opening weekend take of $24.1 million. Opening at only 2,863 venues, the R-rated thriller earned a strong average of $8,405. Contraband needed to work well for Universal this frame, as next weekend it faces off with three other action flicks: Underworld: Awakening, Lucasfilm's Red Tails, and the buzz-worthy Haywire. The good news for Wahlberg (who also produced) and Universal is that Contraband cost only $25 million to make – so with the take this weekend, it will see a profit after the domestic run, and will likely match what it earns domestically overseas. It will earn three times what it cost domestically, and could earn as much as six times its budget worldwide.

Why did this one work? The idea seems kind of tired (Shooter, Four Brothers, and The Yards all feel like the same thing), but Wahlberg brings something different to the screen this time. This is his first film coming off 2010's The Fighter (seven Oscar nominations and two wins, $130 million in worldwide grosses, $11 million production budget), but he's become known for more. Wahlberg also works as one of the Executive Producers on Entourage (and the soon-to-be written film), Boardwalk Empire (nominated for Best Television Series - Drama Golden Globe), and How To Make It In America. He also has a live action film being released in July called Ted, about a man whose teddy bear comes to life. That one is directed by Family Guy's Seth MacFarlane, so it should be as bizarre as it sounds. He is also filming Broken City with Catherine Zeta-Jones and Russell Crowe. Mark Wahlberg has become a bankable star in Hollywood, and in today's movie world, that's saying something.

Finishing second is Disney's re-run of Beauty and the Beast, obviously in 3D so that the Mouse House can not only take your admission money, they can also add another 15% to that bill as well. After already raking in $400 million worldwide 20 years ago, the 1991 feature is back in 3D, and this portion of Disney's renaissance earned a quite solid $18.5 million, about $10 million more than tracking was expecting. The good news (at least for me) this weekend is that Beauty and the Beast did not match the $30 million that The Lion King reaped in September of 2011 (but then no one really expected it to). However, It did bash expectations, and will earn Disney a huge profit in the end. The 3D conversion cost the studio only $10 million, and after reaping what will likely be $75 million in domestic box office, it will then earn even more internationally, and then see a huge profit on 3D home video. With 3D DVD players starting to make inroads into homes, studios need as many titles as possible, and these re-issues fit that bill perfectly, have that cachet of success, and are cheap to produce for the studio. Of course, the trailer for Finding Nemo 3D hit my computer screen today.

Landing in third is Mission: Impossible - Ghost Protocol, now in its fourth weekend of wide release. A weekend ago, Ghost Protocol earned just short of $20 million and fell only 33%. This weekend, things were a little tougher, as with almost $200 million worth of tickets sold, it gets hard for something like this to hold an audience. Ghost Protocol earned $11.5 million, dropping 42% compared to last weekend. The gross and hold would have been worse had it not been for the Martin Luther King Jr. holiday. Regardless, the Paramount sequel has certainly dominated the December/January box office, and has now earned $186.7 million at the domestic box office, as well as over $300 million from overseas cinemas. Next up for Cruise is Rock of Ages, being released by Warner Bros. in the summer. Like him or not, he's back in a very big way.

Fourth is Joyful Noise, the Queen Latifah/Dolly Parton comedy that has literally been advertising for months. The faith-based musical comedy (you know – with gospel songs!) earned $11.3 million this weekend, which is more than it had any right to. Joyful Noise has the feeling of a film made in the 1980s, and the critics agreed. It was only 37% fresh at RottenTomatoes, mostly due to an under-written script. It cost somewhere in the $30 millions to make, so unless the faith-based audiences really get on board this one, it will struggle to match it production budget to its domestic gross. For Dolly Parton, this is her first real starring role since 1992's Straight Talk, which earned only $21 million (Beauty and the Beast finished 11th that weekend).

Sherlock Holmes: Game of Shadows manages to finish in the top five for the last time, as it gets ahead of last weekend's winner, The Devil Inside. Sherlock had a better hold than Mission: Impossible this weekend, as the Robert Downey Jr. flick earned $8.4 million and fell 39%. Game of Shadows is never going to catch Tom Cruise and friends, but will finish as another profitable notch on the resume for Downey. Rumoured to have cost $125 million, Sherlock Holmes 2 has now earned $170 million stateside, and slightly more overseas. I wouldn't be surprised to see Guy Ritchie back with another of these.

Finishing way down in sixth this weekend is last weekend's winner, The Devil Inside. After opening last weekend to a super-strong $33.7 million, word got out that this one sucked (the Cinemascore was an F), as it has one of the more perplexing endings in horror history (take that Blair Witch). The result is a drop for the ages this weekend, as The Devil Inside could only muster $7.9 million, giving it a drop of 77%. While not the biggest drop of all time, it does join the realm of some really bad films. From Justin to Kelly dropped 77% in its second weekend and Uwe Boll's In the Name of the King dipped 76.8%. This drop fails to match the reboot of Friday the 13th, which moved from $40.6 million in its opening frame to its second weekend gross of $7.9 million (an 80.4% drop). Still, The Devil Inside was picked up by Paramount for less than a million, so even if this was Devil's ONLY weekend, it would still be hugely profitable. Give it $46.2 million so far.

Seventh is The Girl with the Dragon Tattoo, which needed a hold as badly as The Devil Inside needs an ending. With a finish never above third, and a weekend total never above $15 million, a stellar hold this weekend would have helped the franchise proceed to the next step. It didn't happen, as Girl earned only $6.8 million and dropped 40%. It has reversed its way towards its production budget of $90 million, but it won't make much more than $100 million – if it gets there. This is a film that should have come out early last summer, as the hullabaloo over the books (and European films) has certainly dropped off. Give Girl With a Dragon Tattoo $88 million domestically, and only a little over $30 million from overseas grosses so far.

Eighth place goes to Alvin and the Chipmunks: Chipwrecked, which rises from the ashes to find itself in the top ten for yet one more weekend. The kid-friendly flick managed another $5.8 million, a drop of 39% from last weekend. Although the third film in the franchise is nowhere near the domestic totals of its predecessors, it still has earned $118.8 million domestically.

Ninth is War Horse, as Steven Spielberg's throwback simply doesn't get picked up during a season with lots of choices. War Horse earned $5.6 million and dropped 35%. The good news is that this one cost only $65 million to make and has a total so far of $65.8 million.

Finally in tenth is The Iron Lady, Meryl Streep's take on Margaret Thatcher. If you've read the reviews you know this one is all about the performance and not about the writing. Streep's performance convinced people to buy tickets, as The Iron Lady earned $5.4 million from only 802 venues. The Weinstein release earned a venue average of $6,716. The Iron Lady has a total of $6 million so far. In other Weinstein news, The Artist expanded slightly, moving up to 216 venues, and brought in $1.2 million. It had a venue average of $5,403. I saw The Artist on Friday, and despite a whole bunch of awards recognition, I don't think it will earn much more than $20 million. It was good, but a film like Hugo is so much better.

Overall, the box office was pretty good thanks to Contraband and Beauty and the Beast. The top 12 this weekend took in $114.5 million, less than a million behind last year's top 12 take of $115.5 million. Next weekend, and of course on top of the fact that Bucky Larson: Born to Be a Star comes out on home vid, it's action weekend at movie theatres across North America. Haywire heats up, along with Kate Beckinsale in Underworld Awakening and Red Tails, a George Lucas-produced film about the Tuskegee Airmen.