Weekend Wrap-Up
Devil Inside Launches 2012 Box Office
By John Hamann
January 8, 2012
BoxOfficeProphets.com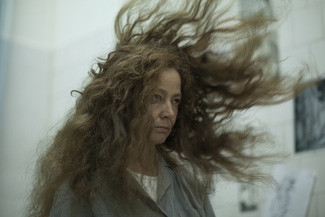 ---
The 2012 box office got off to an insane start this weekend – literally – as the only true opener, Paramount's ultra low-budget pickup, The Devil Inside, did some goofy business. Also on tap are the holiday leftovers, as a number of high-profile films are continuing to try to at least match their domestic box office to their production budgets. The story of the weekend, though, is The Devil Inside, as it has one of the biggest horror debuts outside of the Paranormal Activity franchise.

When I heard Friday morning that The Devil Inside had done $2 million in midnight screenings, my first thought was disbelief, thinking they wouldn't screen this piece of dung the night before. It was true, though. Paramount earned twice the amount they picked this one up for (it supposedly cost the studio "less that one million") before opening day dawned. It was a sign of trouble for 2012 – an omen – as kids across North America lost their minds and trekked out to see it this weekend (despite the hard R rating). On Saturday morning, we learned that the Devil got Inside the minds of $16.9 million worth of ticket buyers on Friday alone. With the midnight screenings included, that $16.9 million gross gave The Devil Inside the eighth biggest day ever in the month of January, and as the single day, it earned just slightly more than the original Sherlock Holmes earned on January 1, 2010. Apocalypse Now might have been a better title.

Thankfully, and as expected, The Devil Inside couldn't keep it up all weekend. The cheap, 7% fresh Devil finished the weekend with a surprising total of $34.5 million, embarrassing industry tracking, which had predicted a weekend of $8-10 million for the horror flick. The Devil Inside was released to only 2,285 venues, so it had a kick-ass venue average of $15,098. While not in the opening weekend realm of Paranormal Activity 2 or 3 ($40.7 million and $52.6 million respectively), remember that Devil cost 80% less than PA3 and 66% less than PA2. The gross here does take me back a few years to when horror was the big thing. It is reminiscent of The Grudge ($39.1 million opening) and The Ring Two ($35.1 million). This result is bigger than any opening weekend the Saw franchise ever put up (the highest was Saw III, which took in $33.6 million), and more than Mission: Impossible - Ghost Protocol has earned over any three-day weekend. Before you run out and see it just because everyone else is, please note that The Devil Inside is supposed to have one of the most ridiculous, laughable endings ever for a horror film.

Finishing second is Mission: Impossible – Ghost Protocol, as the Tom Cruise actioner spends it first day outside of top spot since going wide on December 23rd. Ghost Protocol earned a still-solid $20.5 million, dropping a decent 30%. The fourth Mission: Impossible cemented itself as a $200 million domestic earner, as it improved on the $15 million estimate box office observers were expecting this weekend. Made for $145 million, this Mission is going to be a large success for Paramount, which has the top two films this weekend, and three movies in the top ten (Tintin being the third). MI4 is also approaching the $300 million mark overseas. The question now is whether or not this Mission can beat Mission: Impossible 2, which earned $215 million domestically, and $330 million overseas. For Tom Cruise, MI4 will have to work pretty hard throughout January if it has a shot at being the star's biggest grosser of his career, as War of the Worlds earned $234 million domestically. Mission: Impossible – Ghost Protocol now has a domestic gross so far of $170.2 million.

Third spot goes to Sherlock Holmes: Game of Shadows. The Robert Downey Jr. sequel has a similar weekend to Ghost Protocol, as it dips, but not at an alarming rate. Sherlock earned $14 million in its fourth weekend, and drops a reasonable 33%. While it didn't get off to the start the original Sherlock Holmes had, the sequel has actually shown better legs. By the original's fourth weekend, it was earning approximately $10 million, about $4 million less than where the sequel is. The overall total still favors the original, but the gap is beginning to close. The first film finished with $209 million on the domestic front, while I see this one closing shop with about $190 million. Overseas, business seems slower for the sequel, as it has only recently crossed the $120 million mark, whereas the original earned $315 million. The budget for the sequel was $125 million, $35 million higher than the original. So far, Sherlock Holmes: A Game of Shadows has earned $157.4 million domestically.

Fourth is The Girl With The Dragon Tattoo, the supposedly huge film that failed to really connect with audiences. Dragon Tattoo earned $11.4 million this weekend, and dropped a very small 23% - the best hold in the top 12. Surprisingly, this weekend's take is only about a million dollars away from the opening Christmas Day weekend, when it took in $12.8 million. The $90 million film has to be very thankful for the holiday season, as this one won't earn more than $20 million over a weekend, but has a gross so far of $76.8 million against that $90 million budget. The story isn't over for this one yet.

Fifth is Alvin and the Chipmunks, a franchise parents are obviously tired of. Last weekend, Alvin and company earned a strong $16.4 million. This weekend, the torture porn earned only $9.5 million, giving it a drop of 42% (yay!). I took a number of weekends off from this column to avoid this title, and am happy to see it in fifth (and dropping) this weekend. The $75 million sequel has now earned $111.6 million domestically, and has $80 million in overseas business.

War Horse finishes in sixth place, as it just doesn't quite have the hold it needs to get ahead of Alvin and the Chipmunks. The Steven Spielberg flick has its second consecutive weekend where the gross is higher than the opening ($7.5 million), as it earned $14.4 million last weekend, and $8.6 million this weekend. Note, however, that the $7.5 million opening weekend number is a little misleading since the film only had one day of box office - Christmas - to get it. War Horse sees a drop of 40%, but it will beat its budget of about $65 million. So far, War Horse has earned $56.8 million.

The Cameron Crowe head-scratcher We Bought A Zoo is seventh, and I'm left wondering why the director of Almost Famous made a film whose description has words like "misadventures" and "family-film" in it. Regardless, this Matt Damon effort has been soft, but thankfully for Fox has been propelled by the Christmas season. This weekend, its third, We Bought A Zoo earned $8.4 million and dropped 36% from its $13.2 million gross last weekend. This one cost Fox $50 million, and will be a good bet, as it has already earned $56.5 million.

The Adventures of Tintin is eighth, and is very thankful for overseas grosses. After earning $11.4 million last weekend, Tintin dropped hard this weekend, earning only $6.6 million and losing 42% of last weekend's audience. With the $135 million budget, and a domestic gross so far of $61.9 million, Tintin would be in serious trouble. However, it earned more than $260 million overseas, so it will end up as another large success for the folks at Paramount (though they are having to split that international revenue since they co-distributed with Columbia).

Ninth spot goes to Tinker, Tailor, Solider, Spy, which expanded from 57 venues last weekend to 809 venues this weekend. The expansion moved it from a $1.1 million earner last weekend to a $5.8 million earner this weekend (an increase of 431%). Released by Focus Features and carrying a budget of only $21 million, this one is going to end up as a big winner for Focus, as it has some domestic momentum, and has already picked up $25 million overseas. The domestic total currently sits at $10.4 million.

Finally in tenth is New Year's Eve, which held on to a top spot even though it is now effectively irrelevant since the holidays are over. It earned another $3.2 million, dropping a large 48% in the process. Its grand total now sits at $52 million, and has to be a bit of a disappointment even if it did technically beat its budget.

Overall this weekend, the box office had a good start for 2012, thanks to one bad movie. The top 12 films earned $128.3 million this weekend, well ahead of the $98.6 million total from the first weekend in 2011. Next weekend brings some new and old product. In the old department, we have the return of Dolly Parton in Joyful Noise and Beauty and the Beast in 3D. On the new side, we have Mark Wahlberg in Contraband. It all looks like filler to me, but then again, The Devil Inside dominated this weekend. Who knows what can happen?