Movie Review: The Girl With the Dragon Tattoo
By Matthew Huntley
January 4, 2012
BoxOfficeProphets.com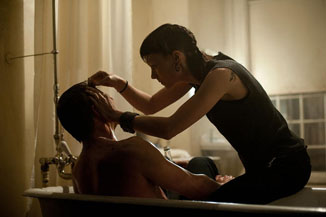 ---
David Fincher's American remake of The Girl with the Dragon Tattoo will likely draw inevitable comparisons to Neil Arden Oplev's Swedish original, not to mention Stieg Larsson's best-selling novel. This was always going to be the case and because Oplev's film was so well made and revered, the question many people will have on their minds is whether Fincher's adaptation is really necessary.

To me, the ultimate answer is no. However, that's not to say Fincher's film is not exceptionally well made, both on a technical and dramatic level. Simply, it doesn't interpret the source material so vastly differently from the original that its making seems wholly justifiable. What's interesting is that if Fincher's version came out first, I would have said the same thing about Oplev's. The two adaptations are practically interchangeable in terms of their effect, but because I saw Oplev's first, Fincher's didn't have the same impact. It's not a matter of which one is better or worse, but whether or not we really need both. I would say no, but both are worthy, so take your pick.

What make these pictures so memorable are the strongly drawn characters and the unsettling atmospheres that inhabit Larsson's layered plot, which is a traditional whodunit in many respects but one that's grounded in intelligence and rich details, which keep us fully involved as it thickens and unravels.

Mikael Blomkvist (Daniel Craig) is a Swedish journalist who works for an independent newspaper in Stockholm. He's just lost a libel suit brought against him by an ethically suspicious businessman and financier named Hans-Erik Wennerström (Ulf Friberg). The suit costs Blomkvist his life savings and puts the newspaper in financial jeopardy. His editor-lover, Erika (Robin Wright), is now concerned they'll be out of business in three months.

Given his recent reputation, Blomkvist is surprised when he receives a call from Dirch Frode (Steven Berkoff), assistant to Henrick Vanger (Christopher Plummer), a wealthy industrialist whose family's business was once the biggest and most profitable in all of Sweden (Vanger now jokes their most successful product is fertilizer). Vanger invites Blomkvist out to his family's private island in Hedestad and hires him to do two things: 1) write his memoirs; and 2) attempt to solve the murder of his beloved niece, Harriet, who was presumably murdered over 40 years ago.

Every year on his birthday, Henrick still receives a black and white flower drawing, which only Harriet would send, and he believes one of his family members is behind it and trying to torment him. Most of the Vanger family, including Henrick's nephew (Stellan Skarsgård), live on the island and are a stone's throw away from one another, but most are estranged and refuse to speak. Blomkvist takes Henrick up on his offer, not only for the money (Vanger promises to quadruple his salary if he solves it) but because Henrick says he has valuable information on Wennerström that Blomkvist could use as ammunition.

In a parallel plot, we meet the titular character, Lisbeth Salander (Rooney Mara), a freelance researcher and computer hacker who can dig up information on just about anybody. In fact, it was her research on Blomkvist that led Frode to contact him in the first place on Vanger's behalf. Lisbeth is viewed as a sociopath and outcast because of her black clothes, nose rings and tattoos, but don't let her appearance fool you: she's resourceful, creative and persistent to the point where you don't want her on your bad side, something her abusive case worker (Yorick van Wageningen) learns the hard way.

During his investigation, Blomkvist requests Lisbeth be his assistant and they develop an odd and unexpected relationship, which buoys the film so it's not entirely plot-driven. Craig and Mara are both strong in their own right and are well-matched when the story finally brings their characters together. Because Mara fills a role that's so much more distinct, she is likely to garner more praise for her performance, and while she's all deserving, it's Craig's Blomkvist, humble and mild-mannered, that holds us in. We sympathize with him, not only because of his recent law troubles, but because he seems faced with a seemingly insurmountable task. Here, Craig shows he's capable of being more than just a hard-knuckled James Bond; he's convincing and compassionate.

Credit must also be given to Fincher, screenwriter Steve Zaillian and editors Kirk Baxter and Angus Wall for relaying the plot in a way we're able to follow clearly, all while observing the behavior of the characters as they decipher it. We watch and listen intently and their involvement makes us care about the outcome.

As is typical of any Fincher film, The Girl with the Dragon Tattoo comes with a high standard of production values. Jeremy Cronenweth's blue-tinted photography creates a cold and bleak world that makes its inhabitants and conditions seem repulsive and grotesque, yet from a cinematic and narrative point of view, they're strangely inviting and we can't help but be lured in by them. We take on the point of view of the characters, who are placed in a state of isolation and helplessness, resorting to pure survival instincts. There are also some terrific shots in the film, including one where the camera is positioned on top of Lisbeth's back as she's driving through a tunnel on her motorcycle. It stands out among many where the filmmakers employ the camera to give the movie a robust, pulsating energy.

Like the original, this is not any easy film to sit through. It's extremely violent and disturbing in parts and certain characters display the darkest sides of human nature, which are sure to make some viewers cringe. But, and this is important, it's all done for the sake of developing the characters and telling a complex story. We're enthralled from the very first scene up through the closing shot, which creates a moment of near-perfect reflection. While I haven't read Larsson's novel, Fincher and company seem to have kept all the details intact, and although this may not be a completely essential adaptation next to the original, it has just as many virtues.