Weekend Wrap-Up
Mission: Accomplished
By David Mumpower and Kim Hollis
January 1, 2012
BoxOfficeProphets.com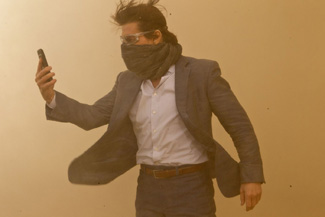 ---
Truly the most impossible mission during this holiday season was for the previously unforgiven Tom Cruise to have the most popular title at the box office. This is exactly what has transpired, as Mission: Impossible – Ghost Protocol wins its second consecutive weekend with $30 million for the Friday-to-Sunday portion of the holiday. The Brad Bird action film will have another phenomenal day of box office tomorrow, as most people have Monday as their New Year's Day holiday. It has been #1 every day since it went into wide release (December 21st), for a total of 12 days in that position (the Twelve Days of Box Office!).

Dominating the most lucrative period on the box office calendar has allowed the film to jump from $16.5 million after five days in exclusive IMAX exhibition to $133 million after only 17 days in theaters. Ghost Protocol has already matched the $133.5 million that Mission: Impossible III earned during its entire domestic run. The Mission: Impossible franchise and Tom Cruise in general have always done well overseas, earning at least $250 million in those venues. Given the way international box office has expanded, Mission: Impossible 4 has a strong chance to surpass Mission: Impossible 2's $546 million to become the top earner in the franchise thus far.

The announcement that there would be a fourth Mission: Impossible project was met with skepticism bordering on derision. Yet, Paramount has redeemed and reinvigorated the franchise. Mission: Accomplished.

Our second place finisher for the weekend (and the Christmas holiday season) is Sherlock Holmes: A Game of Shadows. It's losing the daily battles, but the war remains remarkably close between the Robert Downey Jr. detective film and M:I4. It earned $22.1 million during the Friday-to-Sunday portion of the weekend, bringing its overall domestic total to $132.1 million. The $125 million production was the presumptive choice for top action movie of the holiday season, but as was the case in 2009 when the original film got crushed by Avatar, its thunder has been stolen. The two-time box office silver medalist has fallen well short of its predecessor's $165.2 million after 17 days.

Alvin and the Chipmunks: Chipwrecked is also an instance of history repeating itself. The Squeakquel was the family choice slotted behind two popular action films, Avatar and Sherlock Holmes. The children's film went about its business with little attention, never finishing higher than third for a weekend. Still, when the final results were tallied, its $219.6 million edged Sherlock Holmes' ultimate domestic total of $209 million. That may prove ambitious for Chipwrecked, but it is again the third choice behind two more popular action flicks during the holiday season. It has also again held extraordinarily well over the holiday season. Another $18.3 million this weekend is an increase of 45% from last weekend's $12.6 million. It's also not that far behind the film's opening weekend $23.2 million. After 17 days in theaters, Chipwrecked has earned $94.6 million. While it is far short of the Squeakquel's $165.4 million in the same number of days, the third movie in the series has proven to be a perfect holiday season release.

The rest of the top five for this weekend is comprised of a Christmas Day opener and the feel-horrible film of the holiday season. War Horse is the first of two Steven Spielberg films in the top ten this week. After debuting to $7.5 on December 25th, it has fallen to the $4 million range almost every day this week. This weekend has proven a bit more lucrative, as the title has earned $16.9 million. It has a running total of $43 million, surprising industry observers with its popularity. The Girl With the Dragon Tattoo started slowly with $12.8 million last weekend, but increased 28% to $16.3 million this weekend. Its total so far of $57.1 million is probably lower than had been anticipated at this stage of its release; still, it is a far cry better than the $21.1 million the film had earned after five days.

Our sixth and seventh place movies this week are also a pair of holiday releases. We Bought a Zoo earned a modest $9.4 million in its opening weekend, but increased to $14.3 million in its second frame, a gain of 53%. The $50 million production has earned $41.8 million after ten days. The Adventures of Tintin began with a grim $2.3 million on its opening day, but sustained interest in the other Steven Spielberg holiday release has carried it to $12 million this weekend, a 24% increase from its first frame. Tintin has now earned $48 million domestically, which is good news to Paramount since they don't get any of the international grosses – a significant number since Tintin has made roughly a quarter billion in that arena. With almost $50 million in North America, it should be pretty close to paying for itself.

The bottom portion of the top ten is rounded out with an awards contender, a lousy horror flick, and a movie whose name all but begs for box office this weekend. New Year's Eve is in eighth place, just like last weekend, but it earned double the total of that frame. It increased from $3.3 million during Christmas weekend to $6.7 million over New Year's. It has a running total of $46.4 million domestically against a modest $26 million production budget. Like it or not, this one's a winner. The Darkest Hour debuted to $3 million on Christmas Day, but earned only $4.3 million over three days as it finishes in ninth place this weekend. People hate it, which means that Summit Entertainment miscalculated in paying $34.8 million on a budget for a film with current box office of $13.3 million. Finally, The Descendants continues to sell a modest number of movie tickets, as it actually increased 76% to $3.7 million this weekend. It has a domestic total so far of $39.7 million after 47 days in theaters.

Overall, the top 12 movies at the box office earned $149.6 million, a modest 1% increase from the end-of-2010 total of $148.6. Box office was up from last weekend's $113.4 million, showing the excellent staying power this year's titles had in the box office. Next weekend sees studios get into their typical January pattern of releasing crummy action and horror movies, with The Devil Inside being the first one to hit theaters.