The Twelve Days of Box Office
By Tim Briody
December 29, 2011
BoxOfficeProphets.com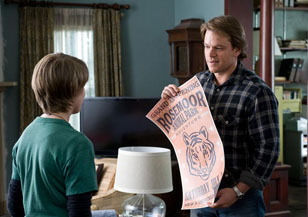 ---
Everything, with one obvious exception, is down from Tuesday, as is to be expected when we look at mid-week figures.

[tm:5273_]Mission: Impossible - Ghost Protocol[/tm] led the box office again on Wednesday, adding another $8.5 million, giving it $94.4 million to date. It'll be over the $100 million mark by the time you read this and is rapidly approaching the domestic take of Mission: Impossible 3, which earned $133.5 million. It's already locked up the title over the Twelve Days of Box Office and will need the weekend to end up December's champ.

Crossing $100 million today is [tm:5270_]Sherlock Holmes: A Game of Shadows[/tm], essentially tied with [tm:5271_]Alvin and the Chipmunks: Chipwrecked[/tm] for second place with $6.5 million. Neither film will duplicate the $200 million domestic performance of their predecesors, but Chipwrecked is the bigger box office disappointment by far (though it'll probably do better than Sherlock Holmes on DVD). Chipwrecked has earned $69.8 million so far while Sherlock Holmes has made $103.6 million.

Fourth place is another tie between [tm:3975_]The Adventures of Tintin[/tm] and The Girl with the Dragon Tattoo, each earning $4.1 million on Wednesday. Both are pretty much letdowns in the domestic box office department, but Tintin does have the truckload of money it made overseas in the last two months to fall back on. Both films have eight days in theaters at this point, and Tintin has earned $31.8 million, while Girl with the Dragon Tattoo has taken in $36.5 million.

[tm:5275_]We Bought a Zoo[/tm] is in sixth place with $4 million and I still like to believe that adding an exclamation point would've been worth a few million more. Since its Christmas Eve Eve opening, the [bp:2046_]Cameron Crowe[/bp] pic has earned $24.4 million.

[bp:2793_]Steven Spielberg[/bp]'s [tm:5256_]War Horse[/tm] got off to a very hot start Sunday and Monday with its opening grosses, but things have tailed off a bit as it finds itself in seventh on Wednseday with $3.7 million. It's got $22.4 million in four days now, which really isn't entire terrible, but its starting to look like that audiences are opting for entire zoos instead of just horses.

[tm:3363_]New Year's Eve[/tm] merits slightly more than pointing and laughing for once because unlike everything else, it's up from Tuesday (albeit just 3.3%) with $1.7 million. This makes sense because we're rapidly approaching, well, New Year's Eve. I would actually look for the Garry Marshall ensemble comedy to see further slight gains on Thursday's and Friday's earnings before completely cratering as New Year's Eve proper is actually a really lousy box office day. It's still a pretty big flop, though.

Rounding out the dailies, we have Christmas opener [tm:5142_]The Darkest Hour[/tm] in ninth with $1.2 million and $7.7 million after four days in theaters, while [tm:5269_]The Muppets[/tm] hangs on to tenth and adds another $1 million to its $78.8 million take.