The Twelve Days of Box Office
Christmas Day Actuals
By Tim Briody
December 26, 2011
BoxOfficeProphets.com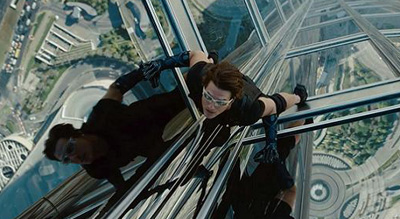 ---
The actual figures from Christmas weekend are in, and while David Mumpower did his usual fantastic job detailing the estimates of key releases, we now have a very good idea of where everything stands at this point as we enter the most wonderful time of the year, if you're a box office analyst.

The number one film, of course, is [tm:5273_]Mission: Impossible - Ghost Protocol[/tm], with a three day total of $29.5 million. This is an outstanding recovery for both the franchise and the career of [bp:145_]Tom Cruise[/bp], the futures of which were up in the air in the latter half of the '00s, especially after many questioned Cruise's sanity.

While Ghost Protocol does lag behind the ten-day take of Mission Impossible III at this point (it had earned $85.1 million after two weekends to Ghost Protocol's $61.9 million), keep in mind that the first weekend was in 425 IMAX-only theaters. Consider that it's a mortal lock to pass MI3's take of $133 million, and what's been done here is suddenly much more impressive. It will be the top option for most as we head into the best week of box office of the year.

Second goes to [tm:5270_]Sherlock Holmes: A Game of Shadows[/tm], with $20.2 million for the weekend. That is a decline of 49% from last weekend, but that doesn't matter here. The [bp:5276_]Robert Downey Jr.[/bp]/[bp:172_]Jude Law[/bp] sequel now stands at $79 million after two weekends. Ghost Protocol will pass it mid-week (and the Twelve Days of Box Office will let you know when that happens), but it's a solid second choice for audiences and after just two movies has quietly become one of the more established franchises of the last few years.

Managing to scrape into third place is the American adaptation of Stieg Larsson's The Girl With the Dragon Tattoo, earning $12.7 million over the weekend and $21.1 million since its Wednesday debut. This is okay and all but you can't help but feel underwhelmed considering it seemed like everybody was talking about the books at one time or another in the last few years, and was arguably the second most anticipated book-to-(English) movie adaptation after The Hunger Games. We can probably chalk this one up to a really lousy release date, viewers are less likely to pick a "feel bad" movie during the holidays. Many get enough of that with their relatives.

Granted, the upcoming week will be very, very kind to The Girl with the Dragon Tattoo, but once the box office gravy train comes to an end, I'm sure we'll still feel that there was money left on the table here by choosing a December release as opposed to, well, any other time.

Since there's no avoiding it, fourth place goes to the third entry in the Alvin and the Chipmunks series, Chipwrecked. It slipped to fourth with $12.6 million and now stands at $49.5 million after two weekends. After terrorizing the Decembers of 2007 and 2009 to the tune of $217 and $219 million respectively, the third entry finally has seen a degree of families come to their senses and prevent that mistake from happening a third time. The week ahead will see some very strong earnings that will bring it over the $100 million mark, but it's going to go down as quite the disappointment when compared to the first entry and the Squeakquel.

Fifth goes to the first entry in A Very [bp:2793_]Steven Spielberg[/bp] Christmas, the animated Adventures of Tintin. While on the surface, $9.7 million for the weekend and $17.7 million in five days seems disappointing, Tintin has been playing around the world since October and had already earned $239 million, making anything earned at North American cineplexes a bonus. The smarter choice for families after Chipwrecked, Tintin will remain right behind the chipmunks throughout the week, but it's in line for a very respectable (and 100% profitable) holiday.

Sixth is another newcomer, [bp:2046_]Cameron Crowe[/bp]'s [tm:5275_]We Bought a Zoo[/tm]. The [bp:151_]Matt Damon[/bp]/[bp:816_]Scarlett Johansson[/bp] based on a true story dramedy was the only actual Friday release this year and earned $9.4 million. We Bought a Zoo is going to ride the high tide that is this upcoming week, but after that, it will be left searching for people to buy tickets.

Seventh for the weekend goes to Christmas Day release [tm:5256_]War Horse[/tm], which completes A Very Steven Spielberg Christmas. With $7.5 million on Sunday, it would actually take third place for Christmas day alone, only behind Mission: Impossible and Sherlock Holmes. This has it well positioned for the week ahead and likely a key player even into January should it catch on with families.

It's all the way down in eighth place where we find the first movie that did not come out in the last ten days. It's the considerably more timely [tm:3363_]New Year's Eve[/tm], which earned $3.3 million. Perhaps because it was released at least one weekend too early, or perhaps because it's a terrible movie, the Garry Marshall comedy with a cast of thousands is boosted somewhat by the holiday, but now stands at $32.6 million after three weekends. Even with the extra box office it will earn this week, it still has a lot of work to do to even match the opening weekend of Valentine's Day.

Nothing says Christmas quite like a horror film, at least according to the people behind [tm:5142_]The Darkest Hour[/tm]. The other Christmas Day opener comes in with $3 million. I offer no explanation why this was released here, but I think the folks at Summit Entertainment are just trolling us with the films they release in between the Twilight films. The joke's on them - there's only one half of a film left to go. Anyway, The Darkest Hour will be there throughout the entire week, largely a box office non-factor.

Finally, leftovers [tm:5269_]The Muppets[/tm], [tm:3853_]Hugo[/tm] and [tm:5211_]The Descendants[/tm] are all in a virtual tie for tenth place for the weekend, with The Muppets officially taking the spot with $2.1 million. Barring serious awards attention for the latter two films, this week will be your final opportunity to easily catch any of these films, all deemed worthy of your time by critics (fun fact: the most positively reviewed wide-release of 2011 according to Rotten Tomatoes? The Muppets. Not a joke.)

With all of the above stated, it's anticipated that Monday will actually be the largest single day of box office for almost every film listed above. With schools and many businesses closed to observe the Christmas holiday and now also free of any family obligations, audiences are set to turn out to the theaters in droves after returning any unwanted Christmas gifts. The Twelve Days of Box Office will be here to cover it tomorrow and every day through next weekend.