Top 10 Film Industry Stories of 2011: #8
North American Movie-Goers Less Animated in 2011
By Kim Hollis
December 27, 2011
BoxOfficeProphets.com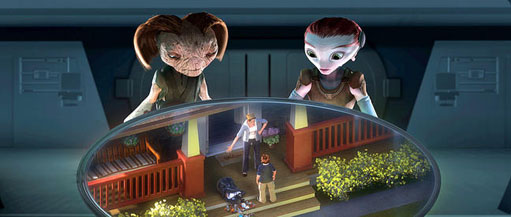 ---
In 2010, animation was a hot ticket at the box office, with four of the top ten movies of the year coming from that genre. Between them, those four films brought in more than $1.1 billion in North American dollars alone. The wave was riding high, and with some highly anticipated sequels coming in 2011, that trend seemed certain to continue. Except…it didn't.

In fact, the best performing animated film in 2011, Cars 2, looks likely to finish in seventh for domestic box office with a North American total of $191.4 million. This total is $26 million lower than last year's fourth best performing animated film, How to Train Your Dragon. We actually have to go all the way back to 2002 to find an animated film in the top ten for the year that finishes with a lower total than Cars 2 – and that movie is Ice Age, whose $176.3 million domestic finish still inflation adjusts quite a bit higher than Cars 2's number for 2011.

It wasn't all gloom and doom, of course. The first animated film of the year, Gnomeo and Juliet, came on pretty strong. A comparatively inexpensive movie to make (some reports have it with a $10 million production budget, though it's likely higher than that), the Shakespeare knockoff had a debut weekend of $25.4 million, and it finished its North American run with $100 million. Beyond that, we had a number of animated films that finished above their reported budgets in terms of domestic finish, but none of them were stellar in that regard. International numbers had to save the day for a lot of studios that invested in animated properties in 2011.

Other than Gnomeo & Juliet, the year was peppered with middling to blah domestic performers. Those so-so titles would include Rango, which although a terrific little animated film, was only able to pull $123.3 million in North America versus its $135 million budget. Hop was actually a decent earner with $108 million (versus a $63 million budget), but expectations seemed higher and it felt like a slight letdown even with the decent return on investment. The same goes for Rio, which tallied $143.6 million against a $90 million budget and The Smurfs ($142.6 million versus $110 million). Winnie the Pooh, the only new wide release of the bunch to utilize classic animation, just missed its $30 million budget with a domestic total of $26.7 million (and barely got it back even with international numbers).

Then we had the various sequels, all of which underperformed compared to their predecessors. Hoodwinked Too! Hood vs. Evil kicked things off by opening to only $4.1 million and taking in $10.1 million at the domestic box office. The original Hoodwinked earned $51.4 million back in 2006, so this was a truly disastrous result for The Weinstein Co. This was a film that couldn't even make its money back with international receipts, as it only made an additional $7 million or so overseas, meaning it only took in about 50% of its budget in theaters.


The heavy hitters weren't immune, either. The aforementioned Cars 2, from Pixar, finished more than $50 million lower than the original film, and it couldn't make its budget back in North America. Of course, it's important to keep in mind that Cars 2 was never so much about the box office receipts as it was about the potential for merchandising revenue that would come from that day forward. Surely Disney's plan was for there to be a Lightning McQueen under every Christmas tree during the holiday season. As for DreamWorks, Kung Fu Panda 2 came in $50 million lower than Kung Fu Panda, while Puss in Boots, an offshoot of the Shrek series, finished almost $100 million lower than any previous movie from that franchise. Yes, both Kung Fu Panda and Puss in Boots were profitable, but there was still that feeling of disappointment surrounding them, as if money had been left on the table.

As for Happy Feet Too, it followed the Hoodwinked Too! Model. To date, it is sits with $130 million less than the original film made, and doesn't have a prayer of getting near its $135 million production budget. International receipts may not even help. And Alvin and the Chipmunks: Chipwrecked had an opening weekend that was less than half what its predecessor (the Squeakquel) was able to incur (and $21 million less than the first film). Both of the previous Chipmunks films earned more than $200 million during their North American theatrical runs, and Chipwrecked doesn't have a hope of getting close to them.

Along with Chipwrecked, two other animated flicks tried to test their mettle during the holiday season, and neither one impressed domestic audiences. Arthur Christmas, from the wonderful Aardman Animations, has earned only $44.2 million as of this writing, while The Adventures of Tintin was decidedly blah over its Christmas weekend release, particularly considering that Steven Spielberg's name is associated with it. Fortunately for both films, they were always going to be much bigger overseas than in the U.S., and profitability will come from those avenues.

By far the biggest animated travesty of the year, though, was Mars Needs Moms, a movie I was convinced must have been released in Fall of 2010 since it had long ago fallen from memory. But no, the motion capture animated flick opened on March 11, 2011. Its three-day debut weekend total of $6.8 million was the 12th worst opening ever amongst films that started in more than 3,000 venues. It was eventually able to eke out a domestic total of $21 million, but that number was bad enough to put the Disney production amongst the worst box office bombs in history. The film had a reported $150 million budget, and even with international receipts added in, the movie just couldn't come close to getting out of the red. The end result was that Disney shut down ImageMovers Digital, the animation company it formed with motion capture proponent Robert Zemeckis.

The year's happiest story in animation actually arrived courtesy of an old, well-loved friend. The Lion King returned to theaters in September with a full 3D conversion. It was effectively intended to be a promotional push for the Blu-ray release on October 4th, but an audience full of nostalgia and love for Simba and his friends proved that this strategy is one that Disney can employ to regenerate interest in their classics. The Lion King 3D had an "opening" weekend of $30.1 million and tallied $94.2 million before it exited theaters a few weeks later. Clearly, with the right packaging and motivation, audiences are willing to pay for product that they can readily get at home. Disney certainly plans to try again with Beauty and the Beast 3D in early 2012.

Repackaging old product won't work indefinitely, though, and studios are going to have to move forward with aggressive marketing strategies for their 2012 releases. 2011 trending has shown us that studios are growing ever more reliant upon international box office for revenue, and the animation genre is proving that this is a critical element in profitability. Will North American audiences fall back in love with Pixar as they move forward with an original story in Brave? Can DreamWorks expand the audience of Madagascar and its sequel? And will Ice Age: Continental Drift be the highest grossing international film of 2012? Studios will be hoping that 2011 was an anomaly for the genre.