Weekend Forecast for December 23-25, 2011 Part 2
By Reagen Sulewski
December 23, 2011
BoxOfficeProphets.com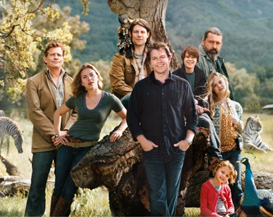 ---
Now the fun begins. Three more films add themselves to the Christmas week slate over the next three days, adding to the Holiday glut that started last Friday and was added to with three films on Wednesday. In all, as many as ten films could be significant players over the next week and a half.

First, the new arrivals. Friday brings Cameron Crowe's first film in six years, We Bought a Zoo. One of the odder premises in some time, it stars Matt Damon in an adaptation of Ben Mee's autobiographical book about his family's purchase of a rundown zoo in the English countryside following the death of Damon's character's wife. Annnnnnd that's pretty much it for plot. It's not going to get much plainer than the title, there.

Scarlett Johansson, Thomas Haden Church, Patrick Fugit and Elle Fanning round out the cast, though the appeal is Damon plus a bunch of cute, cute animals. This is filling the Marley & Me slot of "family film with animals", which fairly inexplicably dominated the 2008 Christmas season to the tune of a $36 million opening and $143 million total. Jennifer Aniston chasing an unruly Labrador puppy down the beach is apparently just what people wanted. There's a significant difference here in that this book wasn't nearly as popular as Marley & Me, and that we're losing focus on a particular animal for the multiple ones in the zoo. Porcupines-lessthansign-puppies, apparently. Hopefully we can count on a bit more insight from Crowe than David Frankel on the therapeutic value of animals, but I don't know that that's going to help on the first weekend. I'd look for an opening weekend of $19 million.

War Horse is the bigger of the two films opening on Christmas Day, thanks in large part to its director, one … Steven Spielberg. Perhaps you've heard of him. Having exhausted every plausible World War II story, he's moved backwards to World War I, following a young man (newcomer Jeremy Irvine) who enlists in the British Army on the eve of the Great War after his beloved workhorse is sold for use in battle. A somewhat episodic film on the horrors of war and the devotion of a boy to his horse, it's not exactly something that screams blockbuster – but then there's that Spielberg name. The ads definitely have that touch that he brings to his films which has made him the biggest name in directing, but he's not without his missteps – see Amistad, The Terminal, Always… and you'd be one of the few that did. Overall, though, it's hard to think of anyone with a more consistent and excellent track record at delivering hits, and if there's anyone who can get people see a movie with no significant stars and that's mostly about a horse, it'd be him.

The last time we had a calendar configuration like this was 2005, when the unremarkable Rumor Has It and the totally forgotten Wolf Creek were the only films to skip the weekend and open on Christmas Day. One of the most significant December 25th openers in recent years is Ali, with brought in $10 million when Christmas fell on a Monday … and then promptly fell to Earth. It's kind of an apples and oranges comparison, but there's not nearly the hype here that there was for Ali, nor is it as friendly a concept. For its one day, I'd look for about $6.5 million.

The other Christmas Day opener is bound to wind up in the same category as the aforementioned Wolf Creek, a footnote to history. The Darkest Hour puts together a cast of marginally popular young actors in a somewhat novel location for an English language film (Moscow) for a sci-fi survival film. Emile Hirsch, Olivia Thirlby, Rachael Taylor and Max Minghella are the names in the film you might recognize, and are pitted against an alien invasion that comes through the power supply and turns people into ash on contact.

While there are some okay-looking effects here, the whole package has a strangely assembled-on-the-cheap feel, and really seems to be targeted at the international market. I'm almost surprised that this isn't a film that's getting to the North American market several months, or even a year after being released around the world. I'd look for a meager $2 million on Christmas Day.

This takes us back to the films that have already opened this week, and the returning films that are hoping to make some box office noise this week. Mission: Impossible – Ghost Protocol led Wednesday with $8.9 million, an excellent number for this time of year, considering that the film has already been seen in IMAX by a significant number of people, and people are still at work and in school. Again, going back to 2005, the biggest Wednesday film was The Lion, The Witch and the Wardrobe with $4.9 million, while the biggest opening film was Fun With Dick and Jane at $3.7 million. These films proceeded to earn $20 million and $14 million, respectively, on the Christmas weekend. Opening days are usually stronger than returning film days, and there are also genre effects to consider, as children's films are usually depressed outside of the holidays. This leads me to revise downwards a bit on my opening weekend prediction, to $44 million.

The Girl With the Dragon Tattoo came in with $5 million on its opening day, which is towards the more disappointing end of the scale. Perhaps people are waiting a bit on this one, with more significant box office to come following Christmas. Right now, I'd look for a weekend of about $26 million.

As well, we've got The Adventures of Tintin, which earned just $2.3 million on Wednesday. It's hard to put a nice spin on this number, but look above at those figures from 2005, particularly that Narnia figure. It's also well behind Alvin and the Chipmunk's number for Wednesday, for which it should feel shame. There's definitely hope for it after Christmas, but it's going to start with about $12 million, which is not an auspicious beginning.

Sherlock Holmes remains the biggest of the returning films, after a $40 million start and a $4.2 million Wednesday. Those figures point to a relatively steep drop-off for this weekend, though - and I'm sounding like a broken record here - it's got a good chance following Christmas. I'd give it $22 million this weekend.

Alvin and the Chipmunks, as mentioned, isn't doing all that well relative to the previous entries in the franchise, starting with $23 million. I'm expecting it to carry over well for Christmas week as the top family choice but let's not look for miracles here. It should come in with about $15 million this weekend.

Other films that could factor into the weekend and Christmas Week box office are New Year's Eve, The Sitter, The Muppets, Arthur Christmas and Hugo, though none are likely to make more than $5 million this weekend.