Weekend Forecast for December 23-25, 2011 Part 1
By Reagen Sulewski
December 20, 2011
BoxOfficeProphets.com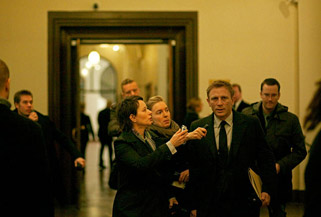 ---
The first batch of this Christmas 2011's Release Fest arrive Wednesday, with three of the six new wide release films this week entering theaters, including one of the most highly anticipated movies of the year. Get ready for movie overload.

One of them is a technically an expansion, as those people in cities without an IMAX theater get their first chance to see Mission:Impossible – Ghost Protocol. Last weekend, the fourth Mission: Impossible film opened in 425 theaters in an experimental release strategy, pulling in $12.8 million and an outstanding $30,000 per screen average. Part of this is certainly due to the higher ticket price of IMAX releases, and part due to the limited number of screenings, concentrating everyone who wanted to see the film into a giant average number. So, did the tactic work? Short answer, yes with an "if".

There are a couple of potential pitfalls to this tactic, one pragmatic and one cosmetic. Pragmatic, in that there's $13 million worth of tickets for the movie that have been pulled away from an opening weekend figure that it appears would have (but still could be) impressive. Cosmetic, in that Mission: Impossible 4 has now started and been reported as a third place film, which could damage the perception of it in a world conditioned to see front-runners. I'm not as concerned about the latter aspect as I am about the former, but if there's any time of the year this tactic might not hurt, it's now, when there's days and days of box office bonanza to be had, and this just acts as an extended preview. While extrapolating this per screen average out to 3,400 venues is ludicrous (it's not opening to $109 million, sorry), these kind of per screen averages don't really happen to films that are flops, especially on so many (relatively speaking). We're kind of in uncharted territory here, but I think with Christmas Day involved in the equation, we should see an opening weekend of $46 million, with another $16 million for a five-day period total of $62 million.

The Americanized-remake of The Girl With the Dragon Tattoo also hits wide release on Wednesday, with sneaks on Tuesday night. David Fincher is behind the camera for the translation of the Swedish novel to English-language cinema, after a Swedish-language trilogy made its way around the world to modest success. Probably the most famous Swedish book ever after Pippi Longstocking, it was in so many people's reading lists, you'd think everyone was taking a class on it. A disturbing tale of murder, Nazis and rough sex, it's also one of the darker best-sellers since Thomas Harris introduced Hannibal Lecter to the world.

The ace in the book and film's hole is its title character, Lisbeth Salander, a tattooed and pierced goth hacker/detective/con artist/slashslashslash... who is barely functional on a social level, but fascinating all the same. She teams up with a journalist (Daniel Craig) who's hired to investigate a decades'-old disappearance in a wealthy Swedish industrialist's family in a remote part of that country (the Fincher adaptation thankfully keeps the setting intact, merely having all the characters speaking English). Salander is played here by Rooney Mara, last seen in The Social Network, and who will likely be gunning for an Oscar nomination (if there's a more gift-wrapped role this year, I don't know what it is).

There's been some hue and cry about not needing a remake, but let's face it – those Swedish movies were not that good and could use a bit of edge from a guy like Fincher, who might find his Se7en-era mojo and apply it here. It looks like he's gone even darker for this take on the material, but still managed to stay true to the spirit of the books. The film's positioning as "The Feel Bad Movie of The Year" seems warranted.

Ordinarily this might be the kind of film that has to fight for acclaim and buzz, but thanks to its international fame, it comes in with the full "cover of EW" treatment in the press. Reviews also seem to indicate that Fincher mostly got it right, so there's even more anticipation there. The hard-R aspect of the film will be the most difficult thing for the film to get past, as it will at least appear to be too intense for many viewers. That hasn't stopped a few films similar in tone from opening huge – 2001's Hannibal comes to mind – but with Christmas season depressing opening weekends, I think we're looking at around a $46 million start, and $56 million over five days.

Lastly, we have The Adventures of Tintin, the first of two films directed by Stephen Spielberg to open in the next four days. An animated adaptation of the Belgian graphic novel series, it's his first film to come in with the attitude of "Oh. North America. Right. You guys." having already grossed over $220 million before ever seeing a paying customer here. Which makes some sense, seeing as it's an adventure series about a Belgian journalist detective that was originally written in French. It's probably more famous for being a thing that Americans don't know about than it is in its own right.

That said, "Spielberg" + "animated" +"adventure" probably adds up to a lot of interest on their own. The motion-capture CGI (with the help of Peter Jackson) seems to have risen to the point of "too accurate" though I'm sure it's a drawing point for a lot of people. Apparently some people are able to look at The Polar Express without screaming in horror too, but it takes all kinds. With voices from Jamie Bell, Daniel Craig (who must be busy on the publicity circuit this week), Andy Serkis (contractually obligated to appear in every mo-cap film), Simon Pegg and Nick Frost, and Cary Elwes, it's not the biggest of casts, to be sure, but it's not totally necessary here and as previously mentioned kind of an afterthought for the North American audience. With Chipmunks faltering, this is a good bet to be the top family choice over the Christmas holidays, although that's probably not saying much. I'd look for $25 million on the weekend, and $31 million over five days.

Stay tuned for further forecasts this week.