Weekend Wrap-Up
Sherlock leaves Chipmunks Chipwrecked
By David Mumpower and Kim Hollis
December 18, 2011
BoxOfficeProphets.com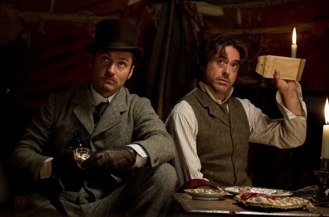 ---
In 2005, Christopher Nolan showed how it was possible to reboot a franchise without incorporating the primary villain. With Batman Begins, he brought the Caped Crusader back to theaters, but the Joker was not part of the picture. Instead, Nolan waited until the second film to show audiences the most fascinating villain in the comic book world.

For the 2009 release Sherlock Holmes, Guy Ritchie followed this same blueprint. Instead of putting criminal mastermind Professor James Moriarty front and center, he let us get to know Holmes and Watson, the heroes of the story, establishing them as fun and punchy solvers of crime. Now, just as Nolan did with the follow-up The Dark Knight, Ritchie has introduced the Big Bad in the second movie in the series. Would the results mirror what happened with Batman?

Well, not exactly. Sherlock Holmes: A Game of Shadows earned $40 million this weekend, which is significantly less than the $62.3 million that the original Sherlock Holmes made during its debut on the weekend of December 25, 2009. However, it's important to note we have some key differences at play here. For starters, the original Holmes started on Christmas proper, a day that is always stellar for box office results. And in the case of Sherlock Holmes, that Christmas was on Friday itself, which led to a big time Saturday and Sunday as families looking for group activities could all head out over the long weekend and catch a movie together. This is a weekend that broke the three-day overall box office record set the weekend The Dark Knight itself opened.

In fact, people probably don't remember Sherlock Holmes being as big as it was because it was being outshined by a little movie called Avatar. You know, the film that set the all-time box office record and ran through the holidays of 2009 like a thanator bounding through a forest. Sherlock Holmes came in with a grand total of $209 million, more than the $205 million accrued by Batman Begins, but somehow, it's viewed as less than what it is.

What we can say is that the prospects for Sherlock Holmes: Game of Shadows will do quite well in the coming days, thanks to the glorious bounty that is the Christmas box office timeframe. Its $40 million start should still put it in line to approach the total of the original, and it may even match or surpass that $209 million figure if everything plays out correctly. Reviews for the film are not over-the-top positive, but they're pretty similar to what the first one received, with the added benefit that this time around, the villain is the best one the franchise should have to offer.

Along with Avatar and Sherlock Holmes, there was actually a third film in release in 2009 – one that even beat Sherlock Holmes when it came to final box office. On the heels of Alvin and the Chipmunks: The Squeakquel's $219 million, the third entry in that kiddie flick franchise will do… quite a bit less.


Yes, it seems that people have finally figured out that turd-eating chipmunks are neither entertaining nor educational. The newest film featuring Alvin, Simon, Theodore and Jason Lee (why, Jason, why?) earned only $23.5 million this weekend, less than half of what the Squeakquel made on its opening weekend, $48.9 million. There's no sugarcoating this result. Fox went to the well a third time in four calendar years, and it proved to be overkill. Don't line up too quickly to cast aspersions, though. Chipwrecked has a budget of just $80 million, and will probably wind up with worldwide receipts in excess of $400 million, which is the average of the previous two. As is the case with so many other "blockbusters" these days, there will be less money domestically and more money abroad.

Perhaps the strongest performance this weekend comes from a title in only 425 locations, albeit the most expensive ones in North America. Third place finisher Mission: Impossible – Ghost Protocol debuted with $13 million, giving it a per location average of $30,588 (although it did have a more-than-ordinary number of Thursday sneak exhibitions to bump up the total).

Why did this do so well in its limited venues? There are a number of reasons that we could cite, but primary amongst them is that with this small of an audience, there was going to be a wide, insider-type awareness that Brad Bird was at the helm. For those who are unaware (and if you're reading this site, we're a little surprised at you), Bird is a director who cut his teeth in animation, including episodes of The Simpsons along with cinematic masterpieces The Iron Giant, The Incredibles and Ratatouille. The novelty of seeing him translate his undeniable skills to the big screen was going to be a huge draw for some.

Additionally, M:I4 is receiving reviews that are absolutely glowing. Overall, its Rotten Tomatoes score is 95%, with 100% of "Top Critics" giving it the thumbs up. Its audience score at the site is 91%. Suffice to say that action pictures just don't get reviews like this.

Finally, there might be something to the fact that selected theaters had a preview of The Dark Knight Rises attached to the M:I4 print. It's not a big enough number of cities to say that it was truly the biggest factor, but it was well publicized, and could only have helped the ultimate results. Is it possible that people are finally ready to forgive Mr. Cruise for his antics of the past several years? The next couple of weeks are going to go a long way toward helping his image. As a final note, the Mission: Impossible films have always done extremely well overseas, so assuming that the fourth installment follows the pattern of all international releases over the last couple of years, it's going to clean up outside of North America.

Fourth and fifth spot go to last weekend's openers, New Year's Eve and The Sitter. The two films predictably slide three spots each due to the new openers. New Year's Eve has a respectable hold of 43% as it falls to $7.4 million. Given the loathsome word-of-mouth, this borders on being a best-case scenario. So far, the film has earned $24.8 million, but has a chance to double its box office over the next two weeks if it can maintain its theaters. As for The Sitter, it has a steeper decline of 55% to $4.4 million and a pathetic $1,599 per location average. Its grand total sits at $17.7 million, and it's going to have to scratch and claw to break $30 million.

The Twilight Saga: Breaking Dawn Part 1 finishes in sixth place. The teen vampire flick fell 45% to $4.3 million this weekend, and has a running total of $266.4 million. For comparison, Eclipse was at $285.5 million at the same point in its trajectory, while New Moon (which opened in a similar calendar configuration) was at $274.6 million after 31 days. Thus, Breaking Dawn Part 1 is lagging slightly behind its predecessors.

Seventh goes to Young Adult, the Charlize Theron starrer directed by Jason Reitman and written by Diablo Cody (Reitman and Cody had previously teamed on Juno). After debuting to $310,000 in eight theaters, the uncomfortable black comedy expanded to 986 locations this weekend, earning $3.6 million. The $12 million production is a showcase for Theron, and as an awards contender, it's going end up a profitable film whose quirky nature will make for a polarizing discussion topic in the weeks to come.

Our final three films have been joined at the hip since they opened. Hugo and Arthur Christmas are in a photo finish, as both are reporting totals of $3.6 million (sure, Paramount says Hugo has $25,000 more, but you know some studio suit just put that on their credit card so they could lie up). Hugo's grand total to date is $39.1 million, while Arthur Christmas's is $38.5 million. The coming days should be good for both films, but Hugo should have a bit more staying power since it is in awards contention. Finally in tenth is The Muppets, Jason Segel's love letter to the puppet creatures that have captivated many of us for so long. The Muppets earned $3.5 million and now has a domestic total of $70.9 million, a number that is well in excess of the movie's budget of $45 million.

Overall this weekend, the box office continues to lag behind last year. The top 12 earned $114.5 million, a decline of 10% from last year's $127.7 million when Tron: Legacy and Yogi Bear were new in theaters. Still, box office is up almost $50 million from last week's absolutely pathetic $67.8 million. Christmas week brings The Girl With the Dragon Tattoo, The Adventures of Tintin, We Bought a Zoo, and War Horse, with Mission: Impossible – Ghost Protocol going wide. There's something for everyone, and the box office results should reflect that fact.