Weekend Forecast for December 16-18, 2011
By Reagen Sulewski
December 16, 2011
BoxOfficeProphets.com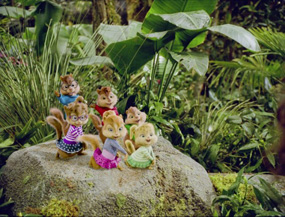 ---
Look, would you people just see a movie already? Are you going to make Hollywood beg? Okay, okay. Here is Hollywood just begging you to pleeeeeease see a movie this weekend. There's a bunch of Benzes that are going to get repossessed!

At least they're meeting us halfway, with two and a half franchises populating the weekend, along with the expansion of an Oscar contender. After last weekend, one of the worst performing in recent memory, the box office is going to need it. Sherlock Holmes: A Game of Shadows leads the way, two years after giving Robert Downey Jr. his second successful franchise, and who'd have thought those words would make sense five years ago? Anyway, we now have the titular detective on the hunt of his more infamous enemy, Professor Moriarty (played here in a genius bit of casting by Jared Harris of Mad Men) throughout the European continent as he apparently threatens to throw it into anarchy. Also returning in the cast are Jude Law as Watson and Rachel McAdams as Irene Adler, though the female lead mostly gets tossed to Noomi Rapace, making her English-language debut.

Although it was fairly stylized for a detective movie, the first Sherlock Holmes was actually relatively reserved for a Guy Ritchie film. With the sequel, it's apparently time for the cry of "UNLEASH THE RITCHIE" and we've got more time effects, more 'splosions and overall more style per square inch than half a dozen other action films. This may or may not be your preference, but it certainly gets the film noticed. I don't see a ton of enthusiasm for this film, however. The first film was an… all right blockbuster, but it had its moments of tediousness. A lot of this is going to depend on how you feel about Downey's slightly unhinged portrayal of Holmes, for which he's attempting to craft it into his own Captain Jack Sparrow. As this summer showed, there's a pretty big appetite for zany leading characters in any context, so it's not a terrible strategy for Downey and the film. Unfortunately, I don't think this Holmes film has done enough to distinguish itself from the first one, and combining that with soft reviews, it's going to be a tough slog for the film to match the $62 million opening weekend of the original. I think we're in store for a $55 million bow here.

The movie theater is once again not safe for parents with the release of the third Alvin and the Chipmunks movie, this one subtitled Chipwrecked. The Alvin movies have been a shockingly lucrative as they have been devoid of actual quality, and I sure hope Jason Lee's house is nice, and that David Cross can some day regain his self-respect.

This film sees the Chipmunks and the Chipettes marooned on a tropical island, and they unfortunately didn't take my suggestion to have them resort to cannibalism, taking this movie instead into the adventure route, with pop song parodies. Not just that, but some of the most annoying pop songs out there, including that Willow Smith monstrosity. The producers of Happy Feet 2 have to be wondering where they went wrong. Were they just not annoying enough? Perhaps that's a question best left to history.

Reviewers continue to fire haymakers at this series in the vain hope that it'll actually make some kind of difference, but we all know at this point that there's very little that you can do to stop a popular children's franchise short of some sort of Children of Men effect. With the previous two films opening to $42 and $48 million, I'm depressingly predicting an opening weekend of $44 million.

In a strategy I can't remember seeing previously for a franchise action film, Mission: Impossible – Ghost Protocol – Too Many Subclauses is starting out in 425 IMAX venues prior to its full debut on December 20. The reason – well, I can't quite fathom the reason why. Maybe it's to call dibs on those theaters, or perhaps to get the positive reviews out there in advance of a crowded Christmas week. Maybe it's just a lucky day in Scientology. Anyway, here we are, with the fourth director for this franchise and really just Tom Cruise as a connecting thread through all of them. Brad Bird steps into the chair for his live-action debut after making some of the best animated films of all time. Honestly, it doesn't seem like a huge stretch given the way set pieces are created these days, and how visually adept Bird has proven to be in the past.

In this film, Cruise's Ethan Hunt and his team, consisting of Simon Pegg (who between this, Star Trek and Tintin, is having a good last few years), Paula Patton and Jeremy Renner, are framed for the destruction of the Kremlin and forced to clear their name and their agency through the usual globe-hopping daredevil stuntwork, daring break-ins and suspiciously advanced face-mask technologies, in between Renner and Cruise's intense stare-offs.

Reviews are rather spectacular for the film, which should help the box office for a franchise that's been curiously flat in its opening weekends, a troubling fact for a franchise that started 15 years ago. Of course, Mission: Impossible III was the proximate cause for Cruise's infamous couch-jumping incident, which exposed just how crazy the guy actually was, and subsequently turned everyone off from watching the guy's movies for a few years. Are we ready to forgive him yet? Probably not, judging by the opening weekends of his last few films, including Knight and Day, which is pretty much the comedy version of the Mission: Impossible films. The fantastic reviews and top-notch ad campaign should buffer that to a large degree, however, and I think we're eventually going to be looking at a pretty successful film. This release schedule is difficult to judge in terms of opening weekends, but I expect this stunt to bring in around $9 million this weekend.

Expanding to almost 1,000 venues is Young Adult, the latest collaboration between director Jason Reitman and writer Diablo Cody. Charlize Theron stars as a factory-line writer of young adult fiction (think Sweet Valley High) who returns to her Minnesota home town in an attempt to fix her life by going after her high school boyfriend. There's two problems with this, one being that he's married with kids, and two being that she's a horrible person. Patrick Wilson plays her target, while Patton Oswalt (getting improbable Oscar buzz) plays another former classmate who serves as her partner in crime/moral compass/horrified bystander.

Cody is arguably on the comeback trail following the disaster of Jennifer's Body and the cancellation of her TV series, United States of Tara, while Reitman is still riding on the success of 2009's Up in the Air. Theron, meanwhile, hasn't really been seen much since Hancock (there was The Road, but no one really saw that), and even before that had been kind of invisible as a lead for a few years, taking mostly supporting parts and TV roles. That it doesn't really seem that way is kind of a testament to her staying power. That she's playing kind of a repellant character in her big lead shot is daring, considering that.

This seems to be one of those classic "performance better than the movie" situations developing, though in its limited release debut on eight screens, it did manage a very healthy $300,000. Its Globe nomination for Theron will help a little this weekend, but I wouldn't go looking for this to be a substantial hit. This weekend should bring it around $8 million.

Garry Marshall's assault on the romantic comedy with New Year's Eve was a merciful flop at $13 million, potentially saving us from Arbor Day, Flag Day and International Talk Like a Pirate Day ensemble movies (wait. That last one might work). While the Christmas week might salvage a bit of business for this film, there's no comparing this to Valentine's Day's $56 million opening and $110 million finish. My suggestion to salvage this series comes in two forms: don't – or for a more radical suggestion, make it a good movie. This should drop to around $6 million this weekend.

Jonah Hill's star vehicle The Sitter (aka A Farewell to Fat Jonah) opened to just under $10 million, which seems about right for the guy that most people find annoying in films remaking a gender-swapped, R-rated Adventures in Babysitting. There's always the chance that this is some sort of cult-classic in the making, but for now, let's call it a $5 million second weekend.