Weekend Wrap-Up
New Year's Eve and The Sitter Both Open Ugly
By John Hamann
December 11, 2011
BoxOfficeProphets.com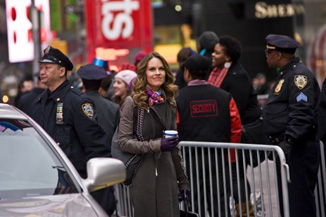 ---
It's two weekends before Christmas, and what do loyal movie fans across this great continent get as a soother against holiday shopping? Two movie turds recycled from already used, bad ideas. Openers this weekend are New Year's Eve, another Garry Marshall "let's pick a semi-holiday and throw a 1,000 B-list stars at it" film and The Sitter, with Jonah Hill doing his best Elisabeth "Adventures in Babysitting" Shue impression. To put it nicely, both films suck, so I hope you are using your movie dollars to support solid holdovers like Hugo, The Descendants, or even The Muppets. Looking at the overall totals, folks were definitely concentrating on shopping, and waiting until next weekend to see a movie.

The number one film of the weekend is unfortunately New Year's Eve, the new romantic comedy from Pretty Woman director Garry Marshall. Starring a series of actors that couldn't open a film on their own if their lives depended on it, New Year's Eve thankfully failed to live up to the $56.3 million opening weekend that Valentine's Day had. It was still number one, though, earning $13.7 million, and will be the Christmas present we can't return for the next three weeks. Out to 3,505 screens, New Year's Eve earned a venue average of $3,910. New Year's Eve threw well under what tracking was expecting - $20 million – so at least there is a little something under the tree for me.

From Warner Bros. and New Line, New Year's Eve did have a bevy of recognizable faces, but few had recents hits on their resume. Take for example Michelle Pfeiffer (2009's Personal Effects went straight-to-video), Ashton Kutcher (see Michelle Pfeiffer entry), Zac Efron (Me and Orson Welles - $1.2 million domestic total), Halle Berry (Things We Lost In The Fire, $3.3 million domestic total), Sarah Jessica Parker (I Don't Know How She Does It - $9.7 million domestic total) and Hillary Swank (Conviction $6.8 million domestic total). Yes, New Year's Eve is packed with stars, but still only cost $56 million to make, which tells me that more than a few of these folks were just happy to have their phone ring. Warner Bros. really tried hard to sell this one on its star power, but when you look closer, only the BOP-hated Katherine Heigl brought any to this release.

Much like Valentine's Day, New Year's Eve is packed with schmaltz, bad jokes, and dialogue that feels like it was written by Randy Quaid. Valentine's Day had a much stronger cast that included Julia Roberts, Anne Hathaway and Emma Roberts, yet it was still almost universally panned by critics. At RottenTomatoes, Valentine's Day was 18% fresh, setting the bar very low for New Year's Eve to beat. It failed. New Year's Eve had only seven positive reviews out of a possible 101, with most of the negative reviews comparing this one to The Love Boat. You have been warned, and hopefully this one is out of the top ten before 2012 begins.


Finishing a soft second is The Sitter, with Jonah Hill in an R-rated version of Adventures in Babysitting. The Sitter earned $10 million this weekend from 2,750 venues, a venue count that leads me to think Fox had little faith in this one. No wonder – reviews weren't quite as bad as they were for New Year's Eve, but they still weren't all that good. Rotten Tomatoes counted only 65 reviews, of which 15 were positive, leaving this one at 23% fresh. High points amongst the critics were Jonah Hill and an out of place Sam Rockwell, but not much else. Director David Gordon Green was slammed for giving us this mess after unleashing Your Highness on us early this year.

Jonah Hill should get a pass for The Sitter, as he has been in some very good films as of late. He was good in two successful animated films, Megamind and How to Train Your Dragon; the small arthouse comedy Cyrus; the wider comedy Get Him to the Greek; and Moneyball, for which he deserves a Supporting Actor nomination. Next up for Jonah Hill is 21 Jump Street, with Channing Tatum, Ice Cube and Johnny Depp; and is filming Neighborhood Watch, a comedy with Ben Stiller and Vince Vaughn, which is written by Seth Rogen and Evan Goldberg.

Third place unfortunately goes to The Twilight Saga: Breaking Dawn Part 1, as the kid's flicks behind it are for some reason not finding a lot of traction. Breaking Dawn earns $7.9 million in its fourth weekend and drops 52%. The Twilight Saga: New Moon earned $8 million in weekend four, as it fell 48%. New Moon had $267 million after weekend four, while Breaking Dawn is lagging with $259.5 million. The overseas total has now crossed the $350 million mark.

Fourth spot goes to The Muppets, a film I thought would bounce back strongly after losing 62% of its Thanksgiving weekend haul in the last frame. Instead, the race just gets tighter between The Muppets, Hugo and Arthur Christmas, as Jim Henson's crew earned only $7.1 million and dropped 36%. This is a pretty good recovery, but I thought it might be even better. Regardless, The Muppets cost Disney only $45 million to make, and has a gross so far of $65.8 million.

Much like last weekend, Arthur Christmas stays neck and neck with Hugo as it takes the fifth place spot. In its third frame, Arthur Christmas earned $6.6 million and fell 11% compared to last weekend. Unlike The Muppets and Hugo, Arthur Christmas is benefiting from its title now, and could outpace the other two next weekend. Made by Aardman and Sony for about $100 million, Arthur Christmas has earned $33.5 million so far domestically, and another $45 million plus overseas.

Hugo, a film I had the pleasure of seeing last weekend, is our sixth place finisher. Now out to 2,608 venues (up from 1,840 last weekend), Hugo held fairly well, pulling in $6.1 million. It dropped 19% after dropping 34% in its previous frame. While a decent weekend, a film like this needs to be seen by more people. Rich, beautiful and funny, Hugo is that rare family film where there is something for everyone, and Scorsese's Paris in 3D is simply amazing. Like The Muppets, I'm wondering why this one isn't doing even better this holiday season. Golden Globe nominations are coming next week, so hopefully Hugo gets some attention out of that. For now, Scorsese's $150 million masterpiece has earned $33.5 million stateside.

The Descendants is seventh this weekend, and is a classic example of how to roll out a dramatic film for adults. After opening at 29 venues to over a $1 million, Fox Searchlight expanded to 390 venues over Thanksgiving, and the George Clooney film earned $7.4 million. The following weekend, The Descendants expanded again, to 574 venues, and earned $4.8 million. That brings us to this weekend, where it expanded again to 840 venues, earning $4.4 million and dropping only 8%. With Golden Globe nominations on the horizon and room for further expansion over the Christmas movie lottery period, this one is going to do very well. The Descendants cost Searchlight only $8 million to make, and has earned almost three times that so far, as the domestic total sits at $23.6 million. Where it will finish, no one knows.

Eighth goes to Happy Feet Two, another family film that has struggled. The expensive George Miller film earned $3.8 million, dropping 37% from its $5.9 million performance last weekend. Remember that this one cost Warner Bros. $135 million to make, and so far has a domestic total of only $56.9 million. It has earned an additional $35 million overseas, but it's not going to be enough to turn a profit on this one.

Ninth is Jack and Jill, as the Adam Sandler comedy won't do what it should – die. In its fifth weekend, Jack and Jill earned another $3.2 million, and dropped 40%. The $80 million comedy has earned $68.6 million stateside, and is just getting stated overseas.

Finally in tenth is Immortals, Relativity Media's gamble on Clash of the Titans leftovers. Immortals earned $2.4 million in its fifth weekend, and dropped 45% compared to last weekend. This one cost Relativity $75 million to make, a figure that it has at least earned domestically, as that total sits at $79.8 million. It's also doing quite well overseas, where it has brought in over $100 million, so it appears to be a good gamble for the upstart studio.

Overall at the box office, things are very, very bad. This weekend's top 12 failed to outgross last weekend's top 12, with last weekend being the dreaded weekend after Thanksgiving frame. Two openers combining for $25 million is simply not good enough. Last year, the abandoned Voyage of the Dawn Treader, and Johnny Depp's awful The Tourist opened together and combined for $40 million. This year, the top 12 films at the box office amassed only $69.2 million, where last year brought in $84.3 million. For a December top 12 this low, one has to look back to the post-Thankgiving weekend in 2002, when Analyze That flopped badly, and for a weekend this bad that didn't come directly after Thanksgiving, we have to go back to 1998. Next weekend should change things up, though, as Sherlock Holmes: A Game of Shadows opens, along with another Alvin and the Chipmunks movie.