Weekend Forecast
By Kim Hollis
December 9, 2011
BoxOfficeProphets.com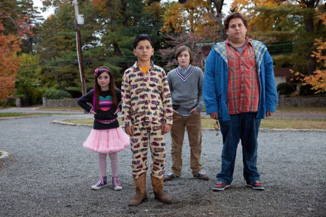 ---
After a weekend where we saw no new wide releases, the studios now unleash two new films into the market. You'd think that would be a good thing, but don't get excited just yet.

The movie that stands to win the weekend is New Year's Eve, another Garry Marshall-directed abomination that features a cast so large, it's easier to name the people who aren't featured than to list the ones that are. As with Valentine's Day, which was also directed by Marshall, the movie centers around a number of couples and romances that all come to a shockingly coincidental Dickensian intersection on a major holiday. The film could theoretically be viewed as a semi-sequel to the 2010-released Valentine's Day, but we know that it isn't since Jessica Biel is playing a different character altogether. Ashton Kutcher is also a repeat offender, along with Hector Elizondo, but it seems that otherwise Marshall has assembled an all-new set of stars (don't hold me to that, though. I might have missed someone. It's inevitable).

Since New Year's Eve is effectively a follow-up, we do have a pretty good yardstick for predicting weekend results. Almost two years ago, Valentine's Day started with $56.3 million. Of note, it did open on Valentine's Day, taking full advantage of the date crowd to drive audiences to the theaters. This time around, New Year's Eve is apparently going the Modern Family route of celebrating the holiday a couple of weeks early, as people haven't even gotten their Christmas presents purchased and wrapped just yet. That's certainly going to have an impact on the opening weekend for New Year's Eve, not to mention the fact that we always see lower openings in December (but excellent legs). Thus, we can probably expect a debut weekend of $35 million, though female-targeted movies can be a bit confounding and it wouldn't be surprising if the timing is just off on this one. Regardless, it's a movie that will be Ladies' Choice over the next few weeks of the holiday season.

Our other new release for the weekend is The Sitter, a movie that sees Jonah Hill return to shlubby form after an outstanding dramatic turn in Moneyball. A sort of Adventures in Babysitting for a new generation (I suppose), the film features Hill as a suspended college student who agrees to take care of the neighbor's kids one evening - an evening that will be full of hijinks and excitement. Theoretically, it will be funny, but reviews seem to indicate otherwise. Remember when people were talking about the film's director, David Gordon Green, as an up-and-coming force to be reckoned with in the indie movie world after George Washington, All the Real Girls, Undertow and Snow Angels? This year, however, the titles he has to his credit are Your Highness and now The Sitter, two movies that have an average Rotten Tomatoes rating of 22%.

For whatever reason, The Sitter reminds me a lot of another December release, Unaccompanied Minors, which hit theaters in 2006 and earned $5.8 million (trivia note: Unaccompanied Minors was directed by Paul Feig, creator of Freaks and Geeks and helmer of this year's box office/critical smash Bridesmaids). One difference (we'll get to the big one in a moment) is that the biggest names in Unaccompanied Minors were Lewis Black and Wilmer Valderrama. At least people know Hill, but the question really is whether they're tired of him in these over-the-top boy child type of roles. It's a movie that is also reminiscent of Drillbit Taylor, which saw Frat Packer Owen Wilson take his talents to a film more targeted to kids than grownups. It opened to $10.3 million in March of 2008.

The problem with all these kid-friendly comparisons is that The Sitter is rated R, which means that it is solidly not in the family-friendly target. The commercials are somewhat misleading in this regard, as I would have had no trouble believing that this is a dumb kid flick full of fart jokes and gross bodily fluids. Both of those are probably still present in abundance, but the audience is going to be self-limiting. I have absolutely no empirical evidence on which to base this, but I get the feeling that Hill's shtick is wearing thin. I see The Sitter opening to $11 million this weekend.

At least there should be some excitement in theaters next weekend, when Alvin and the Chipmunks returns, Mission: Impossible comes back (with a preview of The Dark Knight rises in IMAX locations), and Sherlock Holmes meets his real nemesis.