Friday Box Office Analysis
By Tim Briody
December 3, 2011
BoxOfficeProphets.com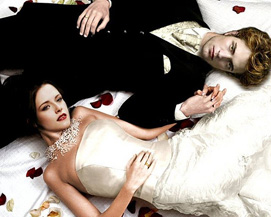 ---
The Twilight Saga: Breaking Dawn, Part 1

Historically one of the weakest box office weekends of the year, the weekend after Thanksgiving sees no new wide releases at all, which leaves Breaking Dawn, Part 1 on top for a third weekend with $5.5 million, off 67% from Black Friday. For those keeping score at home, its total now stands at $235.9 million, while New Moon had earned $245 million at this point. By the way, Breaking Dawn, Part 1 is only the second movie of 2011 to have three weekends at the top, and the first since The Help back in August. It should come in with a weekend of $16.5 million.

Notable Holdovers

Everything else suffers from the post-Thanksgiving holiday hangover. Second place belongs to The Muppets with $2.7 million, which is down 78% from last Friday. This isn't unheard of behavior (last year's Tangled fell 73.6% from its first Friday), though it sure is disappointing considering how great the movie is. It is still a family film and will rebound pretty solidly over Saturday and Sunday. Look for a second weekend of $10.9 million.

The other new releases from last weekend, [bp:200_]Martin Scorsese[/bp]'s Hugo earns $2 million (off 55.5%) while Aardman Studios' Arthur Christmas comes in with $1.7 million (down 63%). Hugo's expansion cushioned the drop somewhat, both both are down as expected, and both should rebound much like The Muppets. Give Hugo a weekend of $7.4 million while Arthur Christmas should come in with $6.2 million.