Weekend Wrap-Up
Thanksgiving Big For Kids at the Box Office
By John Hamann
November 27, 2011
BoxOfficeProphets.com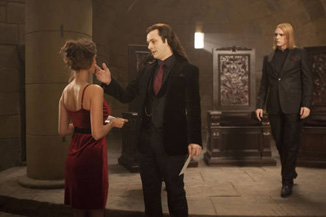 ---
It was an interesting weekend at the box office over the Thanksgiving frame, not only because numbers were decent, but also because we had something very strange happen in the movie world. We had three new wide releases, all of them for kids, and all of them appear to be very good films. At Rotten Tomatoes, The Muppets, Hugo, and Arthur Christmas all had a fresh rating above 90%. In fact, from all new releases, we only had 15 negative reviews out of a possible 322. The last time that happened? How about never for three new films taking over 8,093 venues. Now let's talk some turkey.

Our number one film of the Thanksgiving weekend (unfortunately) is The Twilight Saga: Breaking Dawn, Part 1. After a Twilight-esque $138 million debut last weekend, the tide had to turn – as it always does for this franchise - but the question was by how much. Our easiest comparison to Breaking Dawn is New Moon, since it opened on the same weekend in 2009, and had a very similar opening weekend gross of $142.8 million. New Moon had a Thanksgiving weekend gross of $42.9 million, as it plunged 70%. Breaking Dawn was again similar, as it fell 70% and earned $42 million in its second frame. It had a five-day gross of $62.3 million, where New Moon earned $66.3 million.

We need not wonder whether the second weekend of this film in the franchise is good or bad. It is expected. Breaking Dawn followed the New Moon pattern very closely over the weekend, with the Wednesday grosses for Breaking Dawn at $12.5 million versus New Moon's $14.2 million. Thanksgiving Thursday had Breaking Dawn at $7.8 million and New Moon at $9.2 million. Friday was $16.9 million for Breaking Dawn versus $17.7 million for New Moon. These Twilight movies are attracting the same audiences. Should the pattern hold, Breaking Dawn is going to finish between $280 and $290 million, whereas New Moon topped out at $296 million. Currently, The Twilight Saga: Breaking Dawn, Part 1 has a domestic tally of $221.3 million, as it crossed the $200 million mark on Saturday, only its ninth day of release. It also already has over $150 million in overseas grosses.

Now that we have that behind us, let's talk about the good news at the box office. Finishing a very strong second is The Muppets, as Jim Henson's beloved creations are brought back to the big screen, and are given the respect they deserve. With a whole bunch of kid competition this weekend, the old-school muppets show how it's done, earning a three-day, Friday-to-Sunday gross of $29.5 million and a five-day take of $42 million. Good or bad, The Muppets was released by Disney and rolled out to 3,440 venues. It had a three-day venue average of $8,576. The Muppets cost Disney only $45 million to make (or about $55 million less than your average children's flick these days), was not shot in 3D, does not condescend to kids, and is a stellar 98% fresh at Rotten Tomatoes. Parental nirvana has been achieved. Why can't more movies be like this?

The Muppet franchise had been on a long slide downward since the debut of The Muppet Movie in 1979. For me, that first Muppet Movie way back then still holds fond memories, and it feels like these movie makers here have captured that same magic. That first Muppet Movie had human roles played by the likes of Steve Martin, Bob Hope, and Orson Welles – just to name a few. The franchise seemed to slide away from having those A-listers show up in cameo roles, with Muppets from Space sporting roles for B-listers like Kathy Griffin and Rob Schneider. The new version of The Muppets goes back to that higher standard, giving human roles and cameos to Jason Segel, Amy Adams, Chris Cooper, Jack Black, Katy Perry, Emily Blunt, Zach Galifianakis, Jim Parsons, and Selena Gomez, just to name a handful.

In 1979, that first Muppet Movie was a huge hit. Despite not even hitting the '80s yet, The Muppet Movie still managed to earned a ton of dough. Wikipedia says the first Muppet Movie earned $65.2 million over its run (other sites go as high as $76 million), but when accounting for inflation, that amount becomes more like $210 million. It cost $28 million to make, a number that would have seemed very high at that the time. Following that 1979 release, Jim Henson could never find the success he found with the first film. Five more Muppet films were released over the next 20 years, but the top domestic gross was only $35 million, and the last film, 1999's Muppets From Space, earned only $16.3 million against a budget of $24 million. This weekend's release put The Muppets back where they should be – on top – as this one was made for only $45 million, and with the Christmas season approaching, it is going to be huge. The Muppets are back, baby.

Third spot goes to Happy Feet Two, a film that needed a strong holiday weekend just to keep it relevant against three other kids movies. After a disappointing opening frame where it took in $21.2 million, Happy Feet Two held okay in the face of massive competition, earning $13.4 million over the three-day portion of the weekend and $18.4 million over the extended five-day weekend. Comparing the three-day figures, Happy Feet Two fell 37%, which is still too high for a film that got off to a slow start and cost $135 million to produce. As BOP's Tim Briody said yesterday, Happy Feet Two's Friday gross was quite similar to last weekend ($5.13 million this Friday versus $5.9 million last Friday on opening day). The problem is that over Thanksgiving weekend, returns diminish for kids films, instead of an increase they would have normally. Last weekend, Happy Feet Two earned $5.9 million on Friday, then jumped to $9.3 million on Saturday and $6.1 million on Sunday. This weekend, Friday is the big number, and the weekend multiplier (weekend gross divided by Friday gross) comes in at a low 2.3 (where usually a film like Happy Feet Two would have a 3.5 multiplier or higher over the second weekend). So after a decent Wednesday, Thursday and Friday, all of a sudden this animated feature is struggling again. So far, the George Miller animated release has earned $43.8 million, and is just getting started overseas.

Fourth spot is a close race between new releases Arthur Christmas and Martin Scorsese's Hugo. The winner is Arthur Christmas, but likely only because it cast a wider net, appearing at 3,376 venues. Arthur Christmas had a three-day Thanksgiving gross of $12.7 million and a five-day take of $17 million. From Aardman Animation and Sony Pictures Animation, this $100 million 3D kids flick didn't actually have to be huge this weekend. It just needed to be good enough to create enough interest to help spread word-of-mouth. Again, fabulous reviews are on Arthur's side, as this one is 92% fresh at RottenTomatoes (96% from Top Critics). Arthur Christmas should play well on both sides of the Atlantic ocean, as Aardman (Wallace and Gromet) is a British treasure, and the cast features Hugh Laurie, Bill Nighy, and James McAvoy, just to name a few. I believe this one will survive a slower start, and hold well throughout the Christmas season.

That puts Scorsese's Hugo in fifth over the Thanksgiving frame, and considering this one is out to only 1,277 venues, I think Paramount will be pleased with the result. Hugo earned $11.4 million over the three-day portion of the weekend, and $15.4 million over five days. With that limited venue count, Hugo scores a very strong venue average of $8,888, and also positions itself very nicely for the weekends to come. Like its kid flick brethren, Hugo was 97% at RottenTomatoes; however, it will likely play differently in the weeks ahead. As word-of-mouth evolves, the audience for Hugo has the potential to go way beyond that of Arthur Christmas, and into Muppet territory. From there, as awards season heats up, Hugo by far stands the biggest chance of gaining even further attention, especially if the business expands in the weeks to come. I say that because this is not only a Scorsese film, but also a movie about movies, which might strike a chord with Oscar voters.

GK Films and Johnny Depp's Infinitum Nihil co-produced Hugo, and even with Scorsese at the helm, Hugo carried a lot of risk (Paramount is distributing for a fee). Old-school and old fashioned, Hugo is not your usual kids' film – or 3D film – usually filled with lots of bright colors. It cost $150 million to make, and has no big star to hang its hook on. Despite the opening amount and its rank over opening weekend, my money is still on Hugo to be the film of the season. Next weekend, no new releases hit screens, so I'm looking for Hugo to expand, and fall less than its compatriots in the next frame.

Sadly, Adam Sandler's Jack and Jill is in sixth this weekend. The ridiculously bad Sandler film grossed $10.3 million over its third weekend and dropped only 12% compared to last weekend. The $80 million Sony release has now earned $57.4 million.

Immortals is seventh, as it slips behind Jack and Jill for the first time. The Tarsem Singh action flick earned $8.8 million in its third weekend, but was off 29% compared to last weekend after losing 62% in its previous frame. The $75 million Relativity release has now earned $68.6 million on the domestic side, and a similar amount overseas.

Puss in Boots falls to eighth, as the DreamWorks Animation product continues to get beat up by new product. The $130 million release earned $7.5 million in its fourth weekend and dropped 31%. Puss in Boots has now earned more than its production budget stateside, as it sits with $133.4 million, and has pulled in another $50 million plus from overseas.

Ninth is Tower Heist, the comedy featuring Ben Stiller and Eddie Murphy, directed by Brett Ratner. Now in its fifth weekend, the film earned $7.3 million, an increase of 3%. So far, the movie has made $65.4 million against an approximately $85 million production budget. It's also pulled in about $27 million from overseas venues.

Finally, tenth place goes to The Descendants, the well-received George Clooney film directed by Alexander Payne. Fox Searchlight expanded the film to 433 venues after outstanding results in its small-scale debut, and they have to be thrilled with the result. The Descendants earned an additional $7.2 million over the three-day portion of the weekend, and had a five-day total of $9 million. Its three-day venue average was $16,628. As this movie gains more awards cachet, look for it to continue to expand both its theaters and its earnings.

Overall this weekend, the box office is down compared to last year's Thanksgiving frame. The top 12 films earned $156.7 million over three days, well back of last year's top 12 score of $171.1 million and 2009's New Moon-driven top 12 of $175.2 million. Next weekend, things slow down as no new large releases hits theatres. That might give you a chance to see expanding releases like Hugo, or smaller platformers like My Weekend With Marilyn, The Descendants, The Artist, or A Dangerous Method. Do me a favor, though, and stay away from Breaking Dawn.