Weekend Forecast for November 25-27, 2011
By Reagen Sulewski
November 23, 2011
BoxOfficeProphets.com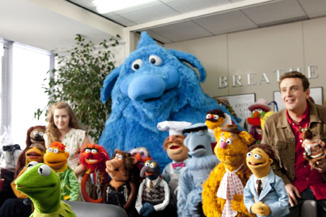 ---
Are you a family? Do you like inoffensive comedy? Boy, do we have something for you!

The usual mix of films for Thanksgiving weekend is some kind of action blockbuster, a broad family comedy (possibly animated) and a prestige drama (and maybe some other forgettable films). This year, the wires all got crossed, and we get three family films – two in 3D, one in CGI, and another in... felt.

Yes, The Muppets make their (hopefully) triumphant return to the big screen this weekend, 12 years following the decent but dismal-box office failure Muppets From Space. This film is something close to a reboot, positioning Kermit, Miss Piggy, Animal and company as forgotten figures in show business, who are in danger of losing their theater (poor management was always a staple of the show) to a greedy developer. In steps Jason Segel, sort-of-but-not-really playing himself (who, as you may remember from Forgetting Sarah Marshall, has previous experience with puppets), and Amy Adams as shy fans of the troop, who try to help the Muppets get back on their, uh, feet.

There's nothing too complicated here, I mean, it is the Muppets after all, with their shtick running heavily towards the Vaudeville as ever. Harkening back to the days of the Holy Trilogy of Movie, Caper and Take Manhattan, the new Muppet film is chock full of celebrity cameos, with Zach Galifianakis, Jim Parsons, Emily Blunt, Donald Glover, Judd Hirsch, John Krasinski, Whoopi Goldberg and, wait for it... Mickey Rooney! all helping out along the way. It's enough to make you feel all nostalgic.

That feeling is precisely what they're counting on, as the while they've been off the big screen for 12 years, they've been a dead franchise walking for a lot longer, as they never really picked up the torch after Jim Henson died. As such, most kids who would be the nominal target audience probably have little familiarity with Muppets, though their kid suitability is undeniable. They've gone out of their way to cross-market to adults, however, with a series of clever spoof trailers that quickly spread awareness and excitement for the film (cause, really, do you need to be told what a Muppet movie is like? You know, already). Remarkably, the film has universal acclaim although I'm sure Armond White will be along shortly to piss in the punchbowl, probably with some sort of bizarre racial analysis of the film. We're into relatively uncharted territory with regards to the film's potential, as no one really has any good idea of how many people are really interested in a new Muppets film, let alone one that seems to have been done right. I do look for this to perform similarly to some high profile Thanksgiving family films, such as Enchanted or Tangled, but probably in between those two, with about $36 million over three days and $51 million over five.

The biggest competition here is Arthur Christmas, the first 3D film from Aardman studios. With the voices of James McAvoy, Hugh Laurie, Jim Broadbent and Bill Nighy, it posits a slightly militaristic North Pole operation dedicated to making sure all children get their toys on Christmas Day. That is, until one toy somehow gets skipped, and it's up to the nebbishy title character to save the day with the help of a Grandsanta and some old-school technology – that is, the old-fashioned reindeer delivery instead of the Starship Enterprise-looking craft that modern Santa is apparently working with.

This isn't groundbreaking stuff, but it does have the benefit of not looking as bad as the Santa Clause movies, nor falling into the Uncanny Valley like The Polar Express. Aardman can really do no wrong (yes, even Flushed Away) though I'd note this isn't Nick Park directing, and reviews are pretty stellar. It's not based on anything in particular, however, and doesn't reference pop culture directly, so it's tying a hand behind its back some. If you're really in the mood to see something Christmasy, this is your choice (OK, OK, Harold and Kumar *if* you want to introduce your kids to pot and sex jokes early). I'd look for a solid $18 million over three days and $30 million over five days.

In the 2011 "Words That Don't Go Together" competition, "Martin Scorsese 3D children's film" ought to be a strong contender for the title. And yet, here we are, with Hugo, his first foray into 3D and into family film-making. Set in 1930s Paris, and based on a sort-of graphic novel, it follows a young orphan who discovers a mysterious clockwork device and meets up with the adopted daughter of reclusive film director George Melies. And hey, I know all the kids are into pioneers of French cinema, but why do *you* care about this? Well, Scorsese, and 3D, so the theory is supposed to go.

Presumably there are significantly fewer people buried in shallow graves than in your typical Scorsese film, but then again, I've only seen the trailer. The appeal of this one is based on general filmmaking magic, which Scorsese certainly brings into all his films whether you like them or not. Live action children's films are a tough sell right now, though, and with little star power (We've got Ben Kingsley, an unrecognizable Sacha Baron Cohen and then we're all the way down to Chloe Moretz in terms of notability in names), it's going to have to work hard to get noticed. Continuing a theme for the week, its reviews are just short of perfect, and that's sure to help in the long run. Expectations for this first weekend are pretty modest judging by the venue count, which is just over 1,200, and I'd look for $8 million over three days and $13 over five.

Of course, Twlight is still likely to ruin the family part by winning the weekend, thanks to its $138 million headstart. As popular as the Twilight films are in their opening weekends, they have universally driven themselves into the ground in the second weekend, regardless of circumstance or the fact that it's a holiday weekend after their debut. These massive starting numbers only drive that phenomenon more. Seeing as how we're right in the middle of a plot, I have to imagine most of the repeat viewings are being saved for right before next year's conclusion to this whole stupid saga. A hollow victory with $39 million should be in the cards here.

The family-palooza continues with Happy Feet Two, which debuted to a disappointing (relative to the first film's start) $21 million. Perhaps there is only so much dancing penguin that America can take. With the generally poor reception for this film and the crowded family market, I don't see this faring well in its second week. Give it $11 million over three days.

As we go down the list, we have a bunch of films people weren't happy with at all. Immortals? 62% drop. Jack and Jill? 53%. Puss in Boots? Finally showed some weakness by being cut in half. Tower Heist and J. Edgar? About 45% fall offs themselves. Thanksgiving is a weekend where more films can find room, but these seem like stale leftovers. Puss in Boots should do best with around $8 million over three days, but we're looking at around $6 million for Immortals, slightly less for Jack and Jill, $5 million for Tower Heist, and then worse for J. Edgar.

On the other hand, we have The Descendants, which is expanding after its surprise entry into the top 10 on just 29 screens last weekend. Screen counts are currently unavailable as of this writing, but the Clooney-starring, Alexander Payne-directed dramedy about cuckolding and Hawaii has a lot of potential.