Weekend Wrap-Up
Breaking Dawn = New Moon for the Box Office
By John Hamann
November 20, 2011
BoxOfficeProphets.com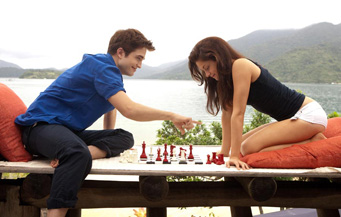 ---
One down, one to go. Part one of The Twilight Saga: Breaking Dawn was released upon us this weekend (I'll take the Kraken, thanks), and as expected, is one of the biggest openers of all time. Breaking Dawn Part 1 took in a blistering $139.5 million this weekend, but was only able to basically tie the success of 2009's Twilight Saga: New Moon, the last Twilight film to use the pre-Thanksgiving release pattern. Opening in the shadow of Breaking Dawn is Happy Feet 2, George Miller's sequel to the leggy 2006 release. The result for the sequel isn't quite Babe: Pig in the City, but it ain't great either.

Yes, our number one film is The Twilight Saga: Breaking Dawn, Part 1, and the gross is staggering. As Tim Briody reported yesterday, Breaking Dawn earned a powerful $30.2 from midnight screenings. Eclipse earned $30.1 million in 2010, while New Moon took in $26.3 million from midnights in 2009. Breaking Dawn went to on to have a full Friday gross of $72 million – slightly behind New Moon, which had a first full Friday gross of $72.7 million. The last film, Eclipse, had a softer first day at $68.5 million, but opened on a Wednesday, as the mid-week opening trimmed the debut number. For Breaking Dawn, the Friday figure did not help determine which would be the biggest weekend for a Twilight movie – Breaking Dawn or New Moon. The winner ends up being New Moon by a few million, as the final weekend estimate for The Twilight Saga: Breaking Dawn is $139.5 million, making it the fifth biggest weekend gross of all time, behind Harry Potter and the Deathly Hallows Part 2 ($169.2 million), The Dark Knight ($158.4 million), Spider-Man 3 ($151.1 million), and The Twilight Saga: New Moon ($142.8 million). The opening Friday is the third biggest, behind Deathly Hallows Part 2 ($91.1 million) and Twilight: New Moon ($72.7 million). As for worldwide grosses, the number for The Twilight Saga: Breaking Dawn, Part 1 is plenty gaudy, with $283.5 million, which is the largest for the series so far, edging out New Moon's $274.8 million.

At this point, I think we can say it's fairly obvious that the audience for the Twilight series is not growing, so if your kid is not infected with this zombie plague yet, they likely won't be. With these large box office numbers, it's almost unsettling how close Breaking Dawn and New Moon are. The Harry Potter series was similar, but did show some growth, with its November opening weekends moving from $90.3 million to $88.4 million in 2001 and 2002, and then up to $102.7 million in 2005 and finally reaching $125 million in 2010.

The Twilight series has been tucked into a shorter overall time period, so it didn't have the gestation period that Potter had. There simply wasn't much opportunity to bring new Twihards into the fold. It also didn't help that these films just aren't much good. This one was only 27% fresh at RottenTomatoes (21% from "Top Critics"), which is a letdown as Eclipse actually showed some promise. It was 49% fresh, but "Top Critics" came in at 65%. New Moon's box office is not the only thing eerily similar to Breaking Dawn, as the review count is also eerily similar. New Moon was 28% fresh, much like Breaking Dawn.

Now Twihards will have to wait another year for Part 2, a strategy I find puzzling. The Harry Potter franchise split its last installment into two parts as well, releasing the first in November 2010, and the second the following summer. That combo earned $2.3 billion worldwide. Why would Summit not want to do the same thing here? It could be because home video has been very kind to the Twilight Series, racking up hundreds of millions of dollars. Home video sales alone will pay the production costs on this one, which came in at $110 million after tax rebates. However, the production figure doesn't really jive with what the stars were rumoured to receive. Some say Robert Pattinson, Kirsten Stewart and the werewolf are getting $25 million for both films. Regardless, this will be a windfall for Summit Entertainment, but with only one more film to come, their luck is running out.

Finishing second is Happy Feet Two, which failed to earn as much as the original or meet tracking expectations this weekend. From Mad Max and Babe director George Miller, Happy Feet Two got lost in the shadow of Twilight, earning only $22 million from 3,606 venues, many of them 3D. The original Happy Feet danced up $41.5 million over the same weekend of November in 2006. Happy Feet was a big story then because it took down the opening frame of the rebooted James Bond in Casino Royale, which earned $40 million that weekend. Was it that reason that Warner Bros. decided to release the sequel against The Twilight Saga: Breaking Dawn? My two beagles knew that Breaking Dawn was going to earn $130 million plus and crowd theatres with wannabe goths and vampires, thus making the pie smaller for other films.

It's true that Thanksgiving is already crowded with kids films. Arthur Christmas, Hugo, and The Muppets launch next weekend – but wouldn't that be another reason to choose another release date? No films are being released on December 2nd, and December 9th brings only films for adults. So why choose this weekend? The original Happy Feet did have serious legs (its opening to total multiplier was just short of 5.0), but it also was a much better film. The original was 75% fresh at RottenTomatoes, but the sequel has posted a 43% fresh rating. We are left with a film that is not as good, facing off with an uber-blockbuster. One might think that the budget for Happy Feet Two was insignificant, but it's the complete opposite. Happy Feet Two cost $135 million to make, and with this opening, the sequel will have to earn at least five times its gross just to match the production budget. In my humble opinion – and overseas grosses will prove me wrong –the release date choice for Happy Feet Two has condemned it.

Finishing third is last weekend's champ Immortals, something the box office for the Greek epic is certainly not. Immortals earned only $12.2 million after debuting to a mighty $32.2 million last weekend. That gives the Tarsem Singh picture a searing weekend-to-weekend drop of 62%. The $75 million Relativity Media release had no chance against Breaking Dawn, and can only hope to surge over the Thanksgiving weekend, when no new titles for adults are released. The good news for Relativity is that foreign grosses are already starting to heat up, with almost $40 million in the bank so far. The domestic total has reached $53 million.

Fourth is the dreaded Jack and Jill, which also dropped hard this weekend. The 4% fresh Jack and Jill took in $12 million in its second frame, dropping a joyous 52%. The $80 million Adam Sandler production now finds itself in danger of not meeting its production budget domestically, as it has a gross so far of $41 million. Unfortunately, Sandler is a worldwide draw, so he likely won't be punished financially for making such a bad film.

Fifth goes to Puss in Boots (I still say the fix is in if Jack and Jill keeps managing to finish ahead of it). Now four weekends old, Puss in Boots not only had to fight off the hordes going to Breaking Dawn this weekend, it also had direct demographic competition in Happy Feet 2. The result is painfully obvious, and Puss in Boots earns $10.7 million and drops a nasty 57%. So after seeing drops of 3% and 25% in its first two frames, karma strikes back this weekend (and will again in its next). The $130 million DreamWorks Animation production has now earned $122.3 million, with another $50 million coming from overseas.

Sixth is Tower Heist from not-so-gay-friendly former Oscar producer Brett RATner. Tower Heist earned $7 million in its third weekend and dropped 45%. Unfortunately, if there was a film that benefited from sold out Twilight screenings, this is likely it, as that drop should be higher. So far, Universal's Tower Heist has earned $53.4 million against a $75 million budget.

Clint Eastwood's J. Edgar fails to hold well, despite being the only real drama in the top ten. J. Edgar earned $5.9 million in its second weekend of release and dropped 47%. Warner Bros. chose to expand J. Edgar only slightly, moving it from 1,910 venues to 1,947. A rebound now is seriously unlikely, and this may go down as Eastwood's second consecutive disappointment following last year's Hereafter. Give J. Edgar $20.7 million so far against a budget of $35 million.

Eighth is A Very Harold and Kumar 3D Christmas, as it slides down the box office ladder. The Kal Penn/John Cho flick earned $2.9 million in its third weekend and dropped 51%. The $19 million release has now earned $28.3 million domestically. Can they get the DVD out by Christmas?

Ninth is In Time with Justin Timberlake. The sci-fi thriller earned $1.7 million in its fourth weekend and dropped 59%. The $40 million Fox release has earned $33.4 million domestically and over $50 million from overseas cinemas.

Surprisingly, tenth goes to the new George Clooney movie, The Descendants, despite being out to only 29 venues. Yep, 29. Despite the slim screen count, the Alexander Payne (About Schmidt, Sideways) release earned $1.2 million and garnered a venue average of $42,150. This one is going to be with us for a long time to come.

Overall, the box office is well ahead of last year, when Harry Potter and the Deathly Hallows Part 1 opened to $125 million. That brought the top 12 films at the box office up to $186.4 million, which this year dominated. With Breaking Dawn on top, the top 12 films earned $217 million, which is one of the biggest Top 12s ever. Next weekend is Thanksgiving, which brings us the kids' films in Arthur Christmas, Hugo and The Muppets, three films that are getting very good reviewsl, along with the second weekend of Breaking Dawn.