Friday Box Office Analysis
By Tim Briody
November 19, 2011
BoxOfficeProphets.com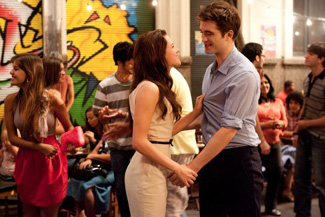 ---
The Twilight Saga: Breaking Dawn, Part 1

Okay, here we go.

It was two years ago this weekend that New Moon shattered the single day box office record and midnight showings record with $72.7 million, $26.3 million from midnight showings. Deathly Hallows Part 2 took back both of those records in July (after Eclipse broke the midnight showings record).

Speaking of Eclipse, the third entry screwed things up a bit for box office analysts by not only opening in June but also opening on a Wednesday, where it did earn $68 million (which was more than it earned over the Friday-to-Sunday period).

The Friday take for Breaking Dawn, Part 1 is $72 million, with $30.3 million attributed to midnight showings. Gee, that's kind of similar to New Moon, isn't it? If we remove the midnight figure to Friday's box office, that gives us $41.7 million to work with. New Moon's multiplier on its opening weekend with its midnight box office removed was 2.5 (and was 1.97 when counted as part of Friday). For giggles, Eclipse had a 2.3 since the initial crush happened on Wednesday. The similarities between this opening and New Moon make the comparison pretty easy, and there's nothing here to indicate that it'll behave any differently. Part 2 could be another story, but that's not for another year. Breaking Dawn, Part 1 should follow a similar pattern to New Moon, so look for a weekend of $134.5 million.

[tm:4996_]Happy Feet 2[/tm]/font>

The animated sequel starts with $5.9 million on Friday, which seems okay at first glance but go back five years to Happy Feet's first day and you find it earned $12.2 million, so that's a 51% decline. Obviously it's in it for the long haul and its drop off might be minimal next week but the soft opening is quite the surprise. Happy Feet did have a multiplier of 3.38 and the sequel should duplicate that easily but Happy Feet 2's opening weekend will be a far cry from the $41 million earned by the original. Give it a weekend of $20.8 million.

Notable Holdovers

[tm:5265_]Immortals[/tm] falls harder than we've seen anything drop in a while after a Friday that was holiday-fueled, dropping 74.6% to $3.8 million. Meanwhile, [bp:1130_]Adam Sandler[/bp]'s [tm:3528_]Jack and Jill[/tm] mercifully drops 64.6% from last Friday to $3.5 million. Both of them are going to fight it out for about $10 million or so each this weekend.

After two weekends of minimal declines and even a Friday to Friday increase [tm:4875_]Puss in Boots[/tm] is hurt by Happy Feet 2 (and last Friday being Veterans Day) as it drops 62% to $3.4 million. It should leapfrog Immortals and Jack and Jill for the weekend, though, with $12.7 million.