Weekend Wrap-Up
Immortals Send Jack and Jill Tumbling
By John Hamann
November 13, 2011
BoxOfficeProphets.com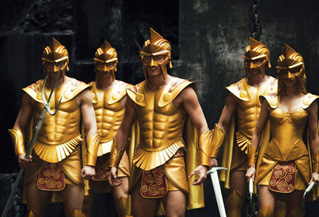 ---
We had an interesting showdown at the box office over the Veteran's Day frame, as Relativity Media's Immortals – a film that looks like it required a lot of time and effort – faced off against Adam Sandler's Jack and Jill – a film that it appears Adam Sandler invented after drinking too much and watching Eddie Murphy's Nutty Professor franchise. Unfortunately, neither film is anything to write home about, but the box office result is at least solid for one. For the first time since early August, we have a top five that earns $100 million, and let me tell you, it feels like it's been forever.

Our number one film of the weekend is not Jack and Jill (thank god), or Puss in Boots (even if it had dropped 3% - like it did last weekend - it still wouldn't be on top). The winner of the Veteran's Day frame is Immortals, Relativity Media's first release financed solely in-house. Immortals, starring soon-to-be-Superman Henry Cavill, the lovely Freida Pinto, and the not-so-lovely Mickey Rourke, was not quite a 300 at the box office, but still won out, earning a much-better-than-expected $32 million from 3,112 venues. It had a venue average of $10,283. Tracking for Immortals was looking for a $25 million opening (oddly enough, that's the amount Relativity needed to see a profit), so to clear that amount by $10 million tells me the marketing strategy worked, as did the hiring of director Tarsem Singh (The Cell).

Tarsem was able to put his signature visual touch on Immortals, which Relativity used nicely in the marketing of the film. Not only did Immortals end up looking epic and battle-heavy, it also looked lush, which may have expanded the audience beyond just fanboys. Critics were impressed with the production design, but hated the story. Reviews at RottenTomatoes counted 70, but unfortunately only 26 fresh, leaving Immortals with a disappointing 37% rating from all critics, and a disastrous 21% rating from "Top Critics." With a film like Immortals, though, critical notices amount to about zip, and with a B Cinemascore, this shouldn't be a second weekend disaster.

Immortals is the first film solely financed by Ryan Cavanaugh and Relativity Media, and with a production budget of $100 million (trimmed to $75 million via foreign pre-sales and tax incentives), it carried a ton of risk for the upstart studio and distributor. Choosing a low impact statutory holiday to launch the film was a fabulous idea, as Immortals was able to earn over $1 million from Thursday night screenings, and then pull in another $14 million from Friday proper. The "internal weekend multiplier" was low this weekend at 2.1, but that was because Friday was a day off for some, which made the weekend much more frontloaded, regardless of release.

Immortals also had more than a bad Adam Sandler film to compete against. The final Harry Potter film hit DVD on Friday, and video game record breaker Call of Duty: Modern Warfare 3 was released as well. Suffice to say that it's been a fanboy kind of long weekend, and I bet kids of all ages are going to be tired on Monday. Credit should go to the marketing team behind Immortals for simply getting people out to the movies despite other entertainment options.

Finishing second is Jack and Jill, an Adam Sandler comedy that is being compared to the absolute worst in his repertoire, Little Nicky (just typing those words gives me the heebie jeebies). Despite looking and smelling very bad, the Sandler fan club still showed up in droves this weekend, as Jack and Jill somehow earned $26 million from 3,438 venues. Is it the worst Adam Sandler film ever made? Probably yes, at least in terms of reviews. 1996's Bulletproof, in which Sandler co-starred with Damon Wayans, got three positive reviews out of 39. Eight Crazy Nights received 13 positives out of 106. Grown Ups got 15 positive out of 157. Jack and Jill did far worse. It got only two positive reviews out of 62 (and neither of the two came from BOP Fave Armond White - though that's only because he's not listed), but still earned a B from the Cinemascore people (their business model doesn't make sense to begin with – why not just ask the Sandler fan club to grade it without seeing it?). Jack and Jill is billed as a Thanksgiving movie, but hopefully this one will be on the way out before turkey weekend arrives.

Third is Puss in Boots, which had another extremely solid weekend, but not enough to keep it above Immortals or Jack and Jill (that will likely change when actual results are reported, though). After two consecutive weekends right around the $35 million mark, Puss in Boots' hold on the mid-30's was going to have to give at some point. In its third frame, the slow starter but super holder from DreamWorks Animation earned another $25.5 million and dropped only 23%. I find it amazing how this one has turned from an "uh-oh" for the studio into a huge moneymaker. After its first weekend, Puss in Boots looked like a $100-120 million earner; after two weekends a $130-150 million earner, to this weekend, where it now looks like at least a $175 million earner. Next weekend will bring the big test, as Happy Feet 2 opens on Friday (I never understood the $200 million the original earned, and have not been impressed with the marketing for the sequel so far). Puss in Boots crossed the $100 million mark on Saturday, and now sits with $108.8 million so far in the domestic coffers (and already $40 million from overseas).

Fourth goes to Tower Heist from the former producer and former host of the Oscars. After an only okay opening for Tower Heist last weekend, director Brett Ratner put his foot in it last week when he made some really stupid remarks about gay people; Eddie Murphy then backed him up. Afterward, the pair left the Oscars show, and we all breathed a sigh of relief (I can't have another year at the Oscars like last year). Meanwhile, Ratner's film about a stealing from a large, hard, erect piece of architecture had the bottom fall out this weekend, as after opening to $24 million last weekend, Tower Heist could only pull in $13.2 million in its second frame. The studio will likely cry competition from Jack and Jill, but I really don't think that's the case. Like Jack and Jill, I no longer want to think of this one at all. It has a cume so far of $43.9 million against a budget of $75 million.

Fifth spot goes to the new Clint Eastwood film, J. Edgar, which to me looks like more of a Martin Scorsese flick (or Oliver Stone) than a Clint pic. Regardless, J. Edgar, which stars Leo DiCaprio as a scene chewer, got off to an okay start this weekend, bringing in $11.5 million from only 1,910 venues. It had an average of $6,005. For Clint Eastwood, this opening is somewhat worse than his last film, Hereafter, which opened to $12 million in October of last year. Hereafter ended up with a domestic total of only $32.7 million, which showed the lack of traction the Matt Damon film had. It did, however, have an international take of $71 million.

Previously for Eastwood, Invictus finished with more than four times its $8.6 million opening at domestic theatres, and earned almost $100 million from foreign shores. Changeling, with Angelina Jolie, had a similar result, opening to $9.4 million from 1,850 venues. It finished with $35 million, but like Invictus, cleaned up overseas with $80 million.

International box office may be the problem that J. Edgar may run into, as it may not appeal to many outside of the United States. DiCaprio will help, and films like Charlie Wilson's War did earn a few bucks away from home, so one never knows. It doesn't look like this one will be around for too long, as reviews just aren't where they should be for an Eastwood flick that smacks of Oscar bait. At RottenTomatoes, only 53 reviews out of a possible 129 were positive, leaving J. Edgar with a fresh rating of only 41% - pretty similar to last year's Hereafter.

Speaking of potential Oscar nominees, A Very Harold and Kumar 3D Christmas did the expected this weekend (one of the few that did) and lost about half the audience it had over its opening frame last weekend (stoners forgot to tell their friends, or couldn't remember if they liked it or not, or if they went). In its sophomore frame, Harold and Kumar 3D took in $5.9 million and dropped an expected 54%. Do not cry for Harold or Kumar. That $19 million budget was eclipsed on Friday, so whatever this one makes following this weekend will pay for marketing costs, making overseas and home video (where the money really is for this franchise – it's easier to spark up at home than in the theatre) pure profit. Can't wait for the fourth one!

In Time is seventh this weekend. The Andrew Niccol film earned $4.1 million and drops 45%. The $40 million Fox sci-fi now has a total of $30.7 million on the domestic front, but already has a wild $38 million from overseas. Fox is going to end up with a tidy profit on this one, and Andrew Niccol now gets a Stephenie Meyer novel for his next film - The Host (no vamps or shirtless werewolves this time).

Paranormal Activity 3 hangs on to a top ten spot, but wow did it get hammered. The cheaply made, wisely marketed phenom took in another $3.6 million, but plummets in terms of hold, dropping 57%. Made for $5 million, PA3 now has a domestic total of $100.8 million, and an overseas total approaching $80 million.

Ninth is Footloose. The remake earned $2.7 million in its fifth weekend, and dropped 39%, following a weekend where it dropped 19%. Paramount has managed to turn this one into a small hit, as it has earned $49 million against a budget of $24 million.

Real Steel spends its last weekend in the top ten, as it earned $2 million and dropped 42%. The Hugh Jackman starrer has earned over $200 million internationally - and it's about punching robots.

Overall this weekend, the box office is healthier than it has been in MONTHS, and actually improves on last year's totals. The top 12 films at the box office earned $128.7 million, which compares favorably with last year's tally of $111.7 million. Next weekend is the frame to avoid going to the movies. Opening films include Part 1 of Twilight: Breaking Dawn and Happy Feet 2, which means your children will be hanging out with hormonal vampire and werewolf wannabes.