Weekend Wrap-Up
Puss in Boots Climbs Tower for Repeat Win
By John Hamann
November 6, 2011
BoxOfficeProphets.com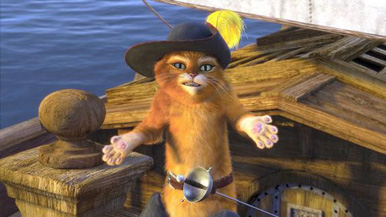 ---
The positioning for the November sweepstakes started this weekend, as two comedies threw their hat into the pre-Thanksgiving ring. Last year's first big opener in November, Megamind, debuted with $46 million, and by the time the long, lucrative Thanksgiving weekend came around, it still earned $17.3 million over the five-day frame, despite having to work against Harry Potter and the debut of Tangled (with five-day grosses of $75 million and $68 million respectively). This weekend, openers are Tower Heist, with Ben Stiller and Eddie Murphy (amongst many others) and A Very Harold & Kumar 3D Christmas, a film I would have released after Thanksgiving. Both of these films are looking to repeat the success of last year's Due Date, which somehow managed to earn more than $100 million after opening over the first weekend of November.

Our number one film of the weekend is neither Tower Heist or Harold and Kumar 3, though. Instead, it's Puss in Boots – and what a weekend it had. After opening softly over the Halloween weekend to $34.1 million (and me deriding the studio for releasing it on that weekend), Puss in Boots held spectacularly, earning $33 million, and dropping only 3%. We know that movies for kids hold well – especially good films like Puss in Boots – but the fact that this movie didn't really drop at all has to be a huge win for the folks at Paramount and DreamWorks Animation.

When a movie costs $130 million to make and opens to the amount Puss did, it has to work very hard to earn profit – almost four times its opening weekend just to MATCH the production budget. It can be argued that had Puss in Boots crept up to that $130 million mark, overseas grosses would have held the profit, however with this hold, nerves will be soothed at the DreamWorks offices, even on the domestic front.

The argument can still be made that Puss in Boots got out of the gate a weekend early; however, I don't think it will continue to be considered as the worst scheduling move ever. We can give that crown back to High School Musical 3, which scheduled its second frame over Halloween weekend, when October 31st landed on a Friday. This hold changes Puss in Boots from a $100 million film into at least a $130 million film, which is simply a huge difference. When How to Train Your Dragon opened to a much lower than expected $43.7 million in March 2010, box office analysts howled at the low score, and it still dropped 34% in its second weekend. It was the holds afterward that made it the $217 million earner it became. Over the next few weekends leading up to the five-day Thanksgiving frame, Puss will have to face off against only Happy Feet Two on the 18th (the original opened in 2007, and failed to earn $200 million despite the lucrative Thanksgiving/Christmas release pattern), which will help it earn more, but then it will have to combat three kids openers over turkey weekend. Currently, Puss in Boots has taken in $75.5 million, and I believe it should earn at least $130 million domestically, and then dominate overseas.

Finishing second this weekend is Tower Heist, the "wow, are we mad at Bernie Madoff?" comedy. Universal tested the star power argument, and unfortunately lost, as the Ben Stiller/Eddie Murphy comedy earned only an okay $25.1 million. Released to a very wide 3,367 venues, the big budget heist flick had a venue average of $7,450. This one feels more like Tropic Thunder than Night at the Museum, as the difference between opening weekends is only $5 million. However, the domestic totals are five football fields apart. Night at the Museum was perfect for kids and families over the Christmas season, while Tropic Thunder was full of recognizable faces, but targeted at adults. Despite the similar opening frames, Night at the Museum went on to earn $250 million, as it had that PERFECT release date, opening three days prior to Christmas, and then completely dominating the next 15 days (it earned $127 million between opening day and January 1st, even though it opened to only $30 million). Tropic Thunder you may remember, was the number one film for three consecutive weekends, but that was through the dog days of August, when nothing else was showing up to compete. Tropic Thunder went on to earn $110 million domestically, after a $25.8 million opening frame.

The good news for Universal is that it sounds like Stiller and Murphy actually made a pretty good film. A decent comedy with two very likable stars can be very leggy indeed (see: Wedding Crashers). At RottenTomatoes, Tower Heist earned a surprisingly strong 93 positive reviews out of a possible 135, giving it a 69% fresh rating at this point. It's a Brett Ratner flick, so everyone knows you won't have to think (and would probably just hurt yourself doing that at a Ratner film). Prior to Thanksgiving, Tower Heist only has to play off against a very bad looking Adam Sandler film (Jack and Jill = Little Nicky, or worse), so it could see some decent play leading up to the holiday weekend. This is not a good start for the Universal film, but considering it only cost $75 million to make (after tax incentives), the risk to Universal should be low following opening weekend.

Third this weekend goes to A Very Harold & Kumar 3D Christmas (from here on known as Harold & Kumar 3D). The third film in the strangest trilogy in movie history got off to a strong start this weekend, as our favorite brainy potheads continue to see higher grosses with each film released. Harold & Kumar 3D got off to an okay start this weekend, earning an expected $13.1 million from 2,875 venues. It had a venue average of $4,544. Still making good movies about getting the munchies, Harold & Kumar have once again turned the traditional white-only frat boy comedy into a multicultural experience.

Considering that this is a franchise that was going nowhere after the first film opened to $5.5 million and earned only $18.2 million, the fact that a third film even exists is a success story. After the original was released, the demand on DVD was huge, and given the 74% fresh rating and the $9 million price tag of the first film, why not make another? Harold & Kumar Escape From Guantanamo Bay made $15 million in its first weekend (against a budget of $12 million), $40 million over its run and another $25 million from DVD sales. Thus, Harold & Kumar 3D was born. This one cost $15 million, still has Neil Patrick Harris and pot, and is again the best reviewed new film of the weekend, as it earned a 72% fresh rating at RottenTomatoes. Seriously – how refreshing is this? Here is a team that knows how to make a good film for not very much money, is never excessive, and makes people even outside of its core audience laugh (53 positive reviews from FILM CRITICS). I love the Harold & Kumar story, and wish more studios would work within the spirit that the Harold & Kumar franchise has.

Fourth this weekend is Paranormal Activity 3, now feeling a little naked as Halloween is behind us. Following its $18 million pre-Halloween weekend, reality hits PA3 on the head, as it grosses only $8.5 million, and drops 53%. To be fair, this is a better hold than the average Saw release had after Halloween, and PA3 is still going to be a $100 million film, although it will likely take at least four weekends despite a $52.6 million opening frame. Remember folks, the cost here is $5 million and its going to earn 20 times that, domestically. As my dad used to say, it's good work if you can get it.

Fifth is In Time, which has an okay hold despite the genre and subject matter. In Time earned $7.7 million in its second frame and dropped 36% compared to last weekend. In Time is a $40 million Fox release that is already matching overseas grosses with domestic grosses. I expect the Justin Timberlake release to earn that $40 million back in North America, and then have a matching amount overseas, which will push it toward profitability. The current domestic gross for In Time sits at $24.2 million.

Footloose drops from fourth last weekend to sixth this weekend, but has a solid hold this time out. Footloose took in $4.5 million and dropped only 17%, as it becomes obvious people had other things to do last weekend. Now in its fourth weekend of release, the $25 million Paramount film has now earned $44.8 million.

Disney's Real Steel manages to stay in the top ten again this weekend, despite being out for five weekends. The Hugh Jackman starrer earned another $3.4 million and dropped 29%. The $110 million Disney film won't come close to earning that much stateside (it currently sits at $78.8 million), but with Hugh Jackman above the title, Real Steel has earned over $100 million on foreign shores, and will end up as a hit for the Mouse House.

Eighth is Johnny Depp's failed The Rum Diary, which flopped last weekend with only a $5.1 million opening frame. The news didn't get any better this weekend, as The Rum Diary took in only $3 million and dropped 42%. This one is going to need an excellent take overseas if hopes to recoup the $45 million budget.

Ninth is George Clooney's Ides of March. The political thriller earned $2 million and dropped 29%. The $12.5 million dollar film has now earned a decent $36.8 million for Sony.

Finishing tenth is Moneyball, another well-reviewed flick that has a nice hold after last week's Halloween deflation. The Brad Pitt baseball flick fell only 20% to $1.9 million, bringing the movie's total domestic box office to $70.3 million.

Overall, the box office is well off compared to where it was a year ago. Last year, Megamind opened to $46 million, Due Date to $32.7 million, and For Colored Girls... opened to $19.5 million. With those stellar performances, the top 12 last year managed to reach $142.8 million. This year, with much less to work with, the top 12 films brought in only $107.7 million. Next weekend is key, as two films open wide, and both could go either way. Adam Sandler opens Jack and Jill, a film that reminds me of Little Nicky, while thhe other is Immortals, a 300 wannabe from super-strange director Tarsem Singh. Opening at a much lower number of theatres is J. Edgar, Clint Eastwood's Hoover biopic, which surprisingly has garnered only so-so notices to this point.