Weekend Wrap-Up
Horror Opposite Leads Halloween Box Office
By John Hamann
October 30, 2011
BoxOfficeProphets.com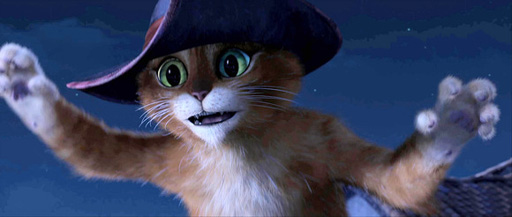 ---
For the last three years, dating back to 2008, Halloween has landed on a weekend, making things difficult for theaters and studios alike. Unlike Christmas Day, Halloween keeps moviegoers out of theatres, and delivers a downright scary day for all films that aren't horror movies. This year, with Halloween falling on Monday, studios could use this weekend to open a horror film, but with Paranormal Activity 3's record breaking debut last weekend, studios were wise not to. That leaves us with no new scares this Halloween weekend, and a bevy of polar opposites - a kids flick, a sci-fi film, and a drama opening at over 9,000 theatres to varying degrees of success.

What do you do when one of the year's biggest nights out takes drastically away from moviegoing? You struggle. In 2008, Halloween landed on a Friday. That was a glorious year, as High School Musical 3 was off 64% (and became a scheduling error of the historic variety), Saw V was off 68%, and opener Zack and Miri Make a Porno flopped with a $10 million opening. In 2009, Halloween was on a Saturday, and the late Michael Jackson's This Is It managed to open to $23 million (but one has to wonder how much was left on the table, considering This Is It was no one-weekend wonder). 2009 was also the first year for a Paranormal Activity film, it went wide a week earlier, and dropped only 22% to $16.4 million. 2010 saw Halloween on a Sunday, and Saw 7 in 3D opened to only $24 million, while Paranormal Activity 2 dropped 60% to $16.5million. The last time Halloween landed on a Monday was 2005. That year, Saw II opened the weekend before, grossing $31.7 million, and three other new films struggled, including The Legend of Zorro and Nic Cage's under-rated The Weather Man.

This year, things are completely different, and like the year High School Musical 3 faced off with Halloween on a Friday, I wonder if a scheduling mistake has been made. Our number one film is Puss In Boots, the DreamWorks made, Paramount distributed animated film. Puss in Boots limped into first with a gross of $34 million from 3,952 venues. It had a venue average of $8,603. There has been a lot of talk about how DreamWorks films have been opening as of late, and whether the shine has come off The House That Shrek Built.

DreamWorks Animation has struggled over opening weekend, but not over the long haul. Their last release was Kung Fu Panda 2, which opened to only $47.7 million last May, about $15 million LESS than the opening of the original three years earlier. Megamind preceded that one, and also struggled over its opening frame, grossing $46 million in early November. Shrek Forever After managed a $70 million opening, but that was $50 million off of the Shrek Before That, which opened on the same weekend. How to Train Your Dragon, though, was the film that started these troubles. Despite exceptional reviews and a kick-ass trailer, HTTYD still struggled over opening weekend, grossing only $43.7 million.

For a studio that has struggled with their last four films, why would one open Puss in Boots over the Halloween weekend? DreamWorks has always dug that post-Halloween weekend (they released Megamind, Madagascar 2, Bee Movie, and Flushed Away all over the first weekend in November), but the track record has shown that this isn't the best strategy. Madagascar 2 was the biggest opener of that crop, taking in $63.1 million over the November 7th weekend in 2008, but it struggled domestically after opening, barely earning three times the opening weekend gross. Like everyone is Hollywood these days, DreamWorks Animation continues to get bailed out by overseas grosses, as their films carry huge budgets (and risk), but always (and I mean always) get higher grosses overseas than from domestic audiences. While overall domestic grosses are dependent on opening weekends, overseas grosses don't reflect those opening weekends. How to Train Your Dragon, which opened to only $43 million, grossed $500 million worldwide. I mentioned above how Madagascar 2 struggled after its big opening domestically, but it still rang up $600 million in overseas grosses. Puss in Boots is going to hurt domestically because of this opening weekend; however, the worldwide cume will see minimal affect.

Why will it still be huge worldwide? It's a good movie and has voice actors that have seen big successes overseas. Puss in Boots is already a critical darling in North America (the film is 81% fresh at RottenTomatoes), as it seems to bring back some of the charm that was missing from the last dozen Shrek films. Then we have Antonio Banderas, whose performance in You Will Meet a Tall Dark Stranger earned only $3.2 million in North America, but 10 times that overseas. The Shrek franchise itself is also a big player overseas, with overseas grosses for the last two Shrek films easily out-earning domestic grosses. Shrek Forever After earned $240 million domestically, and $514 million everywhere else. It's getting to the point where Paramount could skip the domestic rollout, and still make a huge profit on these films. That is now today's box office. Overall, Puss in Boots will be a domestic disappointment, but likely an overall winner.

Finishing second is Paranormal Activity 3, as folks watched and waited to see how much this one would fall. After opening to a blistering $52.6 million, the latest in the Paranormal franchise slid a hefty 65% to a still solid $18.5 million. Paranormal Activity has now replaced the Saw franchise as the cheaply made annual Halloween horror film – and let's face it, these are better for society than the torture porn Saw films. PA3 was made for $5 million, an amount this one had earned back after a single showing last Friday morning.

The three films together were made for a combined $8+ million (that plus is the $15,000 the first one cost), and the franchise is approaching the half-billion mark in combined grosses. The question now is how long can the franchise last – can they put seven films out like the Saw franchise did? So far, Paranormal Activity 3 has earned $81.3 million. It should have a strong Monday, and then really fold up the following weekend. Paranormal Activity 2 earned $65 million in 10 days prior to Halloween, and about $20 million in the 80 days of release that followed.

Third goes to Andrew Niccol's In Time with Justin Timberlake. Despite a strong trailer and what was once a decent marketing campaign, people don't seem to be ready for the former singer to take the lead in a movie. In Time earned $12 million – not far off what tracking was expecting – and earned that from a quite wide 3,122 venues. In Time had a venue average of $3,844. This is Timberlake's first time leading a film, after 2011 supporting roles in films like Bad Teacher and Friends With Benefits. Timberlake hit a home run last year in The Social Network, but hasn't been able to parlay that success into something bigger. In Time cost Fox only $40 million to make, so this one won't be a disaster.

Footloose manages to step ahead of Real Steel this weekend, but that's where the good news ends. Footloose earned another $5.4 million in its third weekend, but it drops 48% against last weekend's gross of $10.4 million. While not the hit that the 1984 version was, remember that this one cost only $24 million to make, and will likely finish with about $55 million.

The Rum Diary is a rare Johnny Depp flop, as virtually no one came out for the Hunter S Thompson flick. The Rum Diary took in only $5 million from 2,272 venues. It didn't help that reviews weren't great, and if one hadn't read the book, it was almost impossible to figure out what the story was about. The Rum Diary cost $50 million to make, and will be a disaster should sales not pick up overseas.

Real Steel is sixth, but sees a bigger drop than the 33% dip it saw last weekend. Now in its fourth weekend, Real Steel earned $4.7 million, and drops a more severe 57%. Real Steel, with its $110 million budget, would struggle if it wasn't for overseas grosses. Real Steel has earned $73.9 million on the domestic side, but is already approaching $100 million outside of the US, so will be a good choice for Disney in the end.

Seventh is The Three Musketeers, last weekend's ho-hum opener from Summit Entertainment. After opening to $8.7 million last weekend, the Musketeers were turned on their collective ears this weekend, as the Paul W.S. Anderson flick fell 60% to $3.5 million. The $90 million 'effort' has now earned $14.8 million domestically, and another $65 million from overseas sales.

The Ides of March holds on to a top ten spot this weekend. Over its fourth weekend of release, the George Clooney political thriller earned $2.7 million and was off 44% compared to last weekend. The $12.5 million Sony film has now earned $33.5 million.

Ninth is Moneyball, which suffers a little in the wake of Halloween. Now in its sixth weekend, the Brad Pitt flick earned $2.4 million and dropped 40%. The $50 million Sony release has now earned $67.4 million.

Finally in tenth is Courageous, the faith-based movie about heroic cops. The Sony release was down 28% from last week to $1.8 million, which brings its overall total to $27.6 million. Not bad for a movie with a $2 million budget.

Overall, the box office is up over last year, thanks to Puss in Boots, and the fact that Halloween fell on a Sunday last year. Over the Halloween weekend last year, the top 12 films at the box office took in $84.9 million. This year, the top 12 drew $93.3 million. Next weekend could be interesting. Universal releases Tower Heist, with Ben Stiller, Eddie Murphy and more, and Warner Bros. releases another Harold and Kumar movie.