Friday Box Office Analysis
By Tim Briody
October 29, 2011
BoxOfficeProphets.com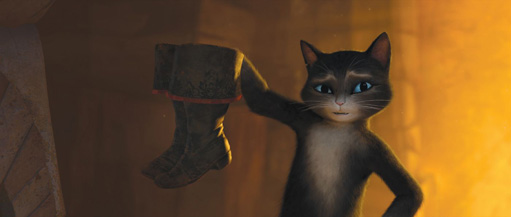 ---
Puss in Boots

Shrek spinoff Puss in Boots leads the way on Friday with $9.6 million. This is less than any of the Shrek sequels, of course, and it's also less than DreamWorks' Megamind last year, which started with $12.5 million. It is a bit more in line with two non-sequels from earlier this year, Rio ($10.3 million in April) and Rango ($9.6 million in March). Both of those had pretty fantastic weekend multipliers (3.79 and 3.96 respectively) so Puss in Boots should come in somewhere around there. If you're curious, Shrek Forever After's multiplier in May 2010 was 3.4. The freak snowstorm in the Northeast shouldn't impact things too much, so we're looking at a weekend of $36 million for Puss in Boots.

In Time

Justin Timberlake's high-concept In Time earned $4.3 million on Friday. Films in this vein have done all right this year, with the best examples probably being The Adjustment Bureau and Source Code, though it was mostly [bp:151_]Matt Damon[/bp] who carried The Adjustment Bureau to a $21 million opening in March. In Time's Friday is a little worse than Source Code's opening day of $5 million, but I like that for its weekend multiplier comparison. That would mean a weekend of $12.6 million.

The [tm:2621_]Rum Diary[/tm]

[bp:84_]Johnny Depp[/bp] returns to a Hunter S. Thompson-esque character and once again is met with a collective shrug from theater goers as The Rum Diary earned $1.8 million on Friday. Let's give it $5 million and pretend it never happened.

Notable Holdovers

[tm:5260_]Paranormal Activity 3[/tm] takes second to Puss in Boots with $6.5 million. Yep, that's down 74.6% from last Friday's opening. Raise your hands if you're surprised. Didn't think so. Paranormal Activity 2 had a Friday to Friday decline of 71.1% and managed a weekend multiplier of 2.84 in its second weekend so much like the Saw franchise before it, we know what to expect here. Look for Paranormal Activity to finish with $18.5 million.