Weekend Wrap-Up
Paranormal Activity 3 is the scariest of them all
By Kim Hollis and David Mumpower
October 23, 2011
BoxOfficeProphets.com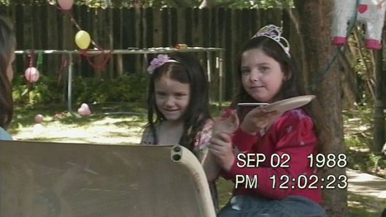 ---
Three new major studio releases entered the marketplace this weekend, and two of them will prove to be footnotes compared to the third. Paranormal Activity 3 decimated all comers, with a factor of five more in revenue than The Three Musketeers and Johnny English Reborn combined. Also, fledgling Quaker Media had some success with a G-rated sports biopic.

After weeks of pathetic box office debuts, Paramount Pictures finally gives moviegoers the October scare they have so desperately coveted. The second follow-up to a movie that cost $15,000 to create (probably less than you spent on your student loans) has shattered a pair of meaningful box office records. Paranormal Activity 3 launched into 3,321 venues, earning a staggering $54 million, good for an impressive per exhibition average of $16,266.

Purchasing the rights to Paranormal Activity has proven to be the best studio buy since Twilight. The original film, which built its buzz through a clever campaign of exclusivity and consumer demand, had a highest single weekend performance of $21.1 million, a number that came during its fifth frame. Meanwhile, the really impressive number came from its per location average, which was a historic $49,379 as it played in only $160 exhibitions. It's true that a higher average is easier in fewer locations; however, when we look at that number two years later, we still boggle. Paranormal Activity went on to earn $108 million domestically and almost $200 million worldwide, an amazing return on investment for an upfront expense that is less that people pay for a new car.

Paranormal Activity 2 is equally noteworthy in the way the studio nurtured it. Rather than hire big name actors and attempt to glitz up the story with a bunch of special effects, a prequel featured the same actors from the first film and then added a few other people who were no more famous. The end result was that Paramount reinforced the concept of the first film's story with the character and plot development of the prequel, showing that they clearly learned a lesson from the mistakes of The Blair Witch Project 2: Book of Shadows. Because of this dedication to the integrity of the franchise, the second film in the series was able to debut with $40.7 million, with a per location average of $12,649 in its 3,216 venues. It did behave like a sequel overall, as it did have the much larger opening weekend, but finished with less money overall. Still, its domestic take of $84.8 million is more than respectable for a horror prequel that cost $3 million. Even better, its worldwide total was $177.5 million, within about $20 million of its predecessor.

For Paranormal Activity 3, Paramount went with a prequel to the prequel, taking us back to the 1980s, when the two sisters from the first two films were children. Because the studio has nurtured the franchise so carefully and built trust with consumers, they have been rewarded with an even bigger opening than the second film – which was pretty awesome in the first place. Not only is Paranormal Activity 3 the largest box office debut in ten weeks (since Rise of the Planet of the Apes), but it's also the new record holder for October openings, besting Jackass 3D's $50.4 million from last year. Additionally, it is the biggest horror opening ever, besting the previous record holder – Paranormal Activity 2. What this means is that the franchise now has the two biggest horror openings in history.

Popularity wasn't reserved for just North America, either. Its international total for this weekend is projected to be $26 million, meaning that it has earned a whopping total of $80 million after only three days. And oh, by the way, the newest Parnormal Activity film has a budget of only $5 million. (Under)stating the obvious, Paranormal Activity films are money.

Second place – by a lot – goes to two-time defending champion Real Steel. The Hugh Jackman robot-fighting movie fell 31% to $11.3 million. The pricey $110 million production has a grand total of $67.2 million domestically, with an overall worldwide box office total of $150 million. Even though it was a costly proposition, Jackman's popularity overseas and respectable word-of-mouth has helped it to be a movie that Disney/DreamWorks can call a slight win over the long term.

The mystique of Kenny Loggins continues to cast a long shadow at the box office, as Footloose has a solid hold in its second weekend to finish in third place. Paramount's other film in the top three this week fell only 30% from $15.6 million to $10.9 million this weekend, giving it a running total of $30.9 million domestically. Another example of frugality from Paramount, Footloose cost $24 million to produce, thanks primarily to its cheap cast and savvy direction by Craig Brewer. It is also showing some modest international appeal, guaranteeing its profitability. Paramount Pictures is having a good October.

Summit Entertainment's The Three Musketeers, their latest attempt to show they're more than vampires and werewolves, finishes in fourth place as it opens with $8.8 million. This is a good news/bad news situation, so we'll be polite and start with the good news first. Lead actress Milla Jovovich and her husband Paul W.S. Anderson are quite popular abroad thanks to their Resident Evil films. The Three Musketeers is the rare film that was released into international venues well ahead of its North American theatrical debut. It has already accumulated $64 million overseas, which is respectable for a $90 million production. The bad news is that Summit won't see any of that money since they did not have international distribution rights. What Summit has is a movie that finished in fourth place with $8.8 million with a per location average of $2,917. You don't need 3D glasses to see that's not a good number. Given the absolutely massive advertising campaign for this title, it's fair to say that North America said thanks but no thanks to 3D men with silly hairstyles.

Fifth, sixth and seventh place go to the $4 million team of The Ides of March, Dolphin Tale and Moneyball. George Clooney's latest directorial effort fell a modest 31% to $4.9 million, giving it a running total of $29.2 million. BOP continues to be equal parts horrified and impressed by his refusal to do commercial projects. Dolphin Tale, which reminds us of that Simpsons episode where Lisa accidentally leads humanity to enslavement, dropped 33% to $4.2 million. Its running tally of $64.4 million is a best case scenario result for this clear winner. Moneyball continues to hold well with $4.1 million, a 26% decline from last week. Perhaps the only way to make the game of baseball slower is to add math and stats to it, so making a movie that earned $63.7 million is a solid accomplishment in the realm of box office sabremetrics.

Our eighth place performer, Johnny English Reborn, is eerily similar to our fourth place finisher. BOP fave Rowan Atkinson proved his global popularity with the original Johnny English, a title that earned $160 million against a $40 million budget. The first Johnny English film opened to $9.1 million in 2,236 locations in North America. Johnny English Reborn was not given the same theatrical respect, with only 1,552 venues. That decision looks appropriate in hindsight. The sequel to the 2003 spy spoof had an opening weekend total of $3.8 million, with a per location average of only $2,450. Clearly, Johnny English is an acquired taste, and North Americans have yet to adjust to it. The good news for Atkinson is that Johnny English Reborn has already earned over $100 million internationally. With a production budget of $45 million, it looks like a disaster on this side of the pond. In reality, it's a huge winner overall. The Three Musketeers and Johnny English Reborn are blueprint examples of the evolving nature of box office behavior. North American receipts are devalued more with each passing year.

Rounding out the top ten are Universal's The Thing and Summit's 50/50. The prequel to the John Carpenter classic falls of the table with a 63% decline to $3.1 million. The title has earned only $14.1 million to date, and with a per location average of $1,040, it's already done. 50/50 continues to hold well due to its positive word-of-mouth. The melancholy comedy dropped 34% to $2.8 million, giving it a running total of $28.8 million.

The other new entry that we mentioned is Quaker Media's The Mighty Macs. This G-rated sports story describes the events where Cathy Rush led Immaculata University to three straight national championships from 1972 to 1974. Think Glory Road but with "less dunking and better fundamentals. That more fun to watch." Apologies to non-Futurama fans. The film made $1.1 million in its 975 locations. While the three day average of $1,090 is ordinarily poor, we give bonus points since Quaker Media was a complete unknown previously.

Overall, the top 12 movies this weekend grossed $112.1 million, down 6% from last year's $119.5 million when Paranormal Activity 2 debuted and Jackass 3D was in its second weekend. Next weekend, new openers include In Time, The Rum Diary and Puss in Boots. So, the bad stretch of box office is now in the rearview mirror.