Weekend Wrap-Up
'80s Weekend Dulls Overall Box Office
By John Hamann
October 16, 2011
BoxOfficeProphets.com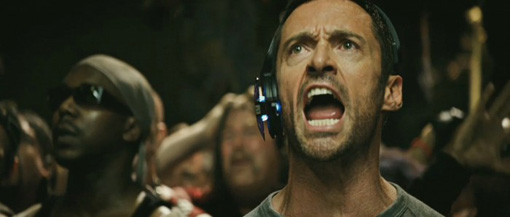 ---
Twenty-seven years ago, a little film about dancing in a small town somehow caught the public's attention and opened to $8 million over a late February weekend. It was instantly a huge financial success, as it had a budget of only $8.2 million and went on to earn $80 million domestically over its run, staying in the top 11 for 16 weekends. Flash forward a quarter-century, and the remake is upon us, not looking too much different than the 1984 original. 1982's The Thing is also back this weekend, this time a prequel to the Kurt Russell sci-fi thriller. Buried under classics like ET and Blade Runner when it came out, The Thing gets buried again this weekend, this time by the likes of Real Steel. Snake Pliskin's words in Escape From LA come to mind - "The more things change, the more they stay the same".

Repeating in first place is Real Steel, the Hugh Jackman movie about fighting robots. In its second weekend, Real Steel performed like every other film in the top ten this weekend – unspectacularly – as it earned $16.3 million from 3,440 venues. It was off 40%, which is much too high for a supposed crowd-pleaser, but at least above 50%, which would have hurt this rather expensive film. Real Steel was made for a ridiculously high $110 million, an amount it will not see from the domestic box office. In fact, at this point, it looks like Real Steel may cave in with about $85 million. So far, the DreamWorks made/Disney distributed film has earned $51.7 million.

Our second place film is Footloose, and unlike The Lion King, this one was actually re-made, but from the trailers, appears to be exactly the same thing some of us saw 27 years ago. The Footloose remake earned an okay but unexciting $16.1 million from 3,549 venues. It had a venue average of $4,536. This one stars Kenny Wormald (credited as "Dancer" in Clerks II, You Got Served, and The Drew Carey Show) as Ren MacCormack, the role made famous by Kevin Bacon, who had already been in Animal House and Diner prior to Footloose, and Julianne Hough (Burlesque) as Ariel. Dennis Quaid looks out of place as the preacher who outlaws dancing, and Andie MacDowell is the preacher's wife, roles once played by John Lithgow and Dianne Wiest, two people who actually looked like their roles.

If you are sensing I am feeling this version of Footloose is unneccessary, you're right, but the good news here is that Craig Brewer (Hustle and Flow) actually put a fairly good movie together, at least in the world of crticial reviews and Cinemscores. RottenTomatoes scores were telling. Footloose earned a fresh 73% rating from all crtics, with 97 reviews to the good, and 36 to the bad. Top Critics listed at the site had a different opinion. Thirty-two "top critic" reviews were counted, and were split almost down the middle, leaving Footloose at a rotten 53%. Brewer obviously found that middle ground – making a crowd pleasing film (it earned an A Cinemscore) that didn't completely turn off the critics.

Business-wise, Footloose was a good, safe bet for Paramount and MTV Films. The Footloose remake cost the companies only $24 million to make, which they were able to accomplish by hiring a group of nobodies in the younger roles. By plopping in Quaid and MacDowell into the older roles, they play on that '80s/'90s nostalgia that is everywhere these days (see The Lion King 3D). Footloose opened on target with dance films like Step Up 3D ($15.8 million opening weekend) and You Got Served ($16.1 million opening), but will have a stronger chance at legs, as there is more to the story here than just dance. This Footloose will be a profitable outing for the studios, but don't expect it to be the cultural icon that the original was (that was Scott Pilgrim vs. the World, but everyone missed it).

Well back in third is Universal's prequel to John Carpenter's The Thing. Although some thought seems to have gone into the project, The Thing earned only $8.8 million, which must be a grave disappointment to Universal, as they have had no luck with this franchise. The 1982 version of The Thing opened in the third weekend of ET's run, when the Spielberg's alien was still gaining audiences (ET opened to $11.9 million, rose to $12.6 million in weekend two, then rose to $13.4 million in weekend three, and peaking in weekend four at an outrageous-for-the-time $17 million). Other films that grossed more than The Thing that weekend included Blade Runner's opening weekend, Clint Eastwood's Firefox, Stallone's Rocky 3, Star Trek II: The Wrath of Khan, Annie, and Poltergeist. The Thing was cursed.

Snap forward 29 years to the prequel to The Thing, and Universal's luck hasn't changed. Where I believe Footloose could have been further updated to modern times, I think The Thing should have been a straight remake, and not gone the route of the prequel. Critics agreed. At RottenTomatoes, The Thing was a sad 34% fresh, with critics noting more scares a la the style of the new millenium, and less of the Carpenter tension, with the spooky music and Kurt Russell panting. As much as I love Mary Elizabeth Winstead for being Ramona Flowers, she is no Kurt Russell, or Wilford Brimley for that matter. The cost for this Thing was $40 million, an amount this one will likely not see stateside.

Finishing fourth this weekend is George Clooney's Ides of March, which showed some okay legs this weekend. Ides of March grossed $7.5 million in its second frame, off 28% from its $10.5 milllion debut last weekend. Sony obviously would have liked slightly better legs for its political thriller, but remember that this one didn't cost the studio too much at $18 million, a figure it has now surpassed after only two weekends of release. The Ides of March has pulled in $22.1 million so far and could finish with as much as $40 million.

Fifth is Dolphin Tale, which is now in its fourth weekend. A former weekend champ, Dolphin Tale is still showing decent legs, as it earned $6.3 million and dropped only 31%. The $37 million heartwarming children's tale has now earned $58.7 million, and could earn as much as $70 million before it's all said and done.

Sixth is Brad Pitt's Moneyball, which is also in its fourth weekend. The book-based baseball movie earned $5.5 million and is also showing good legs, as it dropped 26% compared to last weekend (it helps that the openers are a dance movie and a horror film). Still, Moneyball hasn't seen a drop above 40%, and the $50 million film has now pulled in $57.7 million, putting it in the top five baseball films ever.

50/50 is seventh, and is another adult dramedy showing good legs this weekend. The Seth Rogen/Joseph Gordon-Levitt film earned $4.3 million in its third weekend, and was off 24%. The bromance started soft at $8.6 million, but has shown legs that reflect its reviews (93% fresh). This one cost only $8 million to make, and has now earned $24.3 million.

Courageous is eighth this weekend. The Christian-themed flick earned $3.4 million in its third weekend and dropped 30%. Give it $21.4 million so far, against a budget of $2 million.

New release The Big Year finishes ninth this weekend, and this time out I won't complain that the new movie got buried under the unoriginal ideas. The Steve Martin/Jack Black/Owen Wilson flick earned only $3.3 million, but deserved it, as it is a comedy about birdwatching. Someone should be shot for greenlighting a $40 million film about birdwatching - a film that is simply not very good (39% fresh at Rotten Tomatoes). How long until Jack Black is doing a sitcom? 5, 4, 3, 2.....

Finally in tenth is 1994's The Lion King in 3D. The re-release earned $2.7 million and has earned $90.4 million in five weekends.

Overall this weekend, the top 12 at the box office did not respond well to this '80s weekend. The top 12 earned $81.7 million, well off of the $85 million the box office took in last weekend, and forever behind the same weekend last year, when Jackass 3D opened to $50 million, and the really good RED opened to $21.8 million. That weekend, the top 12 took in $120 million. Next weekend four new releases open, including Mighty Macs (which has something to do with nuns playing basketball), Johnny English Reborn (at least for a weekend), The Three Musketeers (from the director of Resident Evil, Mortal Kombat and Soldier), and Paranormal Activity 3.