Weekend Wrap-Up
Real Steel Dominates Weekend Competition
By John Hamann
October 9, 2011
BoxOfficeProphets.com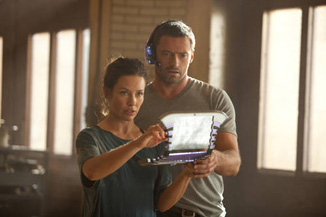 ---
Following a weekend where Dolphin Tale swam up from third to first to take top spot at the box office, we have another strange family film on top this weekend. This time, it's the mechanical boxing movie Real Steel, starring robots, kids and Hugh Jackman. Also opening this weekend is Ides of March, the new political thriller from director and star George Clooney, who joins Ryan Gosling above the title. Holdovers include the somewhat surprising Courageous, and the fall of The Lion King, as it struggles to place ahead of last weekend's dismal horror flick, Dream House.

Our number one film of the weekend is Real Steel, the father and son, sci-fi, sports movie (and you didn't think that could happen). The Hugh Jackman flick (the press wants to call it star-driven, but Jackman still sits in the B-list in my mind) earned an okay $27.3 million from 3,440 venues, giving it an average of $7,936. Tracking was looking for $30 million from the flick that was made by DreamWorks and distributed by Disney, and it needed it. Real Steel was an expensive film to bring to the screen. DreamWorks paid Jackman $9 million (I am in the wrong business), on the way to paying $110 million for a movie about boxing robots. In my mind that's a risk. Jackman has never had a big hit away from X-Men/Wolverine, and I am not sure how well boxing will play (robotic or not) on the other side of the oceans.

Hugh Jackman is a great choice for an actor to bring the fanboys when his movies start with an X. His first big Hollywood production was X-Men in 2000, which, thanks to fanboys worldwide and the brilliant casting of Patrick Stewart as Professor X, turned X-Men into a huge $54 million opener. X-Men failed to earn an opening-to-domestic total of 3.0, though, finishing at $154 million. On the other hand, it was one of those early movies to dominate overseas, where it took in $140 million. Between X-Men and X2, Jackman made three films, the rom-com Someone Like You ($10 million opening, $27 million finish), Travolta's Swordfish ($18 million opening, $69 million finish), and Kate and Leopold ($9.7 million opening, $47 million finish, thanks to a Christmas Day release). While none of these films were particularly good, they did show that Jackman was a draw away from the US. Someone Like You earned $11 million overseas, and Kate and Leopold found about $24 million. Not bad considering their success (or lack of) in the States.

X2 was the turning point for the star – overseas. X2 opened to $85 million on the domestic front, and took in $215 million at home, but then earned $192 million overseas. Van Helsing was next, flopping in North America with an opening-to-total multiplier of only 2.3 and a domestic finish of only $120 million. Overseas, though, the 23% fresh monster hunting movie took in $180 million, $60 million more than in the US. In today's moviegoing world, this guy was now business. Almost every other film he did after Van Helsing earned more overseas than it did at home, except for the flop Deception, the 14% fresh thriller, and the Aronofsky flop, The Fountain. Will a boxing movie play overseas? If it has Jackman in it, it probably will.

Real Steal was was 58% fresh at RottenTomatoes, but in terms of overall success, that's a percentage that really isn't going to matter. If Real Steel shows no legs, despite being a Rocky type film (with robots), it will still be a $70 million outing for DreamWorks and Disney. If the concept works overseas, it will then earn another $70 million overseas (thanks to Jackman, and robots in Japan), making it mildly profitable. On the outside, Jackman is a strange choice for something like this, but after looking at the math, the greenlight makes sense, considering the new world of international box office.

Finishing second this weekend is a film that won't play well overseas, despite having an international superstar at the forefront and in the director's chair. George Clooney's The Ides of March was looking for an opening in the $12-$14 million range this weekend, but opened a little softer this weekend to $10.4 million. Released to a moderate 2,199 venues, the political thriller earned a venue average of $4,729. Filled with both Oscar winners and nominees (Clooney, Phillip Seymour-Hoffman, Marisa Tomei) and up and comers (Ryan Gosling, Evan Rachel Wood), Clooney made a very good film (82% fresh at RottenTomatoes), but one that might be considered to narrow for a wide audience. Given the $18 million budget, Clooney obviously got his actors to buy-in for a reduced fee, and now Sony stands to make some money off of this one.

There are a lot of questions left after opening weekend, questions I don't have answers to. Despite the reception from critics, will a film like this have legs? What about overseas? Clooney's Good Night, and Good Luck earned $21 million overseas after a domestic total of $31.5 million. Good Night, and Good Luck was shot in black and white, and was about American politics, so if a film like that can earn more than $20 million overseas, there is absolutely no reason why this one can't. Given the budget involved, this is going to be another win for Clooney, who has been on a roll as of late. Look for The Descendants, Clooney's next, which was directed by About Schmidt's Alexander Payne.

Third spot goes to last weekend's winner, Dolphin Tale, about a boy who helps nurse and injured dolphin back to health (no robots this time). Dolphin Tale opened in third, swam up to number one, and now swims back down to number three. This weekend, its third, the leggy kids flick earned $9.2 million, and was off 34%. The Warner Bros. flick is turning into September gold for the studio, as this one cost $37 million to make, and now has a total of $49.1 million. Will it play overseas? Maybe. 1993's Free Willy earned the same amount domestically as it did stateside – about $75 million, likely a similar amount as to what Dolphin Tale will end up with.

Fourth is Moneyball, the successful baseball movie starring Brad Pitt and Jonah Hill. Moneyball earned $7.5 million in its third weekend, and drops an okay 38%. Likely both Clooney's Ides of March and Jackman's Real Steel may have robbed some audience away from Moneyball. The $50 million film has now earned $49.3 million, so this will likely finish as a safe bet for Sony.

50/50 manages to stay in fifth after a disappointing opening frame. The Seth Rogen/Joseph Gordon-Levitt flick earned $5.5 million this weekend, down from its $8.6 million last weekend. That gives 50/50 a fairly solid drop of 36%, considering how it got started last weekend. Luckily, 50/50 was made for only $8 million, and with a gross so far of $17.3 million, this one is going to work for Summit Entertainment.

Sixth is Courageous, the faith-based film distributed by Sony. After a surprising $9.1 million opening last weekend, Courageous is missing the $2 million in pre-purchased tickets, and earns only $4.6 million this weekend. That gives this one a drop of 49%, and potentially a quick trip to the exits. Picked up for $2 million, Courageous has now earned $15.9 million.

Disney's The Lion King falls all the way to seventh after a third place finish last weekend. The Disney re-release took in $4.6 million and fell a wicked 57%. When the Blu-ray release came out last Tuesday, maybe people realized that their need for early-'90s history was not priceless (Blu-ray plus two adult tickets to the 3D theatrical = $70). Had the Blu-ray not come out, this release of The Lion King was headed toward $100 million, but not anymore. It has $86 million so far, and will exit with just short of $95 million.

Eighth is the very bad Dream House. The horror flick earned only $4.46 million and fell 45%. The $50 million flop has now earned $14.5 million, and will be very lucky to walk away with $25 million.

What's Your Number is ninth, as the Anna Faris flick failed to hold business this weekend. Number earned $3.1 million and dropped 44%. The $20 million Fox flick has earned only $10.3 million.

Tenth is Abduction, featuring Taylor Lautner's abs and lack of acting ability. The attempt at cashing in on the young star's Twilight fans brought in $2.9 million, down 48% from its total last weekend. The thriller has now earned $23.4 million, which is not getting it done versus the $35 million budget.

Overall this weekend, things were right on target compared to last year, but well back of where things were in 2009. This weekend, the top 12 earned $84.4 million, on par with 2010's top 12 of $81 million, when Life As We Know It opened softly, and behind 2009's $95 million feat when Couples Retreat was on top. Next weekend could be really interesting. It's a remake frame as The Thing (1982) takes on Footloose (1984) in the battle of the '80s retreads. Also opening is The Big Year, with Steve Martin, Jack Black and Owen Wilson.