Friday Box Office Analysis
By Kim Hollis and David Mumpower
October 1, 2011
BoxOfficeProphets.com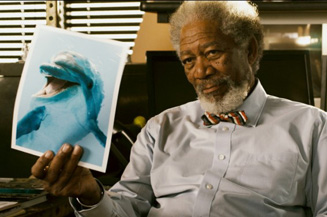 ---
A tight weekend at the box office was predicted, and that is exactly what is happening as three solid returning films battle four new releases. Last Friday's top performer, Moneyball, repeated at that spot yesterday. The question now is whether the Lions or the Dolphins can stage a ninth inning comeback. Yes, we know we've mixed our metaphors here. We can't help it if Moneyball is about baseball and the other teams happen to have some similarity to the NFL.

In terms of new releases, we stated our modest expectations for all four titles yesterday, and those muted projections have been validated. Sherwood Pictures' Courageous, which opened in the fewest venues, grossed $3.1 million yesterday, and is all but certain to have the best debut of the new films. Since it's likely to be elevated on Sunday thanks to post-church group outings and had the least availability on Friday, there's an outside chance that it even pulls off a weekend victory. No matter what, since Courageous had a $2 million budget, it's already profitable after one day, which means cha-ching! We expect $10.5 million for the weekend. This is a perfect example of knowing what your audience wants and delivering it to them. On top of that, Sherwood Pictures is developing a positive reputation amongst faith-based viewers, and should be able to continue to develop that niche. It's clearly one that has a need to fill.

50/50 and Dream House were in a virtual tie for Friday with $2.9 million apiece. Other forecasters are saying that Dream House is likely to come out ahead for the overall weekend total, but we're going to politely disagree. For one thing, horror generally does not have a better Friday-to-Sunday multiplier than comedy/drama, but more important, Dream House is riding a wave of vitriolic criticism into the remainder of the weekend, while 50/50 has laudatory word-of-mouth going its way. Seriously, it's 92% for 50/50 at Rotten Tomatoes versus 6% for Dream House (though to its credit, Dream House has notched *two* more positive reviews than it had yesterday...for a total of two positive reviews). Even if Dream House finishes a couple hundred thousand ahead for the weekend, we'd much rather be on 50/50's bandwagon long term. 50/50 should take in $9.5 million this weekend, while Dream House is looking at $9 million.

The final new opener is What's Your Number?, which made $2.1 million on Friday. The Anna Faris film was just never going to gain any traction given the slight support and bad reviews it received. It'll be in and out of theaters before anyone even gets a chance to know it, at which point we're all going to pretend it never existed. What's Your Number?'s number is going to be a bad one - $6.3 million.

So, the big question remains, what movie will win the weekend? Moneyball made $3.9 million, Dolphin Tale made $3.5 million and The Lion King (in 3D) made $3.3 million. Basically, any of these three films (plus Courageous) could wind up on top. Our pick is Dolphin Tale, which should come in with around $13.2 million, while Moneyball should hit $12.1 million and The Lion King should roar up $10.8 million.