The Amazing Race Season 19: Introductions
By Daron Aldridge
September 25, 2011
BoxOfficeProphets.com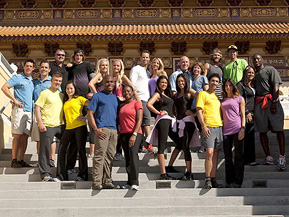 ---
Welcome back to the once-again Emmy-winning The Amazing Race. Following last season's Unfinished Business, which finished quite satisfyingly with LaKisha & Jen victorious, we are presented with a fresh crop of teams that bring no preconceptions. Okay…well…one team does, but I'll get to that shortly.

Since we have nothing to base their Race acumen on at this point, it's a complete crapshoot assigning power rankings on anything other than guesswork on how they answer the official CBS questionnaire. So, I will look to how teams performed historically and let those patterns decide my rankings. I am choosing this route because maybe there is something to picking the types of relationships that perform best.

First, after 17 seasons of two-person teams (and one woeful Family Edition season, which I will exclude), the data is in and here's how it looked for first place finishes:

Six of the them have been "Dating/Engaged"

Five of them have been "Friends"

Four of them have been "Siblings"

Only two have been "Married"

You may notice that the one team dynamic underrepresented in the winner's circle is "Parent/Child." Even the aforementioned (and not included) Family Edition could not give us a parent/child(ren) winning team.

Drilling down a bit more, the second place teams look like this:

Five were "Dating/Engaged"

Four were "Siblings"

Three of them have been "Friends" and another three were "Separated"

One team was "Married" and one was a "Parent/Child" team

Now it's time for my semi-educated, unscientific prediction of how the 19th season of The Amazing Race.

Bill & Cathi (Married) - As two retired educators (Bill, a high school teacher; and Cathi, a high school principal), this is one team that should appreciate the notion that if you don't learn from history, you are doomed to repeat it. And the history is that married couples, especially older ones, don't fare too well on the race. You have to go all the way back to season three's Ian & Teri to find one that made it to the top two. Bill may just be being flippant about his lack of valuable skills on the race but my first impression is not a strong one. Cathi may have been better suited with another partner. She has to have some sense of stamina and toughness having worked as a high school principal in today's world. I am going with them as the first one eliminated.

Jeremy & Sandy (Dating) - One's a real estate broker and the other's a nurse practitioner for a cosmetic surgeon. Neither of these occupations and the limited information they gave screams "Amazing Race standouts." They could easily be one of the several forgettable teams that disappears early. This one quote from Jeremy is basis for such a harsh conclusion: "We don't have any experience working together under pressure." As least he has self-awareness, but that doesn't guarantee success in Phil Keoghan's world. Not all dating teams can make it to the end and they don't appear to be one of them. Let's give 'em two legs of racing and a tenth place finish.

Kaylani & Lisa (Friends) - This pair of Vegas waitresses don't give off the air that they are the team to beat. Unlike winning female friend team Nat & Kat and Team HSN Brooke & Claire, Kaylani & Lisa come across as less cohesive than the race requires. When reading Kaylani's overly descriptive answer about Lisa's pet peeves (it is her second longest answer), you get the sense there will be more fighting and less racing for these girls. Let's put them in ninth place.

Ernie & Cindy (Engaged) - This team may be dubbed Team Corporate America based solely upon the first half of their Q&A answers, which sounded like it came directly from their resume, job description or employer's Web site. Basically, there's nothing that jumps off the page. As for the other answers, these two nuggets stand out. Cindy says that people say she reminds them of Lucy Liu but she'd prefer to be compared to Lauren Conrad from the "The Hills" (This either an indictment of Lucy Liu's fallen celebrity status or further proof that vapid reality stars are role models). And both people said that Ernie has an inability to be direct in communicating. Not a good trait on a race that requires good back-and-forth. This is the primary reason that I am giving them a middle of the pack eighth place.

Liz & Marie (Siblings) - While siblings have only won four times (less than "Friends" or "Dating" teams), those four times have been in the last six seasons. Siblings are on a hot streak but for the two such teams this season, neither seems likely to extend the streak. The twin sisters from Kentucky both list "ambitious" as one of their traits but both continue to say they are trying to figure out their life or are in "transition." Not sure those go hand-in-hand but Liz & Marie comes across as confidently happy with what they're not doing. Their inexperience could carry them to seventh place just behind…

Justin & Jennifer (Siblings) - Educationally, this brother and sister team just may have done everything to make their parents proud: Justin's a doctor and Jennifer's a special education teacher. They seem to be the team that I will probably root for the most but I don't know how their skills will translate to the Race. Also, Justin raises this red flag about Jennifer: "She shuts down when she gets hungry or sleepy and has a tendency to get really mean when this happens." Not good on a race that breeds fatigue and hunger. That's why I think they won't get much higher than sixth because at that point the race may have taken a toll on Jennifer.

Ron & Bill (Domestic Partners) - This team has one huge advantage over the others in my mind and it is their shared occupation – flight attendant. If you have watched the Amazing Race at all you know that airport/airlines can be the great equalizer and Ron & Bill will have the benefit of knowing how to work their way around the best method of securing the best route. They will likely rely upon their familiarity with certain airlines, airports and destination cities and I expect others to piggy back this team while traveling, which can create a strong Race alliance or make them shun the others that are taking advantage of them. They should be able to claim fifth overall.

Laurence & Zac (Father/Son) - This is the only parent/child team this season and they may just be the most Race-equipped parent/child team there has been. Unfortunately, the best such a team has ever done is second place and that was only once. Both of the guys have extensive travel experience with Zac being a record-setting boat captain, with skills he obviously learned from pops, who is a yacht manager. It is hard to argue with this assessment by Zac: "My experiences dealing with sleep deprivation, foreign countries and charting will be valuable skills on The Race." I want to place them higher but I can't get past the history. I will place them at fourth place.

Amani & Marcus Pollard (Married) – The married couple from Georgia looks like a strong team on paper. They have been married for years and have already survived having (and raising) four children. As a former NFL player and current high school football coach, Marcus should prove to highly competitive. For me, the bigger asset will be that the years of marriage and parenting together should have prepared them for working as a team intensively. Even though married couples have only claimed first of second place three times, I am going to put Amani & Marcus with a third place finish.

Andy & Tommy (Friends) - This pair of professional snowboarders and former Olympians could prove to be a combination of previous teams runners-up Globetrotters and winning hippies BJ & Tyler. They appear fairly easy-going and have the history of being together on a team (granted snowboarding isn't exactly a team sport). From a viewer standpoint, I just hope they are turn out to be more fun/entertaining and have less of the "look at me…I am so funny" shtick that grates on my nerves. Considering five sets of "Friends" have won and three sets have taken second place; I am placing them in second place.

Ethan & Jenna (Dating) - You may argue this is an easy pick for the top spot and I would agree with you. We have seen both of these people compete and win on Survivor and we know that Ethan has fought and beaten cancer. So he is a "Survivor" in both regards. While Survivor the show is very different than The Amazing Race, their successes prove they will not give up, know how to win and can also play up the minimal social aspect of the race. Remember Rob & Amber successfully duped the other teams to follow them in taking a time penalty on a challenge. They also seem to balance each other out with Jenna being more cutthroat and Ethan more trusting. To cap it all off (at least in my mind), they have the benefit of being a "Dating" team; so history is in their favor.

So let's get this season started. I'll throw this over to Phil and we will see you on Sunday night at 8/7 pm. Barring any NFL-induced overtimes, of course.