Weekend Wrap-Up
Lion King Continues Box Office Reign
By John Hamann
September 25, 2011
BoxOfficeProphets.com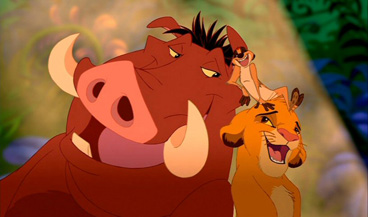 ---
It continues to be the renaissance of summer 1994 once again, as four newcomers couldn't take down The Lion King 3D. Stories of childhoods remembered are everywhere these days, as the 3D recycling of the classic appears to have hit a nerve with some filmgoers (for others, the nerve hit involves dentistry). The good news is that there are good films out there this weekend NOT made in 1994, as Moneyball with Brad Pitt and Jonah Hill opened this weekend, along with Dolphin Tale, the well-reviewed story of a boy trying to save a dolphin. Also opening were Killer Elite with DeNiro, Clive Owen and Jason Statham, and Abduction, a film we wouldn't have to deal with had the Twilight movies not made so much money.

The number one movie of the weekend (again) is The Lion King 3D, Disney's extremely effective ploy to make even more money by recycling their old films, George Lucas style. After a ridiculously successful opening weekend at $30 million, The Lion King 3D held quite well this weekend, earning another $22.1 million and dropping a slim 27%. I am surprised the drop is as low as it is this weekend, as The Lion King could have been a one weekend wonder. However, that nostalgic touch mixed with a current 3D update seems to be working for some. George Lucas made about $140 million dressing up Star Wars for a re-release, and it's starting to look like Disney may do the same here, depending on how long this one stays in release. The current take from this re-release stands at $61.7 million.

Second is Moneyball, the new film based on the Michael Lewis book. Moneyball was just that this weekend, as the baseball movie managed to earn $20.6 million from 2,993 venues. This was the expected start for the Brad Pitt/Jonah Hill starrer, as tracking estimates were right on target. Sony is the distributor behind the Michael De Luca/Scott Rudin production, and should be credited for putting together a strong team to make this movie (much like Pitt's character does with Oakland A's). Aaron Sorkin (Oscar winner for The Social Network) adapted Moneyball from the math-heavy baseball book, and it then got a re-write from Steve Zaillian (Schindler's List). The film was directed by Bennett Miller (Capote), produced by Scott Rudin (True Grit, The Social Network) and Michael De Luca (Magnolia, Dark City), and has a cast that includes Pitt, Hill, Philip Seymour Hoffman and Robin Wright. For a September release, this is an all-star team, and the reviews reflect that. Moneyball is 94% fresh at RottenTomatoes from all critics, with top critics coming in at 97%. Should the rest of the fall/winter Oscar bait fail, look for Moneyball to receive a healthy number of nominations, especially with this strong opening frame.

For Brad Pitt, Moneyball continues a white hot streak for the actor. Since 2004's Troy, the actor has had seven films finish with a domestic total over $100 million, and seven films finish with an international total over $300 million. Two films – Troy and Mr. and Mrs. Smith – have both been a hair away from the half-billion mark worldwide. With Coogan's Trade and World War Z coming, it doesn't look like the shine will come off of Pitt for awhile to come.

Third this weekend is Dolphin Tale, another very well-reviewed flick. Made for families, Dolphin Tale could not compete with repeat viewings of The Lion King, but may have won over some old-school audience looking for new entertainment. Dolphin Tale earned a solid $20.3 million from a very wide 3,507 venues. Marketed like and in front of Soul Surfer, Warner Bros. was looking for that faith-based family crowd, and got it this weekend. Dolphin Tale was made for $37 million, and given the strong opening frame and capacity for strong legs, this could end up as a quiet jewel for Warner Bros. The strategy around making this one – much like Moneyball – was sound, as they recruited Charles Martin Smith to direct (and promote) this one, with a cast that includes safe names like Harry Connick Jr., Ashley Judd, Kris Kristofferson and Morgan Freeman. Critics loved it, and so do audiences. At RottenTomatoes, the film garnered an 83% fresh rating, and earned an 87% score from "Top Critics." The Cinemascore was even better, coming in at a rare A+. The only sad thing about the release of Dolphin Tale is the question we will never know the answer to: Had Disney not re-re-released The Lion King, how much better would have this one done?

Fourth is Abduction, Taylor Lautner's attempt to get into something other than a Twilight film. There were enough Twi-hards out this weekend to keep Abduction's head above the water, but this one is going to disappear quickly. Abduction earned $11.2 million from 3,118 venues. Distributed by Lionsgate, Abduction cost $35 million to bring to the big screen, so won't be too much of a money loser for the studio. Reviews were of course laughable, with only two critics out of 56 finding something to like at RottenTomatoes.

Fifth is Killer Elite, the new action flick with Jason Statham, Clive Owen, and Robert DeNiro. Killer Elite is not the cream of the crop this weekend, but still managed an okay opening, likely based on star power alone. Killer Elite earned $9.5 million from 2,750 venues, slightly below where tracking was indicating it might end up. This is actually an Australian production, with some of the $70 million in financing coming from the Australian government. Upstart distributor Open Road picked up the domestic rights for an undisclosed price, and paid to market the action film. In my mind, this opening is about on target for a Jason Statham film, and I still consider him to be an A-Lister in waiting.

Finishing sixth is Contagion, Steven Soderbergh's plague movie. Following a weekend at number one, then a weekend at number two, Contagion stumbles amidst a crop of new film this weekend. The A-list extravaganza earned another $8.6 million in its third weekend, and was off 41% from last weekend. The $60 million film has now earned $57.1 million, and after international grosses are counted, will be a decent sized hit for Warner Bros. and Participant Media, who is having a great late summer, as they were one of the principals behind The Help.

Drive tumbles to seventh this weekend as despite some extremely solid reviews for the Ryan Gosling starrer, it hasn't equated to great box office or even good word-of-mouth. Drive earned $5.8 million in its second frame and dropped 49%. The $13 million picture is already a success for Film District, as it has earned $21.4 million. International grosses will prop this one up even further, before it goes on to likely have a strong release on Blu-ray and DVD.

The Help drops to eighth as it enjoys its seventh weekend in the top ten. The Help earned another $4.4 million and dropped 32%, as its big earning weekends are now in the rearview mirror. Let's not forget that The Help was made for a measly $25 million, and has now earned a gargantuan $154.4 million.

Ninth is Straw Dogs, the inept remake of the Sam Peckinpah flick. After a disappointing debut of $5.1 million, the news gets worse for this one, as it only earns $2.1 million in its second weekend. That's a drop of 59%, and brings the cume up to only $8.8 million.

Tenth is I Don't Know How She Does It, the Sarah Jessica Parker failure. After opening to only $4.4 million last weekend, this drops 53% this weekend, earning $2 million. I Don't Know has a brutal running total of only $8 million after two weekends of release.

Overall this weekend, the box office is up quite a bit compared to last year. This year, the top 12 earned $109.1 million, thanks to a fairly strong top five. A year ago, the top 12 earned $90.8 million on the back of Wall Street 2, which opened to $19 million. Next weekend brings the well-reviewed 50/50 with Joesph Gordon-Levitt and Seth Rogen, Dream House with Daniel Craig, Naomi Watts and Rachel Weisz, and What's Your Number, the new comedy with Anna Faris.