Friday Box Office Analysis
By Tim Briody
September 24, 2011
BoxOfficeProphets.com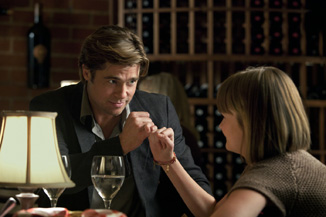 ---
Moneyball

[bp:78_]Brad Pitt[/bp]'s Moneyball opened on top with $6.8 million. In the spirit of sabermetrics, Box Office Prophets will now debut a new formula that shows how Friday box office is a misleading statistic and what you really have to do to gauge performance is look deeper into the numbers and find...oh, who am I kidding, how much these movies make is really all that matters. Sorry. This isn't a bad opening, and honestly, it's even a bit of a surprise that the book was even adapted into a film at all, given that it's not so much about baseball as it is about math. You can give Brad Pitt most of the credit for getting Moneyball this far.

It's probably not fair to compare Moneyball directly to The Blind Side, though that was the last Michael Lewis book to see a film adaptation. The Blind Side started with $11 million in November 2009, earning $34.1 million opening weekend. Looking at last year's The Social Network (also scripted by [bp:7397_]Aaron Sorkin[/bp]), that started with $8 million on its way to a $22.4 million weekend. Pitt's still the main draw here, and we're heading into the final week of baseball's regular season, though that's not going to have an impact one way or another on it's box office. Give Moneyball a weekend of $19.7 million.

[tm:5064_]Dolphin Tale[/tm]

Surprisingly second among the openers, Dolphin Tale earns $5.1 million on Friday, which is about triple what I expected it to take in. Still, it's a family friendly film and we haven't had one of those since...well, last week with the re-release of The Lion King in 3D, but before that you have to look back to [tm:2831_]The Smurfs[/tm], which released at the end of July. Dolphin Tale should come in with a weekend of $14.2 million is quite good.

[tm:5255_]Abduction[/tm]

Another attempt to spin the leads from the Twilight films into their own leading roles (and failing), Abduction earns $3.8 million on Friday. In casting Taylor Lautner (putting the "abs" in Abduction), it shows that nobody learned anything from trying to do the same thing with [bp:6308_]Robert Pattinson[/bp]. Remember Remember Me? Of course you don't. Let's give Abduction a weekend of $9.5 million.

Killer Elite

Lastly, Killer Elite throws under everything else, earning only $3.5 million on Friday. To be fair, this is the first release from something called Open Road Films, so we'll at least give them benefit of the doubt here. Still, it's an inauspicious beginning as Killer Elite will end up with around $9 million.

The Lion King 3D

The Lion King's 3D re-release earned another $6.1 million on Friday, good for second place. It's down 31.6% from last Friday, and while Dolphin Tale was a bit of a surprise this weekend, it seems not a lot of its business was siphoned off from The Lion King. It's neck and neck with Moneyball right now and once again applying some lesser used statistics and totally top secret formulas, The Lion King should actually squeak ahead and stay on top for a second weekend. It's going to be close, though. Look for it to come in with $20.1 million.