Weekend Wrap-Up
Recycling the Classics Big at the Box Office, For Now
By John Hamann
September 18, 2011
BoxOfficeProphets.com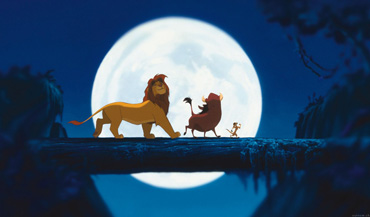 ---
Well, if it's September, it must be another nutty weekend at the box office. After a frame that saw Contagion lead the box office, I thought Ryan Gosling's Drive would continue a streak of good films on top, but despite a solid marketing campaign from FilmDistrict, things did not work out as well as expected this weekend for the critically loved thriller. Sarah Jessica Parker was back in I Don't Know How She Does It, but we learned this weekend that folks don't show up for SJP unless there is Sex in the title (or they had a recent lobotomy). That leaves us with Straw Dogs and The Lion King re-release. Screen Gems has made horror work in past Septembers – could they do it again? And what about the Lion King, now 17 years in the rear-view mirror?

The number one film, despite a couple of new, interesting titles, is The Lion King, re-released this weekend in 3D. One might think with a re-release on top that the box office was really slow again this frame, but no, The Lion King earned $29.3 million from 2,330 venues, putting tracking on its head, and leaving industry observers scratching their collective heads. Had The Lion King won the weekend with a $13 million gross, I would have accepted it and moved on, but $29 million? Has Disney become the new George Lucas?

Ethically, have we really come to the point where we as a society are ready to dust off the old (and very good) films, so that they can be re-released in 3D and we go because we at least know there will be some kind of value for money involved? Is this the safest thing we can do with our kids? Hadn't the parents that took their kids to The Lion King this weekend already showed it to them on the small screen? I can understand the nostalgia factor, and I get the fact that there is completely nothing else out there for the kids – but is this it? Is this George Lucas style of recycling the right answer for childrens' entertainment? The Lion King earned over $300 million in domestic ticket sales during it original run, and another $500 million from overseas grosses. In the last 17 years of its existence, it's earned another $1.5 billion in DVD sales and rentals.

How much is enough? Couldn't Disney take some of the original billions they earned off this one and made something NEW? Or has September at the box office simply become too risky to release original product? Sony's original film Cloudy With A Chance of Meatballs actually did about the same as The Lion King in 3D, grossing $8.1 million on its first Friday (versus $8.8 for The Lion King but you do get a pair of those snazzy glasses), and $30.3 million for the weekend. Why should Sony put all that money and work into a film when they could just re-release Men In Black in 3D? Have we become so risk-averse that we can't even put out an original kid's cartoon? This result has left me sad – I could argue that we've become lazy as a society, but that's not really it – is it?

Disney took a low-risk chance giving what was likely a clean up for a Blu-ray release, added the third D, plopped it into one of the slowest moviegoing periods – one that had zip for competition, marketed it sparingly, and it worked – big time. Like the latest Pirates of the Caribbean movie, Disney has moved on from kicking their franchise in the teeth – they've now moved on to their core business – and I think we all know how loved George Lucas is these days from doing exactly the same thing: selling us the exact same product over and over again (it happens AGAIN on Tuesday). Short-term, The 3D Lion King re-release is the right business move for Disney. Long term, though? I have to wonder.

Finishing second this weekend is Contagion, a very good film I saw on Thursday. Following an opening weekend of $22 million, Contagion dropped back somewhat likely due to its "clinical" word-of-mouth. Contagion earned 14.5 million in its second weekend of release, and drops a not bad 35%. Heading into the weekend, I actually thought Contagion might drop a bit more, as Soderbergh does take a dry walk through a world of emerging plague. It earned only a B- Cinemascore (which isn't great) but those scores were likely taken from an opening night audience, one that might have thought zombies go with this kind of Contagion. The thriller, with its solid reviews and what is likely good word-of-mouth amongst cinephiles, does not look like a $100 million picture at this point, but it should at least approach that mark, finishing with $85-90 million. The $60 million picture should then earn as much or more overseas.

FilmDistrict's Drive is third despite a strong marketing campaign, decent awareness and a solid screen count. The film, driven by a strong performance from Ryan Gosling, earned $11 million from 2,886 venues, and carried a venue average of $3,818. This is the film that should have been number one this weekend, what with its 11 negative reviews out of a possible 142 at RottenTomatoes, making it 92% fresh – one of the better scores we've seen all year. Was it too art house? Too off the level for mainstream audiences to buy into? Maybe. Did the lack of a recognizable star put people off? Had this starred Matt Damon or Robert Pattinson would it have been more successful?

Drive was made for $13 million, so regardless of the opening weekend, this one will still do decent business for the upstart FilmDistrict. This is the studio that delivered Insidious in April of this year. That film opened to $13.3 million, and despite being a horror film, managed to find good legs. FilmDistrict turned Insidious into a $54 million domestic winner, with another $38 million coming from overseas cinemas – all against a budget of only $1.5 million. Hence, a studio is born. FilmDistrict also had a piece of Sony's Soul Surfer, the Christian-themed movie about a girl overcoming a confrontation with a shark. That one opened in fourth to $10.6 million, but managed to stay in the top ten for six weeks, and wound up earning $43.9 million in domestic cinemas. FilmDistrict has a knack for turning okay openers into big money. I hope they do it again.

For Ryan Gosling, Drive is actually one of the better openers of his career. Despite him having more movies before it, I remember him first as the dude from The Notebook, which opened to $13 million but went on to earn $80 million. He then did some small films like Lars and the Real Girl and Half Nelson, which were both largely critically loved, but didn't earn a whole lot. Blue Valentine, the steamy drama he did with Michelle Williams, was again critically well received, but only earned $9.7 million from domestic cinemas (albeit against a budget of $1 million). Then came this summer's Crazy, Stupid Love, which Gosling did with Steven Carell. That has turned into a minor hit, as it opened to $19 million and has pulled in about $81 million. Next up for Gosling is The Ides of March, George Clooney's new political thriller. It opens in October and also stars Clooney, Phillip Seymour Hoffman and Paul Giamatti.

The Help is fourth this weekend as its able to leapfrog Straw Dogs following Friday grosses. Now in its sixth weekend, the film made by DreamWorks (and others) and then released by Disney's Touchstone Entertainment, earned $6.4 million and dropped 28%. The film about race relations in the south is starting to lose steam, but you can't take the shine off the gross so far of $147.4 million – all against a budget of only $25 million.

Fifth is Straw Dogs, the new horror thriller from Sony/Screen Gems. From director Rod Lurie, this is a remake of a Sam Peckinpah flick with Dustin Hoffman in the lead role (little did they know, they could have converted the original to 3D and gotten rich). This version laughably starred James Marsden in the lead role with Kate Bosworth from Blue Crush as the wife. Obviously, no one bought it, as the film earned only $5 million from 2,408 venues. The original Straw Dogs sits at 93% at RottenTomatoes - this version, a lowly 38% . This one was not intended to make people think. It is there only for the violence, and horror is just on the outs right now. This has to be hard for Screen Gems, as this is the studio that's had a lot of success with horror, and films released in September in general. Just a year ago, Screen Gems had Resident Evil Afterlife and Easy A in theaters. Easy A was a $58 million hit against an $8 million budget; Afterlife made $300 million worldwide.

Sixth, and the last of our new releases is Sarah Jessica Parker's I Don't Know How She Does It. It earned only $4.5 million this weekend, as it seems like there are a lot of people like me who will only watch this one if hell serves it up. It was the low ranking film in terms of reviews this weekend (20% fresh), and thankfully the lowest opener. I hope the Weinsteins spent a fortune making this.

Seventh is the The Debt, Helen Mirren's foray into espionage films, at least beyond that of RED. The Debt took in another $2.9 million this weekend, off a not bad 39% from last weekend. The Debt has done want it wanted to in North America – its earned more than the production budget of $20 million, as it has running total of $26.5 million. Now it can run across Europe and Asia and make a serious profit.

Eighth is Lionsgate's Warrior, the well reviewed MMA flick that did not get off to a strong start last weekend, and will likely end up with cult status. After opening to only $5.2 million, Warrior holds not badly, but its much too little, much to late. Warrior brought in another $2.8 million this weekend, and dropped 47%. All of a sudden the 82% fresh Warrior, with its $25 million budget, stands to lose quite a bit of money, especially considering the marketing campaign. Give it a total so far of $9.9 million.

Ninth is Rise of the Planet of the Apes, and after seven weekends in the top ten, is preparing to move onto movie heaven. Rise earned another $2.6 million and dropped 32% this weekend. It has earned a surprisingly large $171.6 million stateside, and has cleared the $200 million mark overseas.

Finishing in tenth is Colombiana, Zoe Saldana's revenge flick. Colombiana earned $2.3 million this weekend and was off 42%. It has earned $33.3 million stateside, and about $15 million overseas, versus a production budget of $40 million.

Overall this weekend, The Lion King did help the box office succeed. A year ago, The Town was on top, pulling in $23.8 million, and it was trailed closely by the upstart Easy A, which opened to $17.7 million. These films led the box office to $87.3 million, an above average score for a middle weekend in September. This weekend, the box office had a similar score, with a combined top 12 score of $84.8 million. Next weekend, four new films take over 12,000 venues. They are Abduction from Lionsgate, Dolphin Tale from Warner Bros., and two good films: Moneyball, with Brad Pitt and Jonah Hill, and Killer Elite, starring DeNiro, Statham and Clive Owen. Hopefully, a 3D Pinocchio doesn't show up and ruin the party.