Weekend Wrap-Up
Contagion Spreads Over Post-Labor Day Box Office
By John Hamann
September 11, 2011
BoxOfficeProphets.com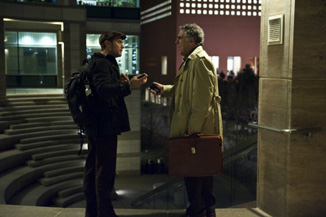 ---
Welcome to the post-Labor Day frame at the box office, another of the slowest moviegoing weekends of the year, this time lifted by the star-driven Steven Soderbergh film, Contagion, but lowered again by the launch of the NFL season. Contagion didn't lift the overall take much. This weekend's box office is infected by an embarrassing bottom six that even teenagers are abandoning. Also hurting the box office is the fact that last weekend was a long weekend, so grosses from the last frame are inflated, leading to big drops. Even The Help got sick this weekend, dropping its box office crown for the first time in three weekends.

Our number one film of the weekend is Steven Soderbergh's Contagion, the Warner Bros. thriller that delves into the idea of a plague on the verge of wiping out mankind. This is my kind of film, and it's odd that it would be released over the post-Labor Day frame, considering it stars Matt Damon, Gwyneth Paltrow, Marion Cotilliard, Laurence Fishburne, and the guy from Breaking Bad. The Warner Bros. attempt to cash in on a slow weekend worked to a degree, as Contagion earned $23.1 million from 3,222 venues, giving it a venue average of $7,180. Some might look at the cast and director of this one and wonder why it didn't earn more over opening weekend, but I ask you to remember where we are - September, and early September at that.

The two highest grossing releases in September – Sweet Home Alabama ($35.6 million opening) and Rush Hour ($33 million opening) – are nine and 13 years old respectively, which shows how much emphasis studios put on the month of September. The highest September opener of the last few years is Cloudy With A Chance of Meatballs, a CGI animated kids flick that still opened to only $30 million, as early September is usually centered on more adult fare. All of these films opened in the second half of September – after kids have settled into school. The highest grossing openers released in the first half of September are The Exorcism of Emily Rose ($30 million opening, September 3rd release date) and Resident Evil: Afterlife ($26.6 million opening, September 10th release date).

The dark side of the month of September is truly dark. Some of the worst moviegoing weekends have landed in September. There is the infamous September 5-7, 2008 weekend that saw Nic Cage's Bangkok Dangerous open to only $7.8 million, leading the top 12 to only a $50 million gross. Had that top 12 been amassed into a single movie, it would only be 137th biggest earner ever. Contagion was pegged to open north of $20 million, which it did, but not by much. In the end, though, dropping Contagion into a weak spot in the calendar was smart, because this one was made for only $60 million. Given the cast, this will likely be a global hit, with Warner Bros. laughing all the way to the bank. The September release date is not new to Soderbergh or cast member Matt Damon. The pair launched The Informant! in mid-September 2009 and it earned $41.8 million worldwide against a budget of $20 million. The director also turned Traffic into a $207 million worldwide hit despite an early January release, and Erin Brockovich into $256 million hit with an early March release. Soderbergh is no stranger to rough release dates.

For Damon, Contagion brings one of his bigger openings of the last few years. The Adjustment Bureau and Green Zone opened in Contagion's ball park, $21.2 and $24.8 million respectively. For Gwyneth Paltrow, this is her biggest non-Iron Man film since Shallow Hal in 2001, and for Kate Winslet, it's her biggest going all the way back to Titanic. Obviously the cast liked the script by Scott Z. Burns (The Bourne Ultimatum) and bought into the Soderbergh vision. Burns is now writing Soderbergh's Man From U.N.C.L.E and David Fincher's 20,000 Leagues Under the Sea.

Finishing well back in second is the now five-weekend old The Help, Disney's drama about race relations. It was only a matter of time before The Help got knocked down to second, but to stay in either first or second for five consecutive weekends is truly impressive for a film like this one. Following the Labor Day weekend, The Help did the expected and dropped 40%, earning $8.7 million. I like to think The Help has held on for as long as it has because it is a quality film that touched a nerve in America, rather than believe it stayed there because of a lack of competition. The Help is going to easily be a $150 million film for Disney, with $175 million not out of the question. So far, The Help has earned a staggering $137.1 million.

Finishing third is Lionsgate's Warrior, which did everything right in the lead up to release, but then failed to make much money once it opened. The Warrior, a Rocky type film set in the world of Mixed Martial Arts, earned $5.6 million from only 1,869 venues. It had an okay venue average of $3,000. A winner in the review department (Warrior actually tied Contagion's fresh rating at 82%), it had 93 positive reviews out of a possible 113, and is certified fresh at RottenTomatoes. Lionsgate failed to create a buzz around this one, or may have, but not to a broad enough audience. Made for $25 million, tracking was expecting Warrior to open to $8 million, and will need to depend on some serious word-of-mouth moving forward. Still, with this debut, something pretty strange would have to happen to turn this one around.

Fourth is Helen Mirren and Focus Features' The Debt, which got off to a great start last weekend with a $9.9 million opening, but fell back to earth with a sophomore weekend take of only $4.9 million. That gives the John Madden film a drop of 51%, and even following the holiday, that's a bigger than expected decline. It is again similar to that of Focus Features' Constant Gardener, which also launched over the same weekend in 2005. It opened to a similar amount ($8.7 million) and had a similar drop of that of The Debt (46%). Focus is okay with this pattern, as these films both cost about $20 million to make, and will end up with a tidy profit due to overseas grosses. The Debt has earned $22 million so far, and is just getting started overseas.

Fifth is Colombiana, which, despite some questionable reviews (36% fresh at RT), manages to move up a spot from last weekend, but the gross is only about half what it was in that frame. Colombiana earned only $4 million and was off 46%. This $40 million effort has earned $29.8 million so far.

The fact that Rise of the Planet of the Apes is still in sixth after six weekends of release shows how soft the bottom portion of the top ten is. Rise earned just $3.9 million and was off a hefty 51% from the previous frame. The $93 million Fox monkey movie has now taken in $167.8 million stateside, and another $185 million overseas. Give the studio props for picking a smart release date.

Seventh goes to Shark Night 3D, and only holds onto a top ten spot because not enough new films came out this weekend, and the Bucky Larson movie was so bad. Shark Night 3D earned $3.5 million in its second weekend and was off a terrible 58%. This one cost Relativity $25 million to make, so it better do something overseas. Give it $14.8 million so far.

Eighth is the other bad horror film, Apollo 18. After opening in third last weekend with $8.7 million, this Weinstein release had the bottom fall out this weekend. Apollo 18 earned only $2.9 million and dropped a nasty 67%. The good news is that it cost only $5 million to make, as it has a total of only $15 million so far.

Ninth goes to Our Idiot Brother, a film that shows that late-August/early September is a goofy time for movies. Despite starring Paul Rudd, Elizabeth Banks and Steve Coogan, and getting positive reviews, Our Idiot Brother has never seen a top ten box office spot higher than fifth. This weekend, its third, Our Idiot Brother earned only $2.8 million and fell 49%. The $5 million Weinstein pickup has now earned $21.4 million, but will likely turn into a loss for the Weinsteins due to marketing costs.

Our tenth place film is Spy Kids: All the Time in the World, which is barely hanging on and will be a slightly profitable film for the Weinsteins and Robert Rodriguez. This weekend, the film earned an additional $2.5 million, down 48%. Its total sits at $34.2 million.

Finally, Bucky Larson: Born To Be A Star finishes 14th this weekend. This is a comedy, written by Adam Sandler (amongst others) that got a release on 1,500 screens – heard of it? It earned $1.5 million, and is our first film of the year to garner zero positive reviews at RottenTomatoes. Way to go, guys.

Overall this weekend, things are as bleak as hell, but almost expected. The top 12 films earned $66.4 million, which is just ahead of last year's top 12 that took in $65.8 million thanks to Resident Evil: Afterlife. Next weekend brings four new releases, including the interesting Drive with Ryan Gosling, I Don't Know How She Does It about Sarah Jessica Parker FINALLY hiring a maid so she can get to the salon, a re-release of The Lion King (in 3D, natch) and Straw Dogs. At least this group will flush the leftovers sticking around in the top ten.