Weekend Forecast for September 9-11, 2011
By Reagen Sulewski
September 8, 2011
BoxOfficeProphets.com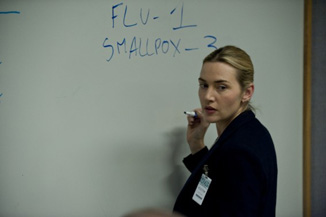 ---
It usually doesn't take long after Labor Day for studios to start rolling out some of the better films in their fall lineups. This year, it's just one week, with two films debuting that might be in contention for end-of-year awards. Okay, three if you count the Razzies.

Part of Steven Soderbergh's efforts to work in every genre in Hollywood, Contagion is just the second overtly-commercial film in three years for the hyper-prolific director, who has averaged about a film and a half per year for the past decade, in addition to editing, shooting, writing and taking odd jobs like working on the second unit for The Hunger Games. It's exhausting just reading his C.V. In any case, this film gets him back working in the mainstream and with a host of Hollywood stars.

From the outside, it doesn't seem like the kind of film that needs a Soderbergh to help it, looking a lot like an update of Outbreak. Matt Damon plays a man thrust into the middle of a SARS-like pandemic when his wife (Gwyneth Paltrow) becomes patient zero for the disease. As it spreads around the world, an all-star team of Hollywood doctors, including Jude Law and Kate Winslet attempt to find a cure before it wipes out humanity. The panic about the virus might be worse than disease itself, however. When will we humans ever learn? Though it's typical Hollywood genre fare, one presumes that Soderbergh can elevate it with his usual mastery of technique and style. Not that I expect most audiences to care about that exactly, but it does present a better product to sell.

Damon and Soderbergh's last collaboration, The Informant!, opened to just $10 million in September of 2009, though these two films basically share only those two things (okay, and a writer). That film was the start of a curious rut for Damon, with four straight films that grossed in the 30s, before last winter's True Grit, and this spring's The Adjustment Bureau (which only grossed $62 million, but that's at least something). With the $21 million opening weekend of that film, it showed that Damon still has pull for the right project (but that fourth Bourne film should be in the back of his mind). The rest of the stars don't necessarily have a ton of pull on their own, but shore up the notion of the film's quality (something I like to call the Robert Duvall Effect). Other comparisons are tough to come by other than the general "thriller" category, which when paired with big name stars usually comes in in the high teens or low 20s. With solid reviews I can see this pushing up to around $24 million for the weekend.

There's actually a pretty easy comparison for the next film of the weekend, Warrior, though the filmmakers and stars would take umbrage. In it, two brothers (Tom Hardy – who actually shot this pre-Inception – and Joel Edgerton) work through their demons and personal-life struggles to meet in a middleweight UFC tournament – like Rocky times two – or, more pertinently and the reason why it's been delayed so long – like The Fighter if Christian Bale weren't a crack addict.


Directed by Gavin O'Connor, who of his work, you've heard of Miracle and vaguely remember Pride and Glory and Tumbleweeds, Warrior is getting surprisingly great reviews – like, "don't forget this film come Oscartime" reviews. That's still probably a long shot, but it makes a big difference in the film's potential when we might have simply been talking about a throwaway film built to capitalize on UFC's popularity.

That's of course a significant factor in why this film was even made, though capitalizing on societal trends is always a troublesome enterprise for Hollywood. What MMA fans are interested in are actual fights, not drama about the fighters. On the other hand, the "getting them to pay for something they get for free" problem doesn't exist here since they're already used to paying to see these fights, and $12 for a movie ticket is a bargain in comparison. This might have to be a slow build for the public at large, though, as the sport still has a poor reputation. I'd give it about $11 million to start.

In what has to be some sort of prank-gone-awry, the third new film of the week is Bucky Larson: Born To Be a Star, starring Nick Swardson (don't feel bad if you've never heard of him) as the title character, a midwestern doofus who discovers that his parents were porn stars back in the '70s, and decides to follow in their footsteps. Coming out of the Adam Sandler factory (and partially penned by Sandler), the appeal of the movie stops pretty much right there, with "aggressively unfunny" being the active descriptor of it.

It's hard to describe the stony silence that greets the trailer for this film when it's aired – there's a mixture of disbelief, followed by shock, then anger that the viewer would be subjected to something like this and its collection of non-jokes and pointless crudity (as distinguished from, say, the pointed crudity of The Hangover films). The closest comparison is the collected works of Rob Schneider, but without even that name recognition – or even more directly, 2006's Grandma's Boy, which opened to just $3 million. It's hard to manage this matching even that meager figure, and it's something that Christina Ricci and Don Johnson (!) will be eager to quickly wipe off their resumes. If this manages even $2 million this weekend, you've all failed me.

Thus, the three-week reign of The Help at the top of the box office should end, though the damage is done there, with over $125 million in the bank so far. After adding almost $20 million over the Labor Day holiday, it's pretty much the unquestionable winner of late summer. Even though Planet of the Apes still has more money in the bank at the moment, it won't for that much longer, and it also cost a lot more. I'd look for this to drop to about $10 million this weekend.

The Debt overcame a smaller screen count and an attempt to bury it to be the highest earning of the three new films last weekend, with about $15 million over six days – score one for quality and the twilight of Helen Mirren's career. It's not going to make a major impact on the box office from here on out, but should see at least $6 million this weekend and could get to around $45 million domestic.

The two horror films from last weekend, Shark Night and Apollo 18 ended in a virtual tie at just under $9 million over three days, and that's probably the last we'll ever hear of these two movies. Both will be lucky to break $4 million this weekend.