Weekend Wrap-Up
Long Weekend Openers No Help For Box Office
By John Hamann
September 4, 2011
BoxOfficeProphets.com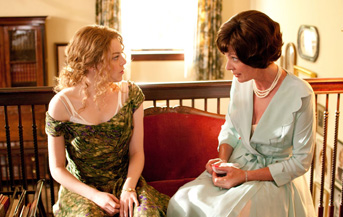 ---
As expected, the box office is even uglier over this long weekend compared to last weekend's shortened Hurricane Irene session. With no appetite to release decent fare this weekend, the studios are giving the shiv to exhibitors, as all the openers this weekend fail to earn $10 million over three days. It didn't help that two of the new films were of the same genre (poorly made horror), embargoed against critics, and both targeted at the same demographic (idiots). The openers were Apollo 18, about a moon landing gone wrong, and the retread Shark Night 3D, which would allow moviegoers to pay even more to see a very bad film. There was small nugget of goodness called The Debt, but most moviegoers just passed it over. What does it all mean? The Help repeats. Again.

Our number one film of the weekend is The Help, which was number two over its first weekend, and then number one over its next three. The Disney flick earned another $14.2 million this weekend and dropped a tiny 2% compared to last weekend's hurricane-influenced session (I won't say weather-influenced, as weather doesn't hurt box office. However, hurricanes are a different story, especially when they affect most of the Atlantic seaboard). There were a lot of factors influencing The Help's gross and hold this weekend. First off, the Labor Day weekend reared its head, allowing filmgoers to see a movie later on Sunday night, thus affecting the weekend multiplier (weekend gross divided by Friday gross). Over its second frame, The Help had a weekend multiplier of 3.43. The next weekend – which co-starred Hurricane Irene, it dropped to 3.3, due to some theatres on the East Coast being shut down for a portion of the weekend. With Sunday acting more like a Saturday, the weekend multiplier came in at 3.9, and is the reason for the higher hold.

The Help has used the late summer to its advantage, dropping 23%, 27% and now 2%. Tropic Thunder was the last film to do the three-peat over two weekends in August and the last over Labor Day, but it had a much bumpier ride. The Ben Stiller comedy opened to $25.8 million; dropped 37% in weekend two against The House Bunny and Death Race, but still managed to fit on top. It then faced off against Babylon AD over Labor Day and came out victorious, despite a 30% drop and a $11.5 million three-day gross.

Despite softer competition, The Help has had to work harder, as it had Irene to deal with, as well as living in the shadow of Rise of the Planet of the Apes, which beat it over The Help's first weekend. This weekend, though, The Help manages to double the gross of Rise of the Apes, which should show you its staying power. Let's also not forget that the The Help cost Disney only $25 million to make, and now has a rousing total of $118.6 million. If it can keep the percentage drops low, it could make $150 million before it's all said and done.


The rest of the top ten shows up in pairs or sets of threes. Battling for a sad second this weekend were all the openers. Finishing second this weekend is The Debt, a small thriller starring Helen Mirren and Sam Worthington. The John Madden (Shakespeare in Love) film was not supposed to finish second, and if there is good news this weekend beyond The Help, this is definitely it. The Debt debuted on Wednesday, but not spectacularly, as it earned only $970,000 on its first day of release (albeit only behind The Help), and less on its second. It perked up on Friday, though, earning about $2.6 million, and was able to turn that Friday gross into a weekend take of $9.7 million, and a five day haul of $11.5 million.

The Debt debuted at only 1,826 venues, so it carried a fairly strong average of $5,300. Without a successful platform release, a film like this is never going to place in the top five other than in late August/early September. It would fail to get any marketing support, and would barely register a blip in the American consciousness. This weekend, though, anything can shine, and with some solid reviews (77% fresh at RottenTomatoes), and a cast willing to promote it (Mirren), it does well for what it is (an espionage thriller).

Usually, when a film is shot two and a half years before it's released, usually that means trouble in terms of quality. Not with The Debt and its Oscar pedigree (Mirren for The Queen, Madden for Shakespeare in Love). The Debt was made by Miramax in 2009, and like last weekend's Don't Be Afraid of the Dark, it languished on the shelf as Miramax and Disney had their tussle. The Debt ended up with Focus Features, a studio that can handle a release like this. Focus Features did the exact same thing with The Constant Gardener, releasing that one on September 2, 2005, where it finished at #3 with a gross of $8.7 million, very similar to that of The Debt. Focus was able to turn that one into a $34 million domestic winner against its $25 million budget and to top it off, The Constant Gardenener earned another $50 million overseas. Focus Features again picked a shrewd release date for The Debt, padded the gross by opening it on a Wednesday, and the move paid off. Likely made for a similar amount, The Debt is the smart movie of the weekend, both in terms of quality and release.

Finishing third is Apollo 18, the film that some thought might steal the box office crown from The Help. Another of the found footage horror films (after Paranormal Activity 2, I can already feel the air coming out of this concept), Apollo 18 is cheap and not very well put together (really?). It did manage to earn $8.7 million, beyond its $5 million production budget, but not by much. Given the mark of badness by not releasing it to critics (that's strategery these days, folks), at the time of this writing, Apollo 18 was 24% fresh at the time of this writing. Released by the Weinsteins, Apollo 18 does the expected by turning a low budget horror film with no scares into a financial winner. It earned a D Cinemascore, and should be seen by no one.

Fourth goes to Shark Night 3D from Relativity Media. Shark Night 3D splits the Labor Day horror demographic in two, as this one and Apollo 18 are almost two of a kind, except where it counts – budget. Shark Night 3D grossed only $8.6 million against a $30 million budget, and is going to cost its studio where Apollo 18 won't. Also embargoed against critics (it wouldn't be Labor Day weekend without a good old fashioned embargo), it is equally as bad as Apollo 18, but audiences like it a little bit better, given its C Cinemascore. After Piranha 3D opened to $10.1 million and finished with $25 million stateside, one might think studios would think twice; however, Piranha 3D earned almost $60 milllion overseas, which means we are stuck with this crap forever. If there is good news, it's that both Apollo 18 and Shark Night 3D will be out of the top ten in milliseconds.

Next is the battle between holdovers for fifth and sixth, as Rise of the Planet of the Apes and Colombiana duke it out. 20th Century Fox's Rise of the Planet of the Apes comes out on top as it falls to fifth. Rise earned another $7.8 million and dropped only 12%. Rise has become one of the good news stories of the summer, as along with The Help, it has dominated the month of August. It's very rare for two good films to roll like this through the summer months. The $93 million Apes has now earned $160 million stateside, and slightly more than that overseas.

Columbiana places sixth with $7.4 million, off a not bad 29% compared to last weekend. A few factors affect the percentage drop, much like The Help, including the fact that some folks weren't able to get out and check out the lovely Zoe Saldana serving up some uber-violence last weekend. Also, this one gets a leg up from the long weekend, which help the percentage drop stay well above 50%. After 10 days of release, Colombiana has earned $22 million against a $40 million budget for Sony.

Sadly, Our Idiot Brother drops to seventh, as the Paul Rudd comedy fails to find any traction. After debuting last weekend to only $7 million, Idiot held fine, but still earned just $5.2 million while dropping 26%. Like Apollo 18, this one cost the Weinsteins $5 million, but they are stuck paying a fairly hefty marketing bill. Give Idiot Brother $15.9 million so far.

Don't Be Afraid of the Dark gets dropped on its head, as despite the long weekend and the storm in the last session, this one still falls hard. Afraid earned $4.9 million this weekend and dropped 42%. The $25 million FilmDistrict pick up has now pulled in only $16.4 million.

Ninth and tenth are kids' films, and not particularly good ones. Spy Kids: All the Time in the World earned $4.6 million and dropped 23%. It has a cume of $29 million against a $27 million budget. The best news is in tenth, as this is likely the last time I will write about those freaking Smurfs. That film earned $4 million and dropped 16%. The Smurfs have earned more than they have any right to. Really. Way more.

Overall this weekend, the box office is in a dark place, but we will hopefully be saved next weekend by Contagion. The top 12 films could muster only $80.8 million, which is identical to the number that last year's films made. Next weekend, things look up. We have Contagion with Matt Damon, Gwyneth, Marion Cotillard, Jude Law and Bryan Cranston, and Warrior, the extremely well reviewed MMA flick from Lionsgate.