Weekend Wrap-Up
Hurricane Irene and Summer Doldrums Drop Box Office
By John Hamann
August 28, 2011
BoxOfficeProphets.com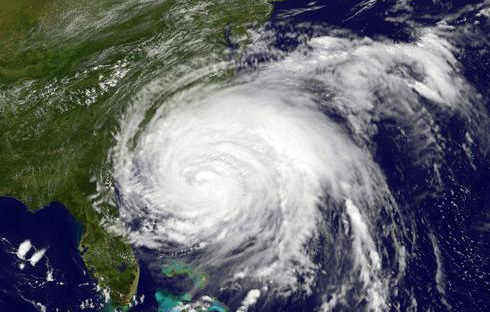 ---
Wow. Throw a very large hurricane against the Eastern Seaboard, and the end of summer vacations across the rest of the continent, and we are left with one of the quietest moviegoing sessions in a very long time. The top 12 films at the box office haven't seen a total under $100 million since last February, when Hall Pass led the top ten with $13.5 million. This weekend's totals are much, much worse. For the second weekend in a row, The Help is on top, and three new releases surrender to epic failure.

Our number one film again this weekend is The Help, Disney's powerful drama chronicling race relations in Mississippi in the 1960s. Following a $26 million opening and a $20 million sophomore session when it climbed into top spot at the box office, The Help continued to shine this weekend, despite the weather on the East Coast. The Help earned $14.3 million this weekend, giving it a drop of 28%. It is impossible to say, but had the hurricane not hit on Saturday, how much would The Help have earned? An additional $3 million? $4 million? This film has clearly become a reason for Americans to go to the movies, much like The Blind Side did in 2009 and 2010.

The Blind Side had something going for it that The Help does not – the calendar configuration. The Sandra Bullock film about protecting those close to you was released in November of 2009, and rode the calendar towards Christmas, earning more than $10 million for seven consecutive weekends, the last being the weekend of January 1st - 3rd. It earned percentage increases over three of those weekends. With the storm this weekend, and Labor Day in the next frame, it could plausibly happen once for The Help, but it's no secret how slow Labor Day weekend is at the box office. The Blind Side finished with an amazing $256 million; it looks like The Help will finish with about half that, at around $125 million. Still, for a film that cost Disney only $25 million to make, The Help is a huge success, dominating the August box office, earning $96.6 million so far, and showing no signs of slowing.

Of the new openers this weekend, Zoe Saldana's Columbiana wasn't supposed to make much of an impact; however, when you throw a curveball called Irene at the box office, anything can happen. Columbiana, written by Luc Besson and Robert Mark Kamen of Taken fame, found a way to finish to second, pulling in a slightly better than expected $10.3 million. Released to only 2,614 venues, Columbiana had a venue average of $3,940. This one could have been an afterthought over a late August weekend, but because of the absence of straight action for adults at the box office - and of course the presence of the uber-lovely Saldana - this one broke through, if only slightly. Made for $40 million and released by Sony's Tri-Star, Columbiana will likely struggle in the week's ahead, but following international sales, will likely be profitable for the studio.

Showing up in third is a film that was once a Miramax release a few years ago, but we see it today as a Film District release. Don't Be Afraid of the Dark stars Katie Holmes and Guy Pearce, but the real star here is Guillermo Del Toro, delivering his fantastic style of weirdness. That style only did okay this weekend, as Don't Be Afraid of the Dark was only able to muster $8.7 million from 2,760 screens. This one was made for $28 million (IMDBbsays $12.5 million) back in 2009, but struggled to find a release date when Miramax was shuttered. It won't cook up too much for FilmDistrict, but won't be a disaster either. Critics were mixed, with RottenTomatoes carrying 59 positive reviews, and 41 negative. The trailer looked good to me, and I will definitely be picking this one up on DVD.

Rise of the Planet of the Apes continues to hold onto a top five spot, despite being out to theatres for four weekends. After picking up $16 million in the last frame, the storm knocked back these crazy apes, but didn't knock them down. Rise earned $8.7 million in its fourth frame, and dropped 46%. The James Franco flick has now earned $148.5 million, and could finish with as much as $170 million.

Fifth is Our Idiot Brother, which I hoped would do much better this weekend. The R-rated Paul Rudd comedy looked great on paper (and in the trailer) but I wonder if Harvey Weinstein should have tried some of the marketing ideas put forward in the funnyordie.com piece (check it out for yourself), as I felt the marketing wasn't good enough for this one. Our Idiot Brother earned only $6.6 million from 2,555 venues, and had a sad venue average of $2,578. This is unfortunately two misses in a row now for Rudd, as he appeared in How Do You Know?, the Reese Witherspoon disaster released last Christmas ($30 million domestic gross, $120 million budget). Our Idiot Brother was best reviewed new film of the weekend (66% fresh at RottenTomatoes), but couldn't turn those reviews into R-rated comedy gold a la Bridesmaids or Horrible Bosses. Picked up at Sundance for $6 million, this one won't die versus that cost. It's the marketing bill it's going to have to pay for... somehow.

We've got a very sad group of holdovers taking up the bottom rungs this weekend. Finishing sixth is Spy Kids: Rodriguez Needs a New Franchise. The fourth Spy Kids film earned only $5.7 million in its second frame, after a debut last weekend well below expectations. Spy Kids 4 fell 51% versus its $11.6 million debut. The good news here for the Weinsteins is that this Spy Kids cost only $27 million to make, and it has a running total so far of $21.7 million.

Seventh goes to those damn Smurfs, now in the top ten for five agonizing weekends. This weekend The Smurfs earned $4.8 million and dropped 38% (not nearly enough), as the $110 million animation hybrid continues to dominate the globe. The little blue devils have now earned $126 million domestically, and over $200 million overseas as well. We are doomed to have Smurf films forever.

Last weekend's debut films occupy the eight and ninth spots this weekend. Conan the Barbarian, which finished fourth last weekend, slides to eighth in its second weekend. It earned only $3.1 million and dropped a wild 69%. Conan was made for $90 million and has a gross so far of $16.6 million. Yes, ouch. Fright Night, which finished sixth last weekend, drops to ninth in this frame, pulling in a gross of $3 million. It dropped 63%, and now has a gross of only $14.2 million against a $30 million budget.

Crazy Stupid Love holds onto a top ten spot for another weekend. After grossing $4.8 million in the last frame, the Steve Carell flick held well this weekend, pulling in $2.9 million and dropping only 39%. The $50 million Warner Bros. flick has now pulled in $69.5 million, and is just getting started overseas.

Overall, you don't have to be a weather man to know things are going to be bad. The top 12 films delivered only $73.2 million, which compared quite badly with last year's take of $95 million, when Takers was on top. Next weekend, three new films show up: The Debt, with Helen Mirren, Shark Night 3D from Relativity Media, and Apollo 18 from The Weinsteins, which figure the entire year's slate should be released in three weekends. Hopefully things will turn around a bit for this weekend's holdovers as well.